Getting The Right Balance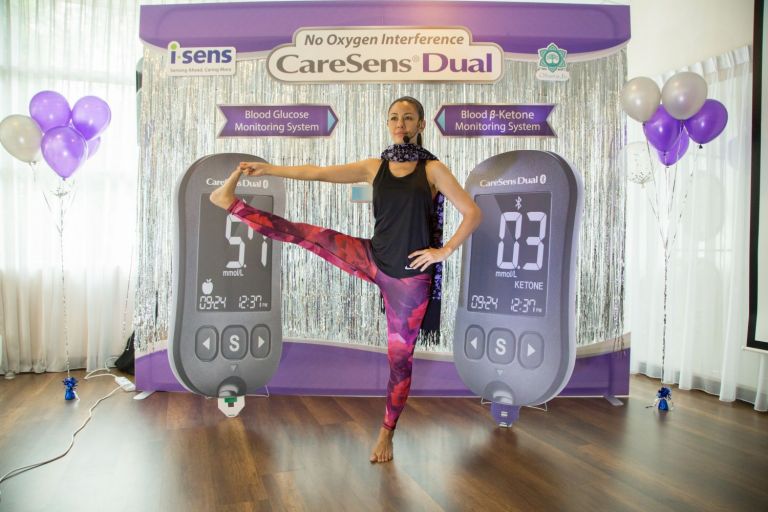 Kuala Lumpur, 10 June 2019 – What is the link between blood glucose levels and yoga? Balance is the key for both. High blood glucose among diabetics can lead to cardiovascular risks, while low blood sugar can cause seizures and other complications. Balance is paramount in yoga, whether one is doing the basic tree pose or performing more complicated routines.
i-SENS, recently launched its CareSens Dual blood glucose and ß-ketone monitoring system in Malaysia with Jojo Struys, TV personality at her OhanaJo Studio. Struys demonstrated the importance of balance towards overall health with a captivating yoga routine.
The dual function of CareSens will help diabetics achieve the right balance in checking their daily blood glucose and ketone levels. High levels of ketones in the bloodstream is a common complication of diabetes, which left untreated, can lead to ketoacidosis and even coma.
Established in 2000, i-SENS is one of the top global players in the blood glucose monitoring market.  Headquartered in South Korea, i-SENS has world-class medical production facilities and places heavy focus on research and development.
The launch aimed to highlight the importance of a healthy lifestyle, as Malaysia now has the highest rate of diabetes in Asia. Based on statistics from National Diabetes Institute (NADI), the are over 2.5 million adults with diabetes in Malaysia. Furthermore, NADI's data suggests that nearly half of Malaysians are unaware that they have diabetes.
"Very often, patients with Type 2 diabetes carry on with life without any symptoms until they experience a heart attack, stroke, kidney failure, go blind or require an amputation," said Professor Dr. Nor Azmi bin Kamaruddin, Head of Diabetes & Endocrinology, National University of Malaysia (UKM) Medical Centre.
Enter CareSens, which is recognised worldwide as a brand that provides fast, highly accurate blood glucose testing results. With annual production capacity of 2.2 billion test strips from highly efficient manufacturing facilities (two in Korea, one in China), i-SENS exports to over 110 countries including USA, Japan, and Europe.
Dr. Hakhyun Nam, President & Co-Founder of i-SENS, Inc. stated, "i-SENS' philosophy is always about making our customers' lives healthier around the globe through technology. This is why we're now investing in Malaysia which has great market potential, and supported by a comprehensive healthcare system for patients."
Dr. Nam highlighted this launch as an example of public-private sector collaboration that goes beyond a product launch but also helps to raise awareness of diabetes in a creative manner, reaching a larger audience. The event provided a clear call-to-action for the public to get their blood glucose levels checked and diabetes patients to seek the appropriate medical treatment.
Jojo Struys also led a yoga session for participants at the event to promote holistic wellness. She shared, "Practising yoga helps build strength, flexibility and balance. Similarly, we hope today's initiative will inspire members of the public to find that balance for their physical, mental and emotional health."
"We understand that having diabetes is a like a full-time job. We're here to share how we can manage it together as a community – and help diabetics find the right balance towards a fulfilling life!" emphasised Dr. Nam.
CareSens Dual's other USPs to make diabetes care easier include a large display & auto-backlight LCD screen, beneficial for diabetic patients who often develop vision impairment. Thanks to the system's advanced technology, it provides fast and accurate reading with less blood sample required. The device is innovated to be mobile, convenient and easy for diabetics to check their readings even on-the-go. CareSens Dual features handy connectivity via the SmartLog app where data readings can be sent to the patients' smartphone for a more comprehensive day-to-day monitoring.
The BGM system is imported by DCH Auriga, a leading Asian pharmaceutical distribution company. CareSens Dual will be available at selected Guardian pharmacies nationwide from June 2019 onwards. Speak with your local Guardian pharmacist for more information.
For more information on CareSens Dual, please visit https://i-sens.com/blood-glucose-monitoring-system/#product-12