Get that bold and coveted fashion-forward matte lips with L'Oréal Paris Color Riche Matte Lipstick!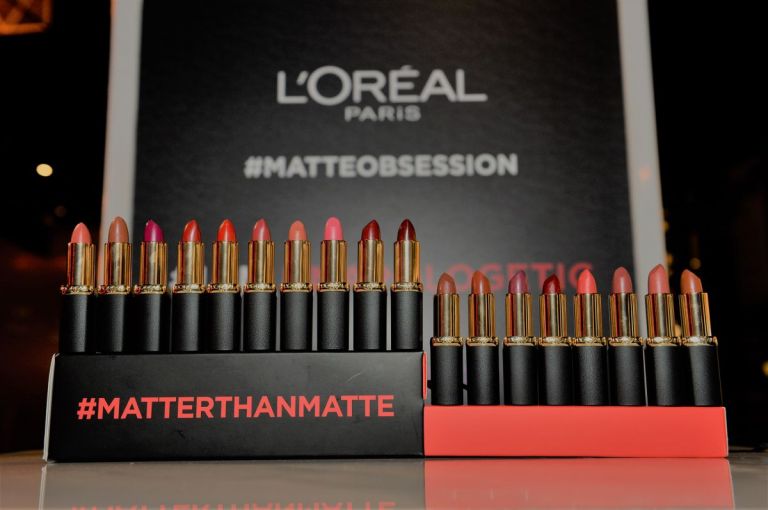 The perfect finishing touch to any makeup look, no matter day or night, is undeniably lipstick. Thanks to its impressive staying power and non-sticky finish, matte lipstick will never go out of style. However, some women aren't fans of the chalky, patchy application, which not only looks unflattering on flaky lips, but also makes your pout even drier!
L'Oréal Paris Cosmetics is set to break boundaries and exceed expectations with Matte Obsession, its boldest yet most moisturising matte lipstick yet! Featuring a brand-new black matte leather-like packaging, each swipe of Matte Obsession will make you feel sexy and glamourous, because you deserve only the best.
Open the sleek, chic packaging to reveal a smooth, formula that's packed with pure pigments for a vivid pout. Infused with Jojoba and Camelia Oil, the Color Riche Matte Lipstick allows you to achieve that coveted fashion-forward matte lip look without drying out your lips.
Take your pick from top shades like Peachy Brown, Vin de Fantasme, Plum Mannequin, Chocolat Rouge, Ruby D'oeuvre, Cherry Crush, Spring Rosette, Black Cherry, Beige Couture and Raspberry Syrup.
And that's not all – L'Oréal Paris Cosmetics is also adding 18 new, exciting colours to the existing repertoire of 25 shades! With even more options to choose from, you can go bold or nude, dark or pastel, naughty or nice with just one swipe! From Rose Nuance to Sleek Dominance to Divine Mocha and more, you'll definitely be spoilt for choice.