Get Charged Up at Nutrition Month Malaysia from 1 to 14 December!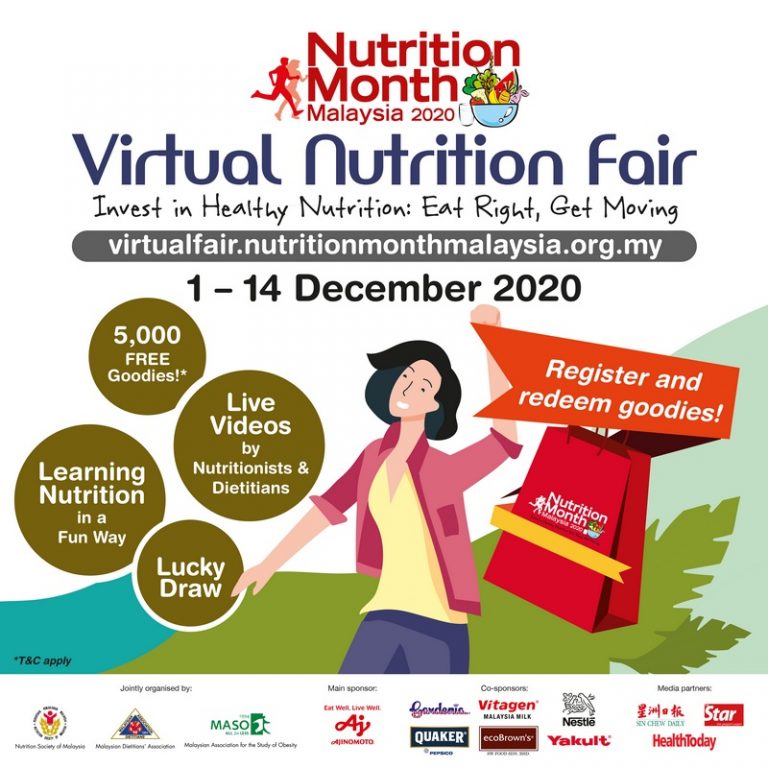 Experience Nutrition Month Malaysia (NMM)'s 1st Virtual Nutrition Fair happening from 1 to 14 December 2020 at virtualfair.nutritionmonthmalaysia.org.my.
Since 2009, the highly-anticipated annual event has made its rounds in shopping malls around Klang Valley since 2009. However, due to COVID-19 pandemic, NMM is going digital in 2020 so you don't have to miss out on all the fun and educational activities on healthy eating and active living!
The virtual event is jointly hosted by the Nutrition Society of Malaysia (NSM), Malaysian Dietitian Association (MDA), and Malaysia Study on Obesity (MASO) with the support of the Ministry of Health and other corporate partners.
The web-based virtual experience is designed to engage with participants through four main elements: virtual exhibition booths; online videos by experts offering Q&A sessions with nutritionists and dietitians; and goodie bag redemptions for the first 5,000 registered visitors who log in from 1 to 14 December. For an added interactive and engaging experience, there will be activities such as a virtual Nutri-Info-Hunt and multiple lucky draw sessions.
Come to Nutrition Month Malaysia Virtual Nutrition Fair to learn about nutrition, engage in fun activities and win gifts from the comfort of your home!
Wait no longer and register today to take part in these exciting activities that will be available during the virtual event, and stand a chance to win many awesome prizes. Early birds who pre-register before 1 December are entitled to get an e-voucher from the event sponsors!
For more information on the Nutrition Month Malaysia Virtual Nutrition Fair and to register, click here.