Get An Antioxidant Boost With OXXYPHENOLICS™ CLENSUP®!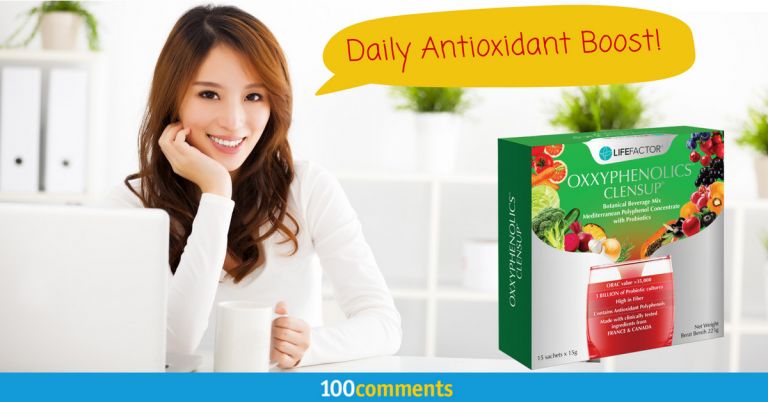 Not all antioxidant supplements are made equal. The variety of antioxidant supplements in the market are growing at a massive rate. So, it's good to know some important considerations when choosing one.
Let's explore the essential reasons why we need an antioxidant boost. And find out why Life Factor's OXXYPHENOLICS™ CLENSUP® can best meet your daily recommended antioxidant needs.
Loading Up On 22 Fruits And Vegetables
There is a strong correlation between long life and regular consumption of fruits and vegetables. The typical Mediterranean diet contains loads of fruits and vegetables, which are excellent sources of antioxidant polyphenols. Antioxidant polyphenols are known to neutralise free radicals that cause oxidative damage to the body.
This is why health professionals recommend us to consume 5 portions of fruits and vegetables daily. So, how do 5 portions a day look like? This may help:
Convenience In A Sachet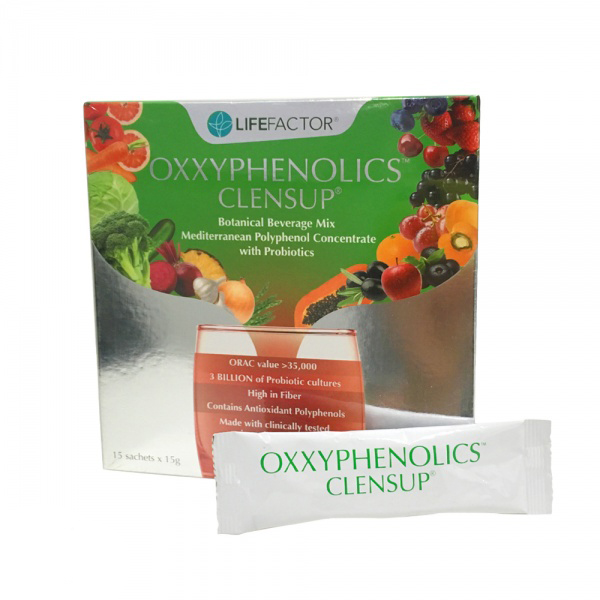 For most of us, getting in that amount of fruits and vegetables every day can be a challenge. OXXYPHENOLICS™ CLENSUP® can help busy professionals and families who may eat out more often than they like. The antioxidant concentrate is formulated with a patented Mediterranean blend derived from 22 fruits and vegetables. It also contains French whole red grape extract, Moringa leaf extract, beta-carotene and 3 billion cfu of microencapsulated B. longum Rosell®-175, making OXXYPHENOLICS™ CLENSUP® your daily antioxidant booster that preserves your optimum physiological potential.
One power-packed serving delivers the pure spectrum of antioxidant polyphenols equivalent to consuming the recommended 5 portions of fruits and vegetables per day.
Enjoy The Full Spectrum Of Whole Grape Extract
OXXYPHENOLICS™ CLENSUP® contains the complete benefits extracted from the French vine including all the phytochemicals found in the grape seeds and grape skin such as anthocyanidins, proanthocyanidins, trans-resveratrol and other polyphenols. They work to protect our skin against damage caused by the UV rays as well as protect our cardiovascular function by preventing oxidative damage towards the LDL cholesterol.
The meticulous extraction process ensures that a minimum 95% purity of proanthocyanins and the full benefits of the active constituents in the grapes are preserved.
Healthy Guts & Great Immune System
Probiotics have been proven to boost gut health and the immune system. The Bifidobacterium longum Rosell®-175, a probiotic strain of human origin incorporated into OXXYPHENOLICS™ CLENSUP®, does just that. It has been associated with many health benefits such as normalising the gastrointestinal transit, inhibiting the growth of harmful bacteria and strengthening the immune system, including reducing the influence of influenza in the elderly as proven in some clinical studies. The high fibre content in OXXYPHENOLICS™ CLENSUP® is also excellent in promoting regular bowel movements, which is great for gut health.
Probiotics Survival In Your Gastrointestinal Tract Assured
A patented probiotic microencapsulation technology is used to formulate OXXYPHENOLICS™  CLENSUP® with B. longum Rosell®-175. This ensures the probiotic's gastrointestinal survival rate from 64%- 80% in acidic conditions and that B. longum Rosell®-175 remains stable under normal duodenal conditions.
A Daily Boost of Antioxidant Goodness
The antioxidant polyphenols contained in each serving of OXXYPHENOLICS™ CLENSUP® protect cells against oxidative damage, improve immune function, nourish the skin, and slow the ageing process amongst a host of other health benefits. To consume, just add a sachet into a shaker containing 200-250ml of cold water in a shaker. Shake well and drink immediately. It's best to consume it an hour after dinner.
Try it and you'll look and feel better than ever from within! Want to share your love for OXXYPHENOLICS™ CLENSUP®? Leave your review here!
For more information, visit Life Factor's Facebook page or website.