Geno Asia Takes Center Stage at Agri Malaysia 2023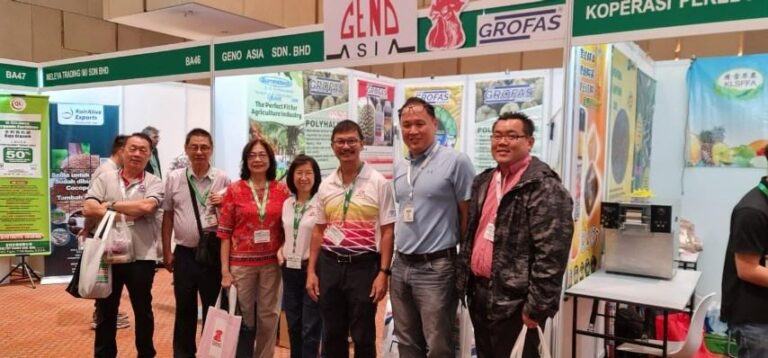 Geno Asia, a leading player in the agricultural industry, made a significant impact at Agri Malaysia 2023, where it unveiled the revolutionary Micropur TDCA Sprayer, offering a glimpse into the future of efficient and sustainable agriculture.
With an impressive capability to reduce labour costs by a staggering 75% while delivering four times the efficiency compared to CKS (Conventional Knapsack Sprayers) in the context of mature oil palm general weed control, the Micropur TDCA Sprayer is poised to redefine herbicide application practices in Malaysia's agricultural sector. This remarkable achievement is achieved by significantly reducing the volume of water required for herbicide spraying.
"This innovation holds the potential to revolutionise the Malaysian oil palm industry, offering numerous advantages to local farmers and plantation owners. Not only does it optimise herbicide application, but it also minimises the dependency on labour, allowing for more efficient and cost-effective weed control practices. By reducing the need for manual labour and increasing efficiency, the Micropur TDCA Sprayer will contribute to higher crop yields and overall sustainability in the Malaysian agriculture landscape," said Managing Director of Geno Asia, Lai Seow Pheng.
Lai emphasised the importance of this technology for Malaysia's oil palm industry, stating, "The Micropur TDCA Sprayer represents a game-changer for our local farmers and the entire oil palm sector. It not only enhances productivity but also aligns perfectly with our commitment to sustainability and resource conservation. As the sole distributor in Malaysia for this innovative product, we believe it will make a lasting impact on agriculture in the country."
Geno Asia's participation in Agri Malaysia 2023 showcased its commitment to introducing cutting-edge solutions to the agricultural sector as one of the leading companies in this industry.
Agri Malaysia Exhibition 2023 brought together 10,000 attendees with over 450 exhibitors, making it a notable event for the agricultural sector. It served as a platform for industry leaders and stakeholders to explore the latest innovations. The exhibition featured advanced technologies and sustainable farming practices, encouraging the exchange of knowledge and collaboration and is recognised by Malaysia External Trade Development Corporation (MATRADE) for meeting international standards.
"As Malaysia's oil palm industry prepares to embrace the transformative potential of the Micropur TDCA Sprayer, the nation's agriculture sector will be more efficient with cost reduction and a commitment to sustainability," enthused Lai.
For more information about Geno Asia and the Micropur TDCA Sprayer, please visit www.genoasia.com.