Fun For All at Sunway Lagoon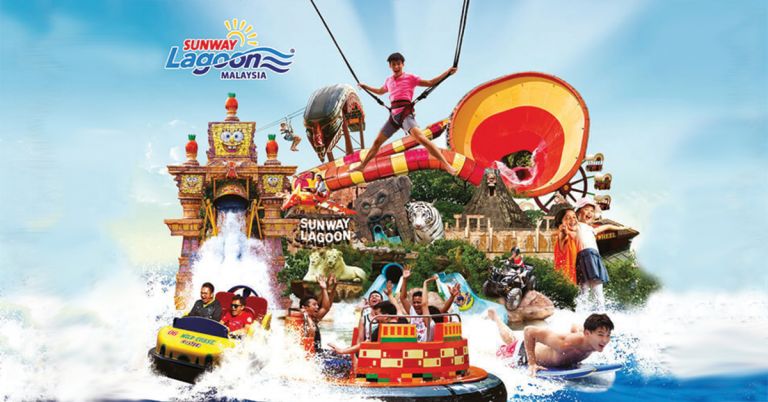 Taking a break with the family and friends? Why not head over to fun-packed Sunway Lagoon for a day? Let your hair down at the pools and rides at Nickelodeon Lost Lagoon or try out some adrenaline-fuelled activities at Extreme Park.
With over 90 rides and attractions spread across 6 themed parks – Water Park, Amusement Park, Extreme Park, Wildlife Park, Scream Park and Nickelodeon Lost Lagoon, the first-ever Nickelodeon-branded attraction in Asia – children and adults alike will experience non-stop fun and entertainment, guaranteed.
1. Splish-splashing Fun
Known as 'Asia's Best Attraction', Sunway Lagoon boasts some of the region's most thrilling rides, including the World's First Waterplexx 5D, Malaysia's Largest Water Ride – Vuvuzela, and Malaysia's Largest Man-made Sandy Surf Beach where anyone can be a wave rider. They can all be found at the Water Park.
The Waters of Africa also beckons with the loops of the African Pythons and Congo Challenge, an adrenalin-pumping ride that must be experienced with your gang. You can also do the Cameroon Climb, where you will get dropped 15 metres then shoot back up 8 metres. Age is no barrier to enjoy the Water Park. Just come and be prepared to have a splashing good time.
2. Thrilling Rides and More
If being soaking wet isn't your thing, fret not for there's much more to be enjoyed while being dry at the Amusement Park. All you need is a strong stomach and a penchant for thrills. Spin 360 degrees and see the world like you never did before on the Tomahawk and Pirate's Revenge. Scream your heart out as you hang on for dear life on the Lost City of Gold Scream Coaster. The kids can enjoy rides at the Carousel or try their hand to win plush toys at Fun World.
Be sure to capture that selfie or we-fie while standing on top of Malaysia's longest pedestrian suspension bridge, which hangs at 428m length and 60 feet above the lake. The breathtaking panoramic views of the entire park and beyond will definitely make an awesome addition to your social media feeds.
3. Get Ready To Rumble
Bored of the same old, same old and looking to challenge yourself? Look no further than the Extreme Park and where you can put your mettle to the rest with the highest, longest and fastest thrills!
Experience the exhilarating Grand Canyon River Rapids where it's just you on a raft cascading down the raging waters and dark tunnels deep in the Wild Wild West. If that's not enough, head over to G-Force X, to be slung up to 65 metres in the air from 0 to 120km/h in two seconds for a huge adrenaline boost. It's not called Asia's fastest slingshot ride for nothing! Also not to be missed is zipping on Malaysia's longest Flying Fox, which is a cool way to view the 206 metres across Sunway Lagoon.
Catered for the rough and tough, there's more to enjoy at this park! Show your inner Katniss Everdeen at the Archery range, go off-roading on the ATV or show off your speedster skills on the Go Karts. There are also kayaking, bungee jumping, paintball and pedal boating to cap it all off.
4. Not For the Faint-Hearted
If you wish you could celebrate Halloween every day, Lynton V Harris' Scream Park is designed for you! This live interactive 'scare' attraction, which is home to the popular Ghostbusters team, promises a spine-tingling 20-minute adventure. Be prepared to be put to the test to see if you have what it takes to be a Ghostbuster at the spooky, scary and slimy Ghostbusters Adventure-Live! walk-through attraction.
Once you have departed from the Slimer's pad, you will be regaled with the haunting story of Gertrude Aldridge as you tour Aldridge Mansion. This is followed by a detour via the New York Subway, Seward Street Station where you will alight to visit Old Zhu's Chinese Restaurant, the new HQ of our new all-star female Ghostbusters. You will then be transported to Rowan's basement before finally heading towards Times Square, New York, and the Mercado Hotel building for a rewardingly spooky and slimy finish before you head back to reality.
5. A Treat For Animal Lovers
Wow the kids and the animal lover in you by visiting the Wildlife Park. The interactive and educational zoo features over 150 species of animals, birds, fish, and reptiles from all over the world amidst lush, tropical surroundings.
Be sure to say hi to Zola and Zuri, the magnificent pair of White Lions, which are the highlights of the park. They from Africa's Timbavati and southern Kruger Park regions, and owe their white blond fur due to partial loss of pigmentation, a condition known as leucism.
6. An Adventurous Fantasyland
Nickelodeon fans will have their dreams come true at Nickelodeon Lost Lagoon. They will get to meet and greet their favourite including SpongeBob SquarePants, Patrick Star, Teenage Mutant Ninja Turtles, Dora the Explorer and Boots.
And then, a wet and exciting adventure awaits as you explore this fantasyland filled with colossal water rides and water playgrounds, canopy walks and meandering pathways, beautiful waterfalls and recreational campsites. Known as Asia's 1st Nickelodeon Themed Land, the Nickelodeon Lost Lagoon is sprawled across 10 acres of lush tropical rainforest with more than 12 rides and attractions provides a mix of thrill and family-friendly fun.
Amidst all these exciting activities, rest and fuel up at one of the many restaurants, bistros and refreshment stations found throughout the park. They serve a range of choices of food, beverages and snacks from food on-the-go to more substantial meals and fancy drinks.
Whatever your wish or fantasy, Sunway Lagoon has it all. So come one, come all and get ready to have the best day ever here!
For more information, please contact Sunway Lagoon at 603 5639 0000, visit www.sunwaylagoon.com or connect to www.facebook.com/SunwayLagoonMalaysia.