FIRST OF ITS KIND REAL-TIME MEDICAL BENEFIT AUTOMATION SYSTEM BY MEDKAD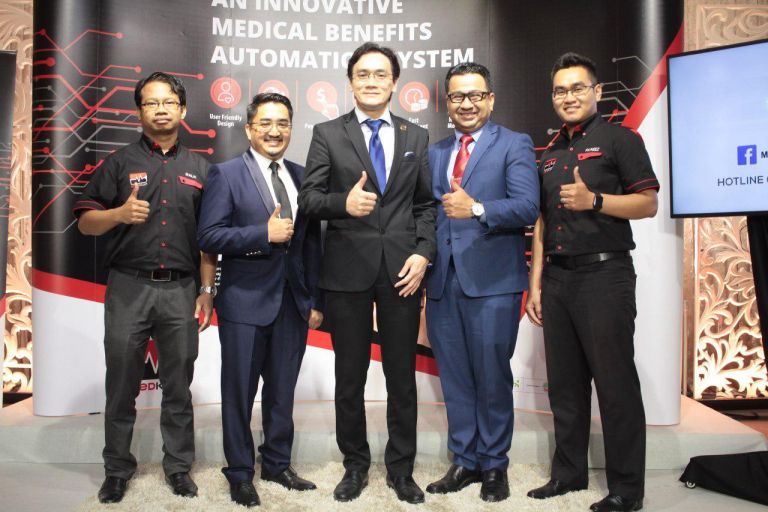 Shah Alam, 13th November 2018 – Employers and employees are in for some great news. An innovative system that offers medical benefit automation through mobile application has made its entrance through the efforts of MEDKAD Sdn Bhd. This simplified and user friendly system, named after the company enables employers and companies to cost-effectively manage their staff medical benefits with speed and efficiency. All one needs is to download the MEDKAD application to their mobile phone and they are set to go.
Often, employees either have to make advance payments and rely on the traditional records when visiting a clinic. MEDKAD, an award-winning start-up has pioneered this innovation which is set to change the medical benefits landscape for employers in Malaysia in a big way.
Through the use of MEDKAD's medical benefit automation system, companies would be able to enjoy more savings on medical claims as there are no hidden fees and no capital investment required.
The idea of MEDKAD first came about when both its co-founders, En Ezuan Yaacob and En Ahmad Azlan who have had many years of experience in the medical industry and overseeing third party administrations, saw the need for a medical benefits automation system to elevate current administrative problems, fraudulent claims and limited access faced by clinics, hospitals as well as employers and employees alike when seeking treatment.
According to the Chief Executive Officer of MEDKAD, En. Ezuan Yaacob "The app is easy to use, with a user-friendly design which allows patients to utilise its services with ease. MEDKAD enables patients to register digitally via mobile app, making manual registration at the clinic's counter a thing of the past. Aside from providing convience to patients, the app also enables us to adapt the automation system quickly to suit the requirements of each of our customers. As for our panels, MEDKAD is able to disburse payments to clinics within five days, which reaffirms our claim of providing fast and efficient services – a 360 convenient solution for all parties. We currently have over 1,300 panels, 5,000 users from 60 different companies and are continously working hard to increase this number nationwide."
MEDKAD's unique and advanced system also allows tracking of employees' medical activities and budget spent on medical benefits in real-time. Once a staff visits any of MEDKAD panel clinics, an immediate notification will be sent to the employer / company. As for the budget tracking, it comes with an automated monitoring on each employee's respective medical capping to avoid budget burst.
MEDKAD was officially launched today by En Rizal Nainy, Deputy CEO I, SME Corporation Malaysia. The event also witnessed an exchange of documents between MEDKAD and Focus Point, where MEDKAD users will be entitled to up to 60% discounts at all 184 Focus Point centers nationwide.
The event was attended by 200 guests including clients, healthcare providers, SMEs and startups nationwide, who had the opportunity to enhance their understanding on the usage of automation in MEDKAD.
The MEDKAD application is now officially available for download on both iOS and Android. For more information, please visit www.medkad.com