Finding a caregiver for your child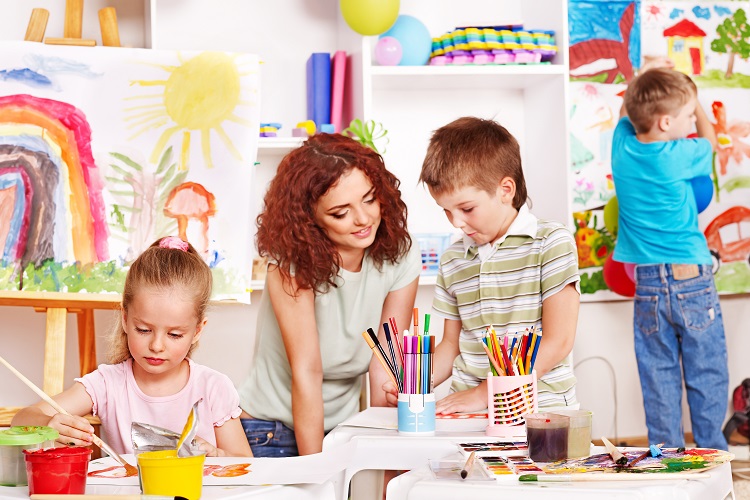 Finding a balance between work and being a mum requires a skillful juggling act. We ask mums about their childcare choices…
"Why I chose my… foreign helper"
Emily Dorall, teacher, is mum to Samantha, 2.5 years and Sophia, 18 months
"My Filipino helper, Romens, arrived when my eldest child, Samantha, was around three months old. In my neighbourhood, there are no good daycare centres; babysitters are hard to find too. My parents could not commit to babysitting because of their busy schedules.
I knew my maid before she worked with me. She is trustworthy and gets things done efficiently with minimal supervision. Besides, she herself is a mother and has had experience taking care of babies before. This childcare arrangement is convenient and ideal for my husband and I. Although we felt her salary and agency fees were burdensome at the beginning, the convenience we got outweighed the initial worries. We can leave the house for work early in the morning and come home after dark because everything will still be taken care of, including our dinner! Samantha and Sophia are doing well under Romens' care. They are really close to her. She successfully potty trained Samantha at 30 months old. I make sure that she allocates some time to read and play with them everyday.
If you're looking to hire a foreign helper as well, do a background check on their experience. Look for someone who is honest, loving, ready to learn, independent and able to make decisions. We spend RM1,100 per month for her salary with annual renewal at RM466. The initial agency fees were between RM5,000 to RM6,500."
Cost: RM1,100 monthly
"Why I chose my… childcare centre"
Phaik Guat, senior project manager, is mum to Jeff, 23 months
"We had a bad experience with a home-based babysitter prior to this and have since switched Jeff to a childcare centre when he was five months old. Although my in-laws are living not too far away from us, we prefer to keep Jeff close to us as we want to see him everyday and grow under our care as his parents. The childcare centre is located just five minutes away from our house, so it's very convenient for us to drop him off and pick him up on our way to and fro work. Jeff gets to mix around with his peers and is exposed to more languages than we could ever teach him at home. The centre's owner is also flexible with the drop-off/pick-up time, doesn't mind cooking Jeff's meals separately with the ingredients prepared by me and allows him to be fully cloth-diapered (instead of using disposable diapers) throughout his time there.
Progress wise, he has been doing well and achieving the milestones appropriate for his age. He's also able to take instructions and speaks rather well including in Bahasa!
Besides considering its cleanliness and hygiene, among the criteria we looked into while searching for an ideal childcare centre include passionate and experienced caregivers as well as an air-conditioned and non-smoking environment. Remember to check if the centre is breastfeeding-friendly and has in-depth knowledge about handling babies with special conditions such as G6PD. We pay RM700 per month for full daycare (7.30am to 7.30pm) from Mondays to Fridays, inclusive of three meals per day."
Cost: RM700 monthly
"Why I chose my… child's grandparents"
Jeannie Leong, IT consultant, is mum to Liam, 11 months
"My retired parents started taking care of Liam after I returned to work four months after he was born. With the help of my maid, they look after him during the day while my husband and I take over in the evenings and weekends. This arrangement works out really well because my parents live less than 10 minutes away from our home and I don't have to go through the trouble of sending or picking him up from a babysitter or daycare centre. Both baby and grandparents are comfortable in my home. Plus, the CCTV in my house gives me the visual reassurance that my child is well taken care off.
Under the care of his grandparents, Liam is progressing very well and reaching all his milestones. They shower him with lots of love and attention but also discipline him whenever necessary. They are also very receptive to the importance of early childhood development and will practise baby sign language as well as flash cards with Liam. As a token of appreciation, we reimburse them with RM1,500 every month, which covers buying and cooking fresh meals for my child."
Cost: RM1,500 monthly or at your own discreet
Why I chose my… live-in nanny"
Elaine Chew, self-employed, is mum to Gina and Gini, 18 months
"We liked the idea of our twin girls being at home, and wanted them to have a one-to-one attention – I think babies need that. Our live-in nanny started off as my confinement lady. We liked how she connected with our daughters during the confinement period and asked if she would like to stay on and look after them. We are very glad she did.
She has been with us since the girls were newborns. The girls adore her as she pays a lot of attention to them. She's like a grandmother figure to them. Her vast experience in baby caring makes us feel assured to leave Gina and Gini at home with her too. Our domestic helper from Indonesia assists with the household chores while our live-in nanny focuses on taking care of the girls. When we looked at the figures, it made sense too. We pay her RM2,000 a month inclusive of meals. Having her live with us makes it cheaper as well, and she gets the weekends off."
Cost: RM2,000 monthly