Find All You Need at Perfect Mom N Baby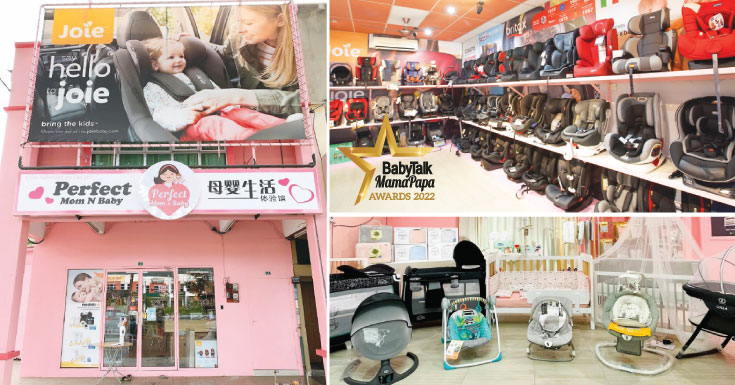 If you're a parent with a young baby at home, there's actually a lot that needs to be constantly prepared and restocked. It's the same if you're expecting a baby.
There will be certain times when going to a physical store won't be convenient or possible. Perhaps you're too busy, or the shop is just too far away from your home.
Thankfully, there's the convenience of e-commerce or online stores these days. One of the most complete stores that parents can consider is Perfect Mom N Baby, an online baby store established in 2014.
Why Shop at Perfect Mom N Baby?
There are many reasons why online baby stores like Perfect Mom N Baby should be your choice when shopping for baby supplies.
Price comparisons


E-commerce platforms have a large collection of items of the same type. This makes it very easy for you to compare prices and features, thereby making your decision making process a lot easier. Furthermore, it allows you to save money and get the most value out of your budget.

Wide selection of brands


The great thing about online stores is that they're not limited by space. This means that you can enjoy more brands, as there are more than 100 brands here. For example, at Perfect Mom N Baby, there are more than ten brands of strollers. These include well known ones like Joie and Chicco.

Taking your time


Many parents like to be able to take their time and find out about each selection's features and price before making a decision. This is often not possible in physical stores where you'll be expected to make a purchase within a short time. Additionally, shopping online at Mom N Baby means no one will pressure you to make a quick buy, i.e. there's absolutely no sales pressure.

Convenient and time saving


When you shop at Perfect Mom N Baby, all items will be delivered directly to your doorstep. This means no traveling. You'll be able to shop at any time of the day too, and don't have to depend on the opening times of a brick and mortar store. Imagine the hours you'll save on traveling, finding parking and going through traffic jams.

Large selection of product categories


Whilst many physical stores are limited by space, Perfect Mom N Baby is not. As an online store, they are able to stock as many categories of products as possible. These include breastfeeding essentials, cots and playpens, baby bottles, baby food, toys and so much more. In fact, they carry more than 30 categories of products.

Award winning


All these benefits and more have earned Perfect Mom N Baby several accolades, including the Baby Talk Mama Papa Awards 2022's best baby store in Perak. In addition to shopping online, Perakians can now browse their showroom too.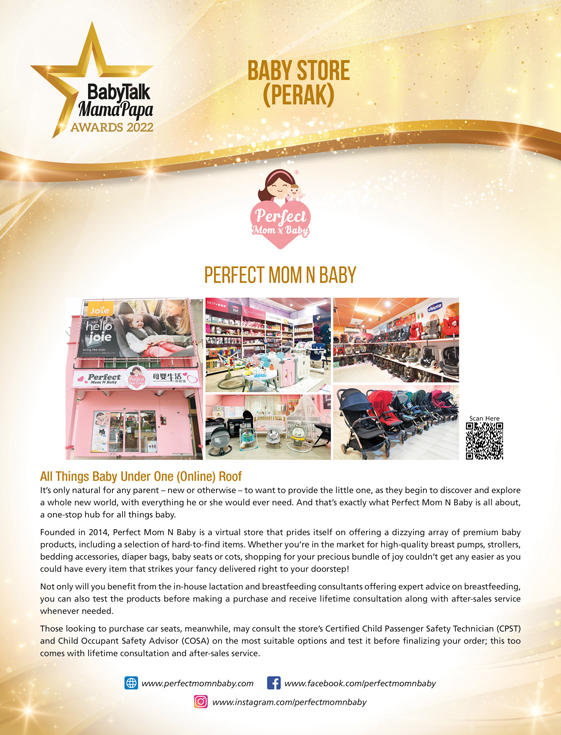 Perfect Mom N Baby Offers So Much More
In addition to the points mentioned above, you can also expect excellent customer service from Perfect Mom N Baby. This will definitely come in handy if you face issues with your delivery or product quality.
Additionally, they also have expert breastfeeding and child safety consultants on board to help advise on the more technical aspects of certain products.
You can also look forward to Perfect Mom N Baby's special discounts and promotions which are available all year round. In addition to the website, you can also follow their Facebook and Instagram for updates.