Fight Grime with OFFEN Multi-Purpose Surface Cleanser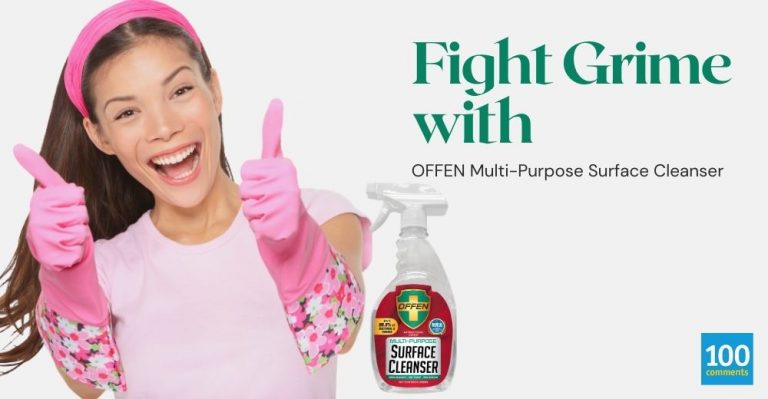 A good multi-purpose cleaner is an essential household item. They are typically safe to use on a variety of surfaces, and are quite easy to clean, leaving behind no grime or residue. These cleaners can clean counters, walls, floors, appliances, furniture, and plastic. Spray cleaners are ideal for small and targeted areas, and when you need to do a quick spot cleaning. OFFEN Multi-Purpose Surface Cleanser is a general all-purpose cleaning solution that's perfect for all your daily cleaning needs and here are the 3 reasons why:
Kills Allergens and Pathogens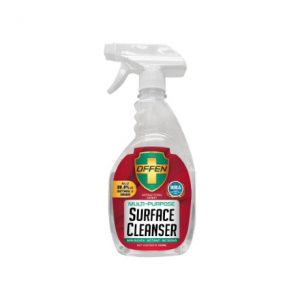 Not all-purpose cleaners are designed to kill germs. While any form of cleaning and wiping will physically remove certain germs from the surface, special formulations are needed to destroy them. Sanitising and disinfecting cleaners like OFFEN Multi-Purpose Surface Cleanser go a step further to kill germs namely, bacteria and viruses, on most surfaces.
OFFEN Multi-Purpose Surface Cleanser efficiently removes 90% of allergens and kills 99.9% of bacteria and viruses. It is easy to use, just spray the area to be cleaned and then wipe it with a damp cloth or sponge.
Keep in mind that a surface must be properly cleaned first before the sanitising and disinfecting ingredients can be activated. This means that the surface must remain wet for a period of time for the product to be effective. For disinfection purposes, the surface must remain wet with the solution for at least 10 minutes.
Suitable for a variety of surfaces inside and outside the home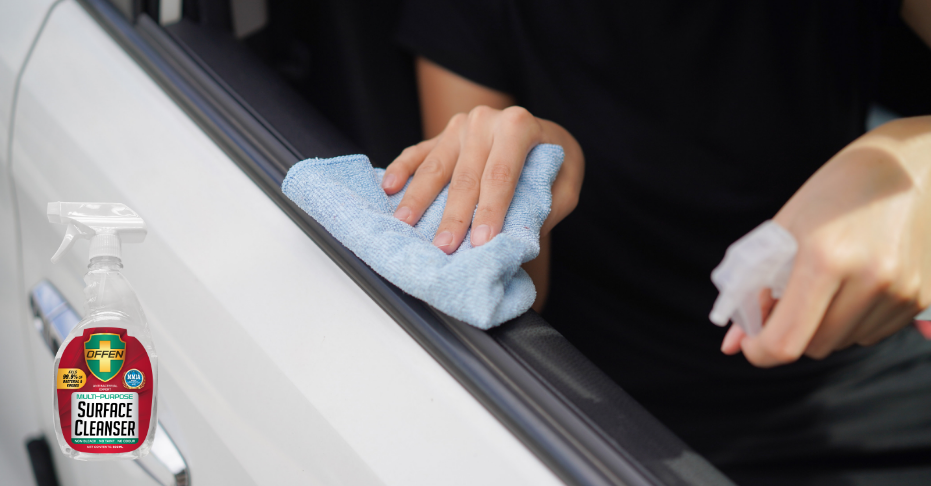 The bleach-free OFFEN Multi-Purpose Surface Cleanser cuts through grime, without emitting any strong odour like normal bleach does. It boasts of a rinse-free formula that makes cleaning a breeze while keeping surfaces free from dirt and dust, without damaging or tainting them. This makes it suitable for hard surfaces, bins, the kitchen sink, baths and taps, toilet seats and bathroom areas, and working area. It does a great job in removing grease and soil on surfaces and is easy to wipe clean without streaking. Home cooks will rejoice knowing that OFFEN Multi-Purpose Surface Cleanser helps keep the kitchen clean and grease-free after every meal is prepared.
Safe for Everyone
Products that can effectively clean and kill germs don't have to smell bad and contain toxic ingredients. OFFEN Multi-Purpose Surface Cleanser is safe to use by everyone, as it does not emit any toxic chemical residues. Its unique formulation does not leave water marks on surfaces, ensuring that they can be cleaned effectively without any sticky residue, and most importantly, prevent anyone from accidentally slipping on wet floors.
So before you grab your next bottle of multi-purpose cleanser of a supermarket shelf, stop and think what is best for your family and your home. We highly recommend getting a bottle of OFFEN Multi-Purpose Surface Cleanser for every room and you'll find cleaning so much more convenient to do!
OFFEN Multi-Purpose Surface Cleanser is produced by OFFEN, an antibacterial expert with a vast range of household friendly products. Its products are FDA-approved, and tested by SGS, Allied Chemists and MMIA. OFFEN products are widely available at pharmacies, supermarkets, Chinese medical halls and retail stores online including Shopee and Lazada.
If you love OFFEN Multi-Purpose Surface Cleanser, leave a review here! For more information on the OFFEN range of antibacterial products, visit their Facebook page.