Feed Your Baby Safely With These 6 Best Bottle Sterilizers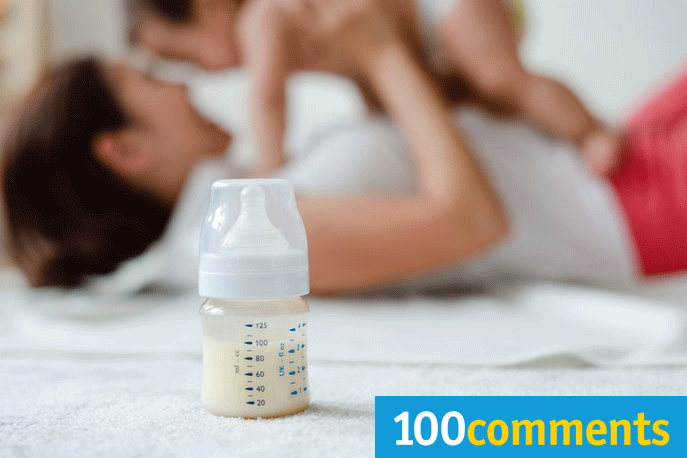 Bottle feeding is something that every parent has to handle at some point. However, as a baby's immune system tends to be fragile, it is essential to make sure that their bottles are disinfected and sterilized properly. For parents who aren't sure how to zap away all those icky germs, we've put together a list of some of the best cutting edge bottle sterilizers in Malaysia today.
Best 3-in-1 Bottle Sterilizer
Perfect for those who want a multipurpose sterilizer, Philips Avent is a device that can be adjusted to perfectly fit the items you want to sterilize while taking up the least amount of kitchen space. These special functions include: 1) Small size configuration for sterilizing soothers 2) Medium size configuration for sterilizing several bottles, toddler plates, knives, and forks, and 3) Large size configuration for sterilizing a full load of up to 6 bottles. This sterilizer has been designed to fit both wide neck and narrow neck bottles as well as different breast pumps and accessories. This gives you the freedom to choose the bottles and accessories that best suit you and your baby. At full capacity the sterilizer holds six 11oz / 330ml Philips AVENT bottles.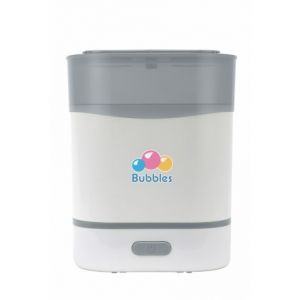 Best Multiple Bottle Sterilizer
For parents who have a lot of bottles to handle, the Bubbles Steam Sterilizer is a god send. With its extra large capacity, it can sterilize up to 6 bottles and accessories (including breast pump parts) at once. Designed for ease of use, the Bubbles Steam Sterilizer can fit all bottle types including wide neck and narrow neck bottles. You can even adjust it into 3 different sizes in order to meet special needs and save kitchen space. Bubbles Steam Sterilizer comes complete with plastic tong and measuring cup.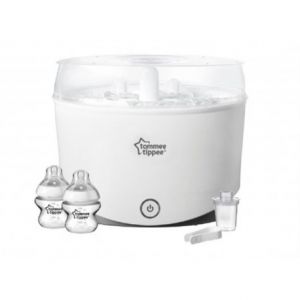 Best Fast Acting Bottle Sterilizer
Sterilize your baby bottles in less than 5 minutes with the Tommee Tippee Closer to Nature Electric Steam Sterilizer Set. Designed to make life simpler and more convenient, this sterilizer set has all the streamlined looks and style of its top selling predecessor, but with an added host of brilliant features that make it stand out from the crowd. Its 5 minute cycle time sterilizes your baby's feeding equipment quickly yet effectively. The clear digital display shows you exactly which stage the process is at and, if you leave the unit closed, counts down from 3 hours to let you know how long the bottles will remain sterile.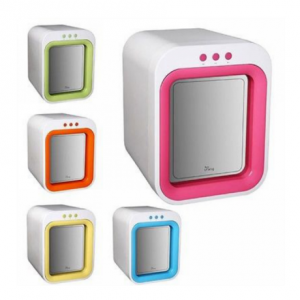 Best Waterless Sterilizer
uPang is the First UV Waterless Sterilizer in the World, allowing it to be used not just for bottles but also all sorts of items such as toothbrushes, gadgets, cutleries, make up tools, toys, anything you want to clean and sterilize with just one button. uPang eliminates 99.9% of harmful germs and bacteria such as Escherichia Coli, Staphylococcus Aureus, Salmonella Typhimurium, Pseudomonas Aeruginosa and so on. Unlike conventional steam sterilizers uPang's infrared bulbs can sterilize your items at temperatures below 40 degrees, allowing you to protect your baby from the hazardous substances that can occur when boiling or steaming with high temperatures.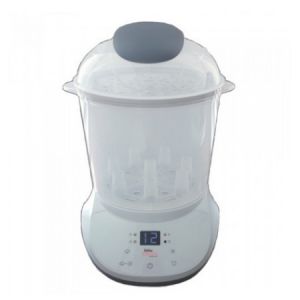 Best Convenience Bottle Sterilizer
This Little Bean Premium Multifunction Sterilizer is an ideal disinfectant appliance for sterilizing your baby's bottle and feeding accessories. It is both safe and convenient, easing many of a modern parent's woes with one simple multifunctional device. It uses constant and intensive heat from steam to disinfect harmful bacteria before drying your baby's bottles completely for storage or next feeding. It also comes with an LED display and micro computer that automatically controls the system to guarantee complete sterilization.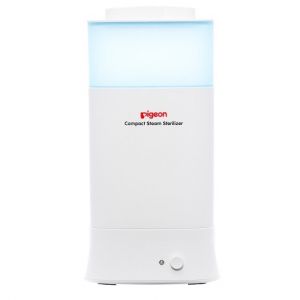 Best Bottle Sterilizer For Family Trips
If you're going on vacation, don't forget to pack a Pigeon Compact Steam Sterilizer. Serving as the perfect travel-friendly bottle sterilizer, Pigeon Compact Steam Sterilizer has a slim and compact design that takes up minimal space. Able to fit 2 wide or slim neck bottles as well as their accessories, the Pigeon Compact Steam Sterilizer also has an interchangeable compartment that allows you to sterilize according to you needs.