Every Moms Deserves to Feel Cared for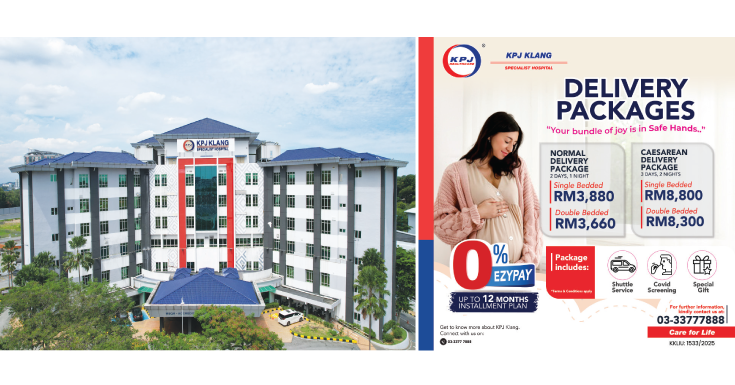 Pregnancy brings with it a list of challenges for a family, and at times, it can get daunting to think of dealing with the details. Many pregnant moms also find themselves getting caught up with the goings-on around them so much so that they neglect to think of their wellbeing and that of their pregnancies as well.
It will always be in the best interest of a pregnant mom and her baby to pick a suitable maternity hospital as early as possible. For families living in Klang, Selangor, choosing KPJ Klang Specialist Hospital as their maternity hospital is almost second nature, thanks to its honorable recognitions including Malaysian Society for Quality in Health (MSQH); Integrated Management System (IMS) Certification; as well as Customer Service Management (CSM) Recognition. These give pregnant moms the assurance of knowing that they will be in the best hands, and so will their newborn babies!
From the viewpoint of affordability, KPJ Klang Specialist Hospital has always understood the desire many families have, to secure the kind of care offered at their award-winning establishment. The hospital offers several choices of Delivery Packages designed to suit various kinds of budgets besides preferences as well as needs. Furthermore, the hospital also goes further to offer a 12-months installment plan to families who might need this arrangement to ease their financial commitments.
The Delivery Packages offered at KPJ Klang Specialist Hospital consist of a 2 days, 1-night Normal Delivery Package with the choice of Single Bed or Double Bed room; and the 3 days 2 nights Cesarean Delivery Package where mothers can also choose between a Single Bed or Double Bed room. For the starting price for the maternity package is RM3,660, KPJ Klang Specialist Hospital's delivery packages are among the most competitively priced and most sought-after by expectant families.
KPJ Klang Specialist Hospital's shuttle services have also been helpful for its patients, and many, including pregnant moms and their families have benefitted from it. For the ease of mind of pregnant or new moms and their families, Covid-19 screenings are also included in the Delivery Package. To commemorate their precious birthing event, the hospital presents each new mom with a special gift, which makes delivering their baby at the award-winning hospital even more meaningful!
KPJ Klang Specialist Hospital has recently opened their newly refurbished and upgraded Maternity and Pediatric Ward, following the announcement of its full operation, complete with more beds to serve their growing patient community. This presents even more reasons for families to pick KPJ Klang Specialist Hospital, for its top-notch care, personalized service, and a tranquil, comfortable environment where pregnant moms can deliver their babies with complete peace of mind.