Essential Newborn Clothing Every Parent Needs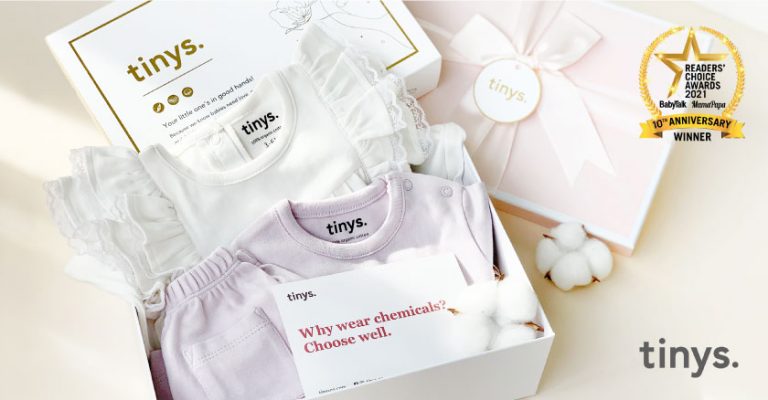 Clothing for a newborn is a huge concern for parents. Therefore, every effort is made to prepare for any eventuality and occasion. Shopping for newborn babies takes place frequently during pregnancy, often from the comfort and safety of home particularly during the pandemic.
From coming home outfits to everyday basics, you need quite a few different types of baby clothes. The good news? Tinys is a must-have newborn clothes brand every discerning parent who wants the best sustainable babywear should know.
The Absolute Best Clothing Brand for Your Babies
Tinys is proud to be a Malaysian-owned company that provides timeless style and environmentally friendly newborn clothing that meets the highest standards. Understanding that keeping your baby feeling safe and comfortable is an utmost priority for parents, Tinys thoughtfully designed each premium quality piece to be safe and gentle even on the most sensitive skin.
Their 100% organic cotton baby clothes are G.O.T.S certified (The Global Organic Textile Standard (GOTS), the world's leading textile processing standard for organic fibres) and devoid of any dangerous chemicals that could affect a baby's delicate skin. To meet the stringent G.O.T.S criteria, the clothing must be made of cotton from an organic farm that satisfies food crop standards. It also means ensuring that no unnecessary chemicals were used in the processing and that no forced or child labour was used. Most significantly, by eliminating thousands of herbicides, pesticides and chemicals from the equation, you may feel assured that you have provided the best possible clothing for your child.
Tinys, which promises parents' peace of mind and satisfaction, promotes the benefits of organic cotton clothing created with low-impact manufacturing, fair labour methods, and a variety of gender-neutral and comfy organic baby garments suited for everyday wear. This is great news for children who suffer from eczema. Tinys was created with the premise that getting the best for your child does not have to cost the planet. Beyond that, Tinys inspire children to grow and develop to their fullest potential, without the interference of allergies or sensitivities.
Tinys has recently won BabyTalk Readers' Choice Awards 2021 for the Baby Clothes (Organic Cotton) category. Whether you're looking for premium, gender neutral baby shower present or super stylish essentials for your own little one, Tinys has the perfect gift set for you and your baby.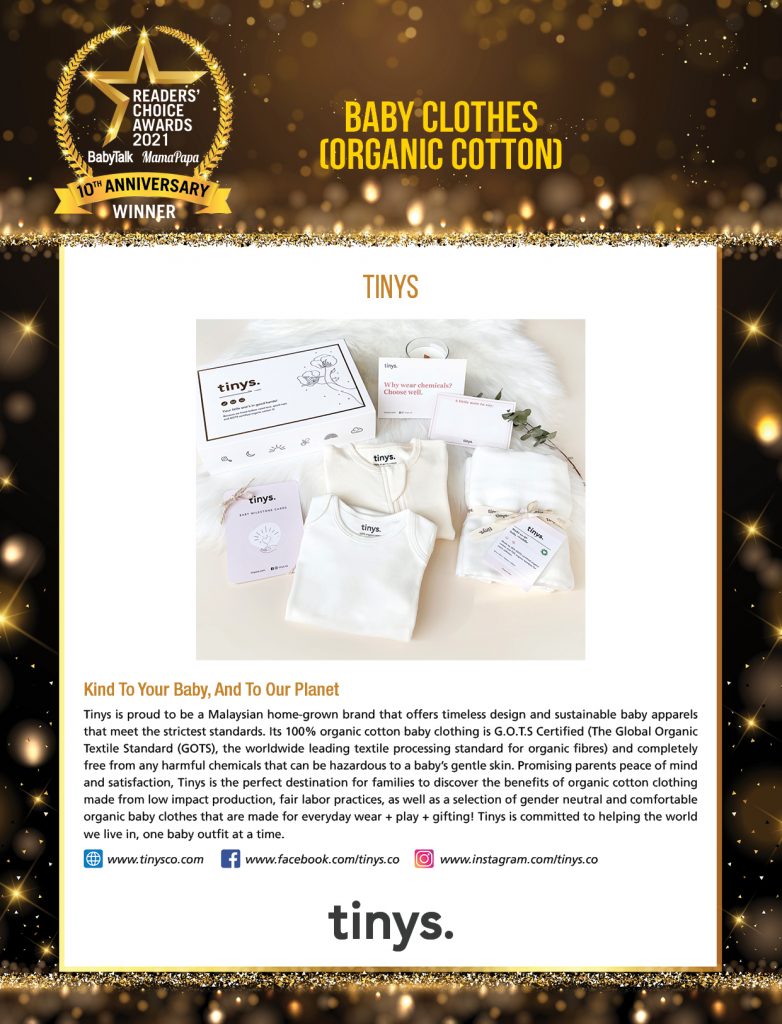 There are many to-dos when prepping for the baby's arrival, and shopping for all the baby essentials can be overwhelming. It's easy to get caught up in buying baby essentials, from setting up the nursery to gathering the gear for sleeping, feeding, and diapering supplies. Let Tinys make babywear shopping easier for you. They are dedicated to making a difference in the world, one baby outfit at a time. Feel free to leave a review here!
For more information, visit their website,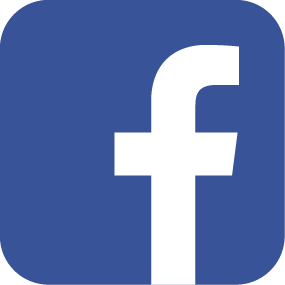 Facebook page and
Instagram page.