Enjoyable Art Class For Kids in Klang Valley
Art is a great platform for kids to be expressive by channelling their imagination to create something entirely out of nothing. It is ideal for parents to start exposing their kids to art from a very early age since this will benefit them in the long run.
Why not you send your kids to these creative workshops in Klang Valley? Ranging from painting class, metalsmith to beading and jewellery making.
Art Jamming @ The Studio KL
The Studio at KL, situated in Solaris Dutamas, is reputed for its method of providing canvases and easels for kids so they can take pride in working like professionals. Kids are encouraged to be creative and there is no rules in painting or creating art. The Studio at KL provides a very good vibe for kids to express themselves in myriad art styles.
Apart from that, the projects also come with a lesson on art theory such as the history behind aboriginal art which can also double as a source of information for the kids. First timers are also entitled to a free lesson so head on to The Studio at KL to unleash your kid's imagination!
Address: Binjai 8 Premium Soho, 15-1 No. 2, Lorong Binjai, 50450 Ampang, Wilayah Persekutuan Kuala Lumpur, Malaysia
Kids Ceramic Classes @ Clay Expression
Situated in Subang Jaya, Clay Expression motivates kids to learn and explore clay as a unique art medium to help them refine their motor skills and to also be in touch with their imagination. A lot of people think that clay has a calming effect so kids are able to keep themselves occupied by playing with clay for hours at a time.
Playing with clay also teaches kids to be patient because of how easily the clay is manipulated so that will make them more careful and increase their concentration when doing their projects.
Address:  Lot 757, No.5 Block C, Jalan Subang 3, 47610 PJ, Selangor.
Jewellery Making Workshops @ Jewelz
If your girl is not up to get her dresses dirty from paint and pottery, enrol her in a jewellery making class! Jewelz, a handmade jewellery boutique and studio is recommended for older girls and teenagers. Jewelz introductory classes include mastering the three-strand necklace, floating necklace, bracelets, head pin looping projects, v-neck necklace and also fireball earrings. It should also be noted that reservations are necessary for the courses.
Address: Jewelz Jewellery Learning Centre, Block L-1-3 Plaza Damas, 60 Jalan Sri Hartamas 1, 50480 Kuala Lumpur
Kid's Metalsmithing Class @ Nizam Sculpture Studio
Nizam Sculpture Studio is not just a sculpting class, it can also be a platform for your children to embrace and express their inner metalsmith. Situated in Shah Alam, Nizam Sculpture Studio was found by Nizam Abdullah who is a renowned steel sculpture artist in Malaysia. Kids who join his class will learn about different kinds of metals and also their pliability while being taught to make their own steel sculpture.
The classes involved are more theoretical than practical so all hazardous steps will be completed by Nizam and his assistants while the kids observe. Safety is an important feature at the studio as participants are advised to wear jeans and covered shoes so parents will have one less thing to worry about.
Address: Dataran Ara Damansara, 47301 Petaling Jaya, Selangor
Global Art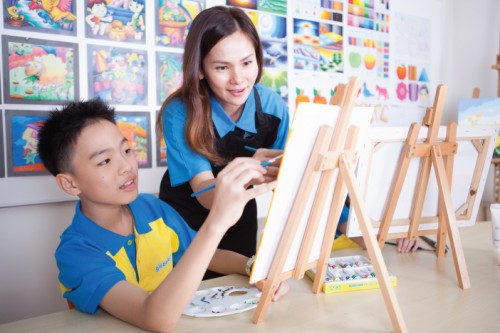 Fun, enjoyable and informative art activities with creative games, puzzles and storytelling sessions.Global Art offers class from Junior Program, Foundation, Pre-Basic, Basic, Intermediate and Advance. All these classes are crafted to suit your kids' level. For junior program class, your kids will be exposed to systematic colouring technique and crafting activities from workbooks and additional learning materials.
Apart from visual art class, Global Art also offers a few enhancement programme which are visual art, handicraft, cartoon & comics, glass painting, acrylic painting and also G-clay.
Address: Block H-09-3, SetiaWalk, Persiaran Wawasan, Pusat Bandar Puchong, 47160 Puchong, Selangor.
Tiny Forest Terrarium
Tiny Forest Terrariums Subang Jaya was founded by Yuna Zarai in 2012 in Los Angeles when she started making custom made terrariums for her friend Takashi who owns a concept store called KAPSOUL in Downtown Los Angeles.
When she came back to Kuala Lumpur she had made one for her mother and they both realized that they wanted to start a terrarium studio together in SS15, Subang Jaya, the neighbourhood where she grew up. Customers are free to come and build their own terrariums and they also do classes for kids during school break.
Address: 14, SS15/8B, Subang Jaya, 47600, Selangor, Malaysia
Beading Class @ The Jaya One
Do you know that The Jaya One offers a great selection of art classes for young kids? One of the classes that you can try is Beading Class. Conducted by a line of a professional instructor, your kids will learn how to read patterns and arrange the beads together to make it a character. Beading workshop is a great learning process to polish motor skill. Get your kids to portray their creativity through this class.
Address: 72A, Jalan Universiti, Seksyen 13, 46200 Petaling Jaya, Selangor.