Enjoy Healthy, Glowing Skin While You Travel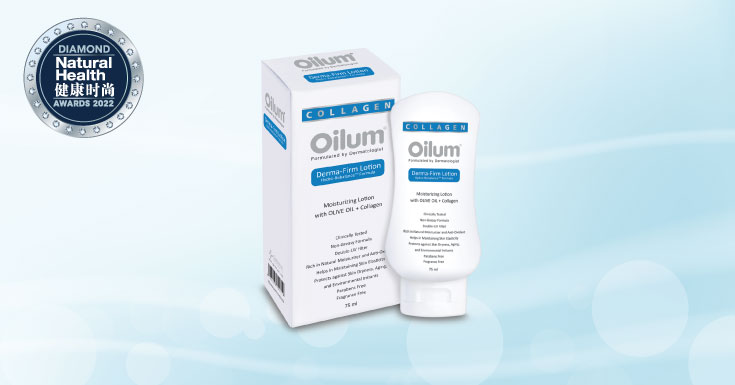 Now that the borders are open and people are travelling overseas more than ever, especially during the many long weekends and public holidays we are enjoying this year, it's time to take our skincare seriously. You know that air travel can be very harsh and drying on the skin. It helps to have a friend like Oilum Derma-Firm Lotion to bring along on your travels. Here are the reasons why!
1. Formulated with Antioxidant-rich Olive Oil
Oilum Derma-Firm Lotion contains olive oil, which has numerous benefits for the skin. Olive oil is rich in antioxidants and contains high levels of Vitamin E, which helps prevent free radical damage on the skin. Free radicals are unstable molecules that can cause damage to the skin's cells, leading to premature aging, wrinkles, and fine lines. In addition, the nourishing properties of olive oil can help to moisturise and hydrate the skin, leaving it feeling soft and supple. Regular use of Oilum Derma-Firm Lotion can also help to improve the skin's elasticity, making it firmer and more toned.
2. Promotes Collagen Production
Collagen is a protein that is responsible for the skin's firmness and elasticity. As people age, the production of collagen in the body naturally decreases, resulting in the loss of skin elasticity and the formation of wrinkles, fine lines, and sagging skin.
This is where Oilum Derma-Firm Lotion can help. The lotion is specially formulated to promote the skin's production of collagen, which can help to improve the skin's elasticity and reduce the appearance of wrinkles and fine lines. By providing the skin with the necessary building blocks for collagen production, Oilum Derma-Firm Lotion helps to support the skin's natural repair process.
3. Travel-friendly Size
At just 75ml in size, this travel-friendly bottle fits the flight carry-on requirements. This means you can moisturise your skin throughout long-haul flights and arrive at your destination looking as fresh as a rose!
4. Light-weight Texture
Oilum Derma-Firm Lotion has a lightweight texture, which makes it easy to apply and quick to absorb into the skin. The lotion penetrates deeply into the skin, where it can deliver its active ingredients, such as olive oil and collagen-boosting compounds, to the lower layers of the skin. This helps to nourish and support the skin from the inside out, resulting in improved elasticity, firmness, and a more youthful appearance.
5. Non-greasy Feel
The lightweight lotion formula offers all the moisture that your skin needs, without being too heavy or greasy. This makes it a great option for those with oily or combination skin types, as heavy creams can often make the skin feel clogged or congested.
It can be used throughout the day without leaving the skin feeling sticky or heavy. This makes it a great option for those who prefer to reapply their moisturiser multiple times a day, as it won't interfere with the application of makeup or other skincare products.
6. UV Protection Support
Oilum Derma-Firm Lotion contains a double-UV filter to help shield the skin from the harmful rays of the sun. It helps to add value to your sunscreen so that you have peace of mind while going out and about and visiting exciting spots!
Looking Your Best Wherever You Go
With its powerful combination of olive oil and other nourishing ingredients, Oilum Derma-Firm Lotion can help you achieve a more youthful, vibrant, and Instagram-worthy appearance. So say goodbye to premature ageing and hello to healthier, more radiant skin with Oilum Derma-Firm Lotion.
If you haven't already, choose Oilum Derma-Firm Lotion, the Diamond winner of the Natural Health Readers' Choice Awards for Moisturising Lotion (Dry Skin & Wrinkled Skin) to enjoy healthy, glowing skin during your travels.