Empro Masks Ace TÜV SÜD Viral Filtration Efficiency Test – the First in Southeast Asia to do so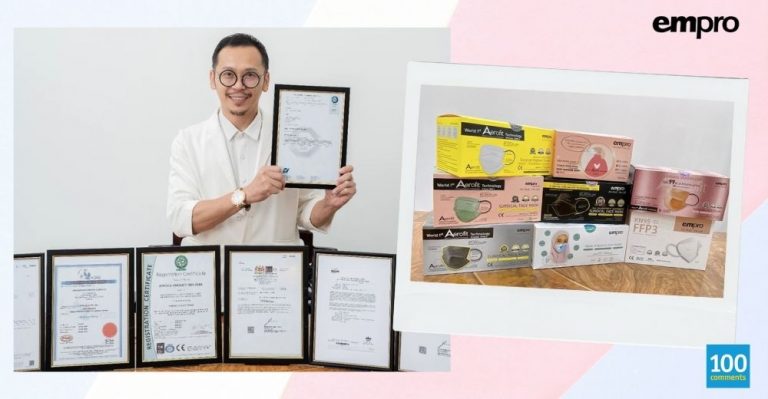 Now you can breathe a sigh of relief whenever you wear the comfortable EMPRO face masks as they are also proven effective in filtering 99.9% of viruses! EMPRO, the leading Malaysian surgical face mask maker, has recently passed the world-renowned German experts' TÜV SÜD's Viral Filtration Efficiency (VFE) test. As demand grows, so will EMPRO ramp up on their manufacturing side of things to be able to supply these face masks to the local and worldwide communities.
TÜV SÜD is a symbol of trust for consumers to identify brands that have been thoroughly inspected by professionals to ensure the products meet international standards for quality, safety, and sustainability. The EMPRO face masks stood well against TÜV SÜD's VFE testing and managed to achieve an average rating of 99.9 percent. This would mean that the EMPRO face masks are exceedingly effective in blocking out even the tiniest of particles [mean particle size (MPS) of 3.0 ± 0.3 µm] from entering or escaping from the mask, making it superior to Bacterial and Particle Filtration Efficiency (BFE & PFE) ratings.
The TÜV SÜD's VFE testing is one of the most highly regarded and hard-to-attain accreditations for medical devices in the world. As such, EMPRO brand owner Prof. Dr. Coco Alex is pleased for bringing global recognition to Malaysia as being a reliable country for face mask production. Malaysia is already well known for distributing high-grade disposable gloves; with the results of this test, EMPRO can work towards making Malaysia a preferred destination for quality face mask exportation.
The EMPRO face masks are able to cater to people across the globe and stand out as one of the best face mask brand in the world, not just because of its VFE rating but also because of the incorporation of patented Aerofit Technology and Airlock Seal in their masks. The Airlock Seal allows for complete protection from any airborne particles as it securely blocks out any openings, be it from the sides or under the mask. They have also been recognized by the Medical Device Authority (MDA) in Malaysia to provide the highest level of protection attainable, ASTM Level 3. Although it is widely perceived that face masks with the highest level of protection are often hard to breathe in, this is not the case for EMPRO's face masks. When putting on the mask, the first thing that becomes apparent is the exceptionally high breathability and comfort.
He added, "It brings me great pride to represent Malaysia in this avenue, and I hope this will drive others to work towards making Malaysia an active trading nation across multiple industries, especially on the medical side. We are now well-positioned to engage in export and trading activities throughout Southeast Asia, and we are more than ready to be a global mask distributor, alongside China. EMPRO will soon be the only Malaysian-made face mask brand of this calibre to be readily available in pharmacies throughout Southeast Asia."
With the growing demand for surgical face masks both domestically and internationally, EMPRO's factory production for the last quarter of the year is to increase by 20 percent as we adapt to the new normal. As of now, EMPRO masks are well utilized in Switzerland, and they aim to expand their reach by making their masks readily available throughout pharmacies all across the globe, especially in the United States of America, Australia, Singapore, Indonesia, Philippines, Thailand and Vietnam.
The TÜV SÜD test results are proof that the work that EMPRO has put into achieving its mission to protect the "people" with the highest quality face masks, has been well acknowledged. They are ready to take up an active leadership role in fighting the pandemic and restore safety back into the country.
EMPRO surgical facemasks are widely distributed in most major pharmacies in Malaysia including – Watson, SASA, Big Pharmacy, AA Pharmacy, Health Lane Family Pharmacy, among others. Get yours today! If you love it, leave a review here.
For more information, log on to: https://www.empro.my/collections/face-mask