Eloquence from a Young Age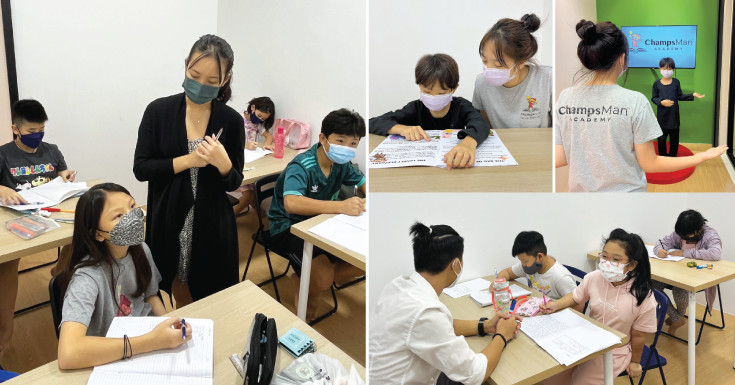 What a gift it is to be able to communicate one's feeling, opinion, ideas, and of course, to socialise and express one's own self. These are what follow when the art of language is leveraged and we are able to hold people's interest when we speak. At ChampsMan Academy, it is understood that childhood is the best time to start becoming eloquent in languages. Here, children as young as 3 years of age are appropriately exposed to 3 main languages, namely English, Mandarin and Bahasa Melayu, through reading, writing and speaking.
Striving to meet the rising demands for programmes that help children discover their true potential in communication and performances using languages, ChampsMan Academy helps children to build their confidence along with effective communication skills through their specially designed courses, featuring techniques that place children at the heart of the interaction. The award-winning academy's story-telling courses equip children with the skill sets necessary to emerge as exceptional speakers who can effectively communicate their thoughts, ideas and stories, with conviction. Besides communication skills, the courses cover presentation skills, critical and creative thinking skills, as well as leadership skills. It comes as no surprise to find that even children who may have been shy or withdrawn at first, find themselves willingly participating, responding, discussing and performing in enjoyable and more relatable ways en-route to becoming bold and confident speakers with a flair for the spoken word.
Champs Speak and Champs Act classes are designed to break down barriers to communication and focus on articulate speaking, personal development, diction and voice modulation, right pronunciation, improved fluency and more. Level by level, children get to build their vocabulary and enhance their creativity as they are guided in phonics, intonation, pronunciation and articulation. As they progress, curated books are used, with simple questions that prompt thoughts about the story and the characters in the story, encouraging them to participate and respond to questions and discussions confidently. ChampsMan Academy conducts its classes with no more than 8 students in a class, enabling each student to get the best out of their course making it easy for students to focus, and for coaches to pay due attention to each of them.
ChampsMan Academy's star programme, Champs Speak, offers its one-of-a-kind solo-acting, storytelling, and public speaking course in the three main languages used in Malaysia, namely Bahasa Malaysia, English, and Mandarin. Coaches here are from backgrounds of public speaking, journalism, broadcasting, radio DJs, etc.
Parents today know of the finer points of their children being eloquent from an early age, which is why more families are turning to ChampsMan Academy to help their children build more confidence in speaking, expressing themselves better, overcoming stage fright, etc. Loved by parents and children alike, it has effortlessly picked up the accolade of Best Storytelling Programme for Children this year.