Effective English Education for Young Learners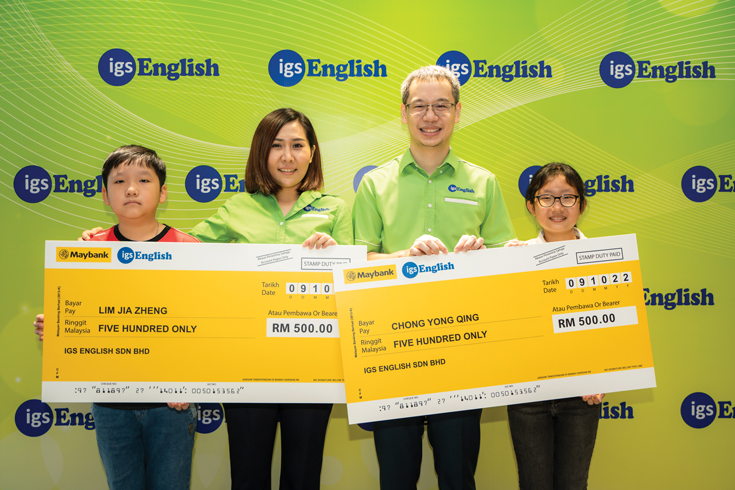 Established in 2007 by Ms Florence Tee, a mother, educator, and NLP Certified Trainer, IGS English is a well-known name among Malaysian parents. The language centre has been instrumental in helping students of all ages improve their spoken and written English skills, as well as excel in creative writing, public speaking, reading, leadership speech, and more.
From its humble beginnings in a house with just a handful of students, IGS has grown into a multi-award winning brand, now located in one of Selangor's premier shopping malls. With courses that cater to hundreds of students, IGS English is the go-to destination for those who aspire to enhance their English proficiency in writing, reading, and speaking.
Unlocking Your Child's Success in Today's Globalised World
According to Ms Florence, the current national school curriculum is not enough to prepare our future generation for college or work. This is where IGS English comes in. Not only does the centre play a vital role in teaching and guiding them, it also helps them develop good values. This is in line with IGS' goal to help the students become effective thinkers and communicators, who are able to think critically and creatively.
Many parents are aware that mastery of the English language is essential for students who want to maximise their potential and make a positive impact through effective communication, especially in today's globalised world. English is the language of business, science, technology, and diplomacy. It is also the language that connects people from different cultures and backgrounds. Therefore, it is essential for students to have strong English language skills to succeed in their personal and professional lives.
At IGS English, a team of dedicated and passionate educators with TESOL, TESL, TEFL, or CELTA qualifications work diligently to teach and mentor students aged 4-12. The courses offered include Starter's English, IGCSE English, Singapore English, Reading Programme, Public Speaking, Creative Writing, Cambridge English, and Leadership English.
Teaching English the IGS Way
Ms Florence believes that teaching English is not just about what is taught, but also about how it is taught. This is the secret behind IGS English's astounding success as the go-to English language school in Malaysia. Ms Florence's passion for teaching English and her belief in the importance of English language skills have inspired hundreds of students to achieve their goals and aspirations.
Glowing reviews from happy parents include witnessing remarkable progress in their children's English language skills, the friendly, supportive and dedicated teachers at the centre, as well as a welcoming and enjoyable atmosphere for the students. It is no wonder that IGS English has won the BabyTalk Readers' Choice Awards 2023 in the English Language School category.
For parents who agree with the centre's belief that "the future workforce is about learning the right skills to survive and succeed in the workplace", IGS English is the ideal launching pad for your child's bright future.
For more information, visit IGS English at www.igsenglish.com and www.facebook.com/igsenglish (Facebook).