DRIVING PRECISION MEDICINE WITH TUMOUR PROFILING – A Complementary Approach To Treating Cancer Smarter!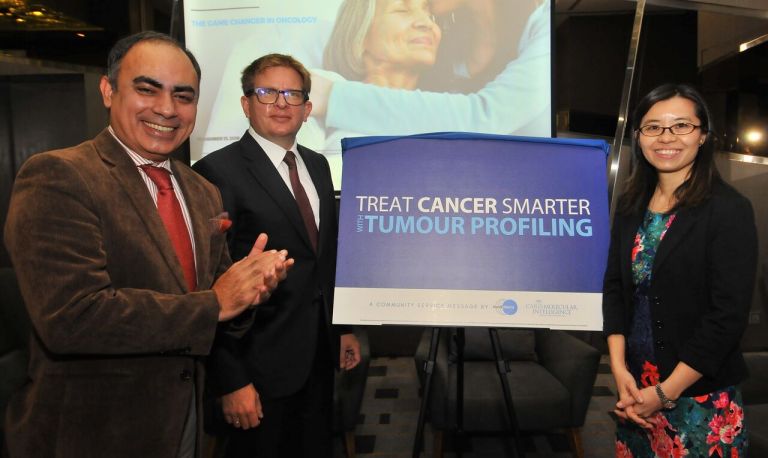 Petaling Jaya, 13 November 2018 – For cancer patients with rare, advanced stage or any type of cancer, finding the right treatment, for the right patient, at the right time, is crucial to extend survival rates. Time is indeed of the essence!
However, in the current standard of care, cancer patients commonly undergo various rounds of treatment based on their response to therapy. If the first line of treatment fails, their oncologist moves on to the next line of treatment and the pattern repeats until the patients responds to the prescribed treatment.
Whilst this approach works for some patients, it may not for others. Time may also be running out for the patient. When it comes to treating cancer, there is no "one size fits all!" So, what's the alternative approach to treating cancer smarter?
Tumour profiling and precision medicine!
To lend impact to treatment options for cancer patients, Mundipharma Pharmaceuticals Sdn. Bhd. (Mundipharma) entered into an agreement with Caris Life Sciences® (Caris), a leading US biotechnology company to promote Caris Molecular Intelligence® (CMI), the largest and most experienced tumour profiling platform, to Malaysia in late 2016. Previously, tumour profiling was only applicable to certain types of cancer such as breast, lung and colorectal cancers. Caris Molecular Intelligence® is the first of its kind tumour profiling service that uses multiple tumour profiling technologies to decode many types of cancer.
With Caris Molecular Intelligence®, upon two weeks of sending a tissue sample to Caris' modern laboratory in Phoenix, Arizona, a report with comprehensive and reliable information will be delivered to the oncologist to ensure they have the most advanced and latest data when evaluating how best to 'attack' their patient's tumour.
In an effort to continue to drive awareness and greater understanding of how tumour profiling can provide timely and reliable information to impact cancer care treatment options, Mundipharma and Caris jointly launched the "Treat Cancer Smarter with Tumour Profiling" awareness campaign.
Speaking at the campaign launch, Dr. Klaus Schuster, Medical Director International of Caris Life Sciences International said, "The future of cancer treatment steers towards a more personalised and tailor-made therapy. Tumour profiling and precision medicine offers a complementary win-win support to the current standard of care. With tumour profiling, oncologists can identify various anti-cancer-therapies that may not have been readily considered to give patients more treatment options with a higher probability of success. Profiling tumour not only improves clinical outcomes, but it can also optimize resource allocation, avoiding unnecessary side effects and unnecessary toxicity.
Oncologists today can benefit from a trusted and experienced tumour profiling partner to provide reliable, high-quality information to guide more precise and individualised treatment decisions and offer brand-new hope for cancer patients to have better quality lives."
"Also known as molecular profiling, tumour profiling is a form of testing that categorises tumours based on its genetic make-up to help diagnose and treat cancer with Precision Medicine. From a [tissue-based] biopsy from the patient's tumour, tumour profiling examines the DNA of the cancer cells, looking for biomarkers and genetic alterations that have been acquired by these cells," said Dr Kua Voon Fong, Consultant Clinical Oncologist.
The results derived from tumour profiling gives oncologists a significant amount of predictive, prognostic and therapeutic information early in the patient's cancer diagnosis. This is vital because the first course of treatment is often the most important in controlling, and perhaps curing, the cancer!
Mundipharma's South East Asia Medical Head, Medical Director Singapore & Malaysia, Dr. Murtaza Qasuri, said, "While cancer treatments have significantly advanced over the years, current cancer care options are still failing too many patients. With the availability of CMI, we're pleased that oncologists can benefit from tumour profiling to identify and recommend better-personalised treatments that specifically target the patients' cancer. We believe this is a game-changer for oncology in Malaysia. With better treatment outcomes, we are able to allow patients to have more quality time with their loved ones."
Caris Molecular Intelligence®'s ability to identify unique molecular characteristics across a wide variety of malignancies to aid oncologists personalise cancer treatments was also discussed at the recent 2018 American Society of Clinical Oncology (ASCO) Annual Meeting.
Several studies on the proprietary Caris Molecular Intelligence® tumour profiling service and its large tumour sample database have also been conducted in collaboration with industry-leading academic and clinical institutions across the United States and Europe.
Since 2008, more than 2 million tests were completed with around 160,000 patients globally benefiting from Caris Molecular Intelligence®. Positive cases have also been recorded in Malaysia, where Caris Molecular Intelligence® has added value to the management of treatment for cancer patients.
In the first case study, a female patient was diagnosed with triple-negative breast cancer (TNBC) in 2007. She underwent two rounds of treatments rendering her cancer into remission. Unfortunately, her cancer recurred in 2017. To help the patient better understand her treatment options, she was briefed on the concept of precision medicine and the benefits of tumour profiling by her oncologist. The patient agreed to tumour profiling and subsequently, her Caris Molecular Intelligence® report proposed medications with perceived benefits. The patient completed her treatment which resulted in a noticeably shrunk tumour. During a recent follow-up in March 2018, the patient reported that she was doing well, with stable disease and improved quality of life.
In the second case, a 64-year old female patient was diagnosed with metastatic lung cancer in 2015. Despite treatment, the disease progressed and a new lesion was presented in 2016. Following another round of unsuccessful treatment, the patient was introduced to precision medicine and tumour profiling. Based on her Caris Molecular Intelligence® molecular profiling results, the patient underwent the recommended treatment. In 2017, the patient reported her health improved with stable disease and improved symptoms.
According to the National Institute for Health and Care Excellence (NICE), patients who may benefit from Caris Molecular Intelligence® include:
a. People with advanced cancers
b. People with rare or aggressive cancer, where no standard of care is defined
c. Patients looking for possible multiple treatment options
d. Patients with cancer with multiple treatment options, like TNBC after 1st line failure
e. Patients who have run out of standard treatment options, failed standard of care
Talk to your oncologist today and learn how precision medicine and tumour profiling can extend your valuable time with your loved ones. Better information can lead to informed treatment decisions!