Developing Joyous Geniuses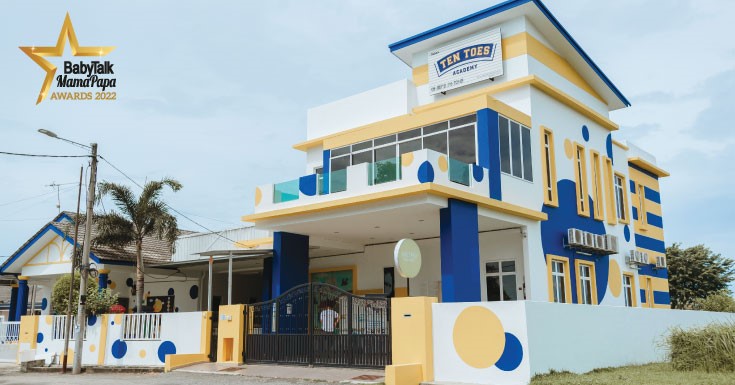 Every child is born with tremendous potential, but it's up to parents and educators to help them unlock it. This can be done through play, which is the basis of development and learning. Ten Toes, Malaysia's First Edutainment Learning Experience Education Group, has created an educational environment where children can learn through play and innovative learning. By doing so, Ten Toes helps children between the ages of 3 and 12 develop traits like resilience, creativity, curiosity and confidence.
A Comprehensive World-Class Education System
Inspired by Finland's education system, which is well-known for being the best in the world, Ten Toes aims to nurture children to become future "Joyous Geniuses" through the 5 Pro-Active Edutainment Formulations.
Ten Toes provides a comprehensive preschool programme (3-6 years) that includes care, education, and teaching to support children's balanced growth, development, and learning. Their teaching modules use a distinct play-centred approach to implement purposeful play both inside and outside the classroom. The academy also provides the Ten Toes Preschool Enrichment Program (TEP), which includes storytelling, music, interactive activities, language, and emotions.
The academy is committed to nurturing creativity in each child through their unique passion for arts, crafts and music. For the four-year-old girl who is always singing and dancing, there are plenty of opportunities for her to explore her musicality through dance, stage performance and music. And for the six-year-old boy who loves the outdoors, there's a range of nature-themed projects where he can express his interest through art, craft and play. The list goes on—but what makes Ten Toes unique is that they put these diverse interests at the heart of what they do because they recognise that every child has distinct passions that should be nurtured early.
Learning Through Fun and Play
With years of experience in early childhood education, the academy teachers draw on their knowledge to craft an education plan that is personalised for each child's needs. Through this specialised approach, children have the opportunity to explore different subjects through play and self-discovery—allowing them to build upon the foundation of their knowledge in a fun and wholesome way.
Tadika Junior Cahaya Berseri Sdn Bhd, one of Ten Toes Preschools, is located in Batu Berendam, Malacca and is well-known for its Ten Toes curriculum and teaching method. Parents can be assured their children will be given ample opportunities to play and explore while learning new skills in a safe and comfortable learning environment. At Ten Toes, nothing less than high standards would ensure children's readiness for primary school while equipping their students with a wide range of knowledge and skills to provide them with the right foundation for smooth progress through school and life. The academy believes that every child deserves the best possible start in life and the support necessary to reach their full potential.
Ten Toes Playschool was recently selected as the gold winner in the recent BabyTalk MamaPapa Awards 2022 as the best Preschool (Batu Berendam, Malacca).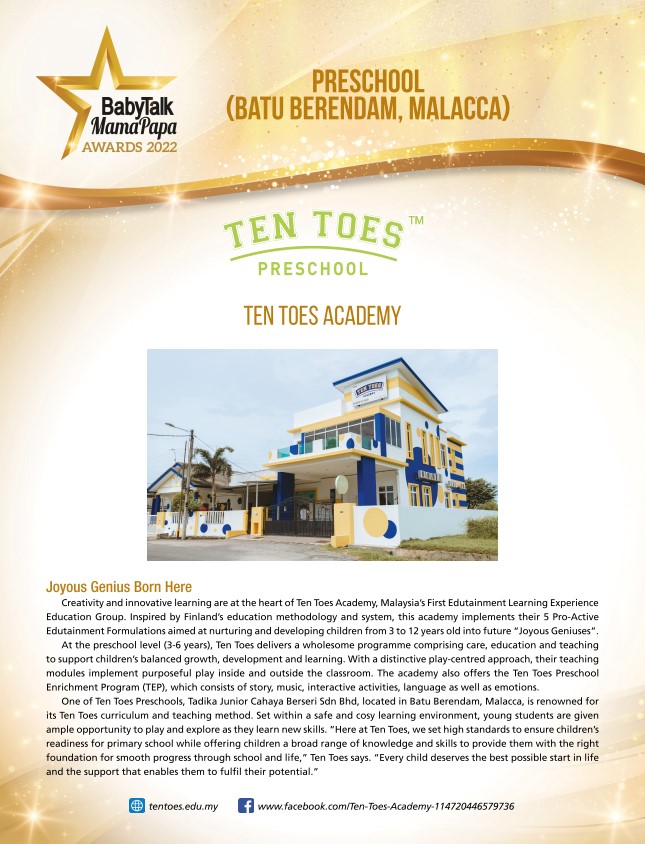 For more information, visit their website and Facebook page.