Desperate for a solution? Here are the 7 best products to get rid of male acne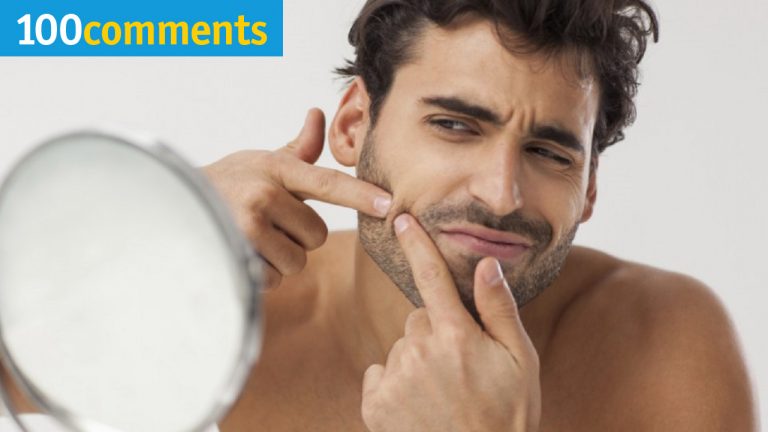 While a lot of acne products are aimed towards women, the fact is that men also have to deal with acne problems. Though it's more common in teenagers, men of all ages experience acne breakouts.
A study from the University of Alabama found that  that 42.5% of men in their 20s had occasional acne breakouts. However, as they grew older, this number decreases – only 20% of 30-something males suffered from acne, dropping down to 12% when the researchers looked at men in their 40s.
If you're one of those guys who're suffering from an acne breakout, don't worry. There are all kinds of products in the market which are designed to help clear your skin and leave you feeling as handsome as ever.
Neutrogena® Men Skin Clearing Acne Wash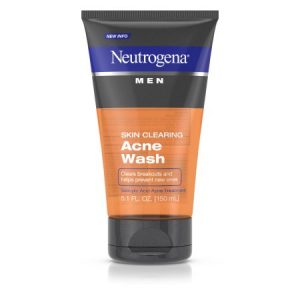 The Neutrogena Men Skin Clearing Acne Wash is a powerful oil-free men's acne face wash that helps with current breakouts as well as preventing new ones. Its gentle formula cleans deep into pores to minimize breakouts while also working to clear up your skin.
You can use it before shaving to soften your facial hair. Neutrogena Men Skin Clearing Acne Wash also eliminates oil residue in your skin, preventing acne from building up. This formula is designed to be non-comoedogenic, meaning that it won't clog your pores. It's active ingredient is Salicylic Acid, which is known to be particularly effective against acne and other similar skin problems. This product uses a 2% salicylic acid solution to do the job, making it great for long term use because it helps to clarify your skin and minimize breakouts before they can become a big deal.
La Roche-Posay Effaclar Duo Dual Action Acne Treatment Cream with Benzoyl Peroxide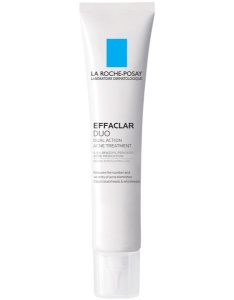 La Roche-Posay Effaclar Duo Dual Action Acne Treatment Cream is a dual action treatment cream with Benzoyl Peroxide. Created by Europe's number 1 skincare brand, La Roche-Posay Effalar Duuo Dual Action Acne Treatment Cream visibly reduces all types of acne blemishes and penetrates deep into pores to clear even stubborn blackheads and whiteheads.
This oil-free, dual-action formula uses benzoyl peroxide to fight bacteria and micro-exfoliating LHA to unclog pores. Simply apply a thin dab of this cream to the problem areas and you can expect to start seeing results in 3 days.
MenScience Advance Acne Pads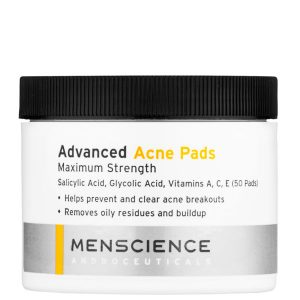 MenScience Advance Acne Pads are convenient acne treatment pads that utilize antibacterial, exfoliating and healing ingredients to thoroughly cleanse skin of dirt, oils and acne-causing bacteria. Formulated with a prescription-grade, maximum strength 2% concentration of Salicylic Acid, these pads completely clear and prevent acne breakouts and blackheads. These dermatological-grade acne pads from MenScience can reduce acne anywhere on the face and body while simultaneously re-nourishing the skin.
This unique formula also contains Glycolic Acid, Tea Tree Extract and Witch Hazel to remove oily residues and buildup and maintain a clear, acne-free complexion. The handy, fast-absorbing pad design makes application a breeze for all skin types.
T3 Pimple Gel+ 15g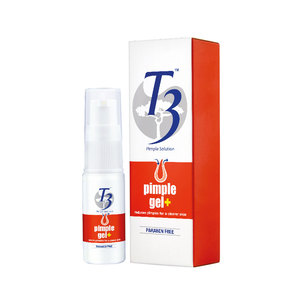 T3 Pimple Gel + is a light weight pimple treatment gel specially formulated with Canadian Willow Herb extract, Willow Bark extract and Natural Australian Tea Tree Oil for smoother and clearer skin. This non-greasy, non-staining gel is specially formulated with ingredients that help to treat acne and pimple spots. It contains Salicylic acid to unclog pores and Triclosan act as anti-acne agent, both of which boost its effectiveness in the treatment of acne. It is infused with Allium Cepa Bulb Extract that helps in reducing scarring caused by pimples.
This Paraben Free formula is designed to reduce pimples to give you clearer, smoother skin. T3 Pimple Gel + soothes the skin, unclogs your pores, removes excess sebum and acts against pimple causing bacteria. The gel is easily absorbed into the skin and doesn't leave any greasy residue behind. It provides fast, noticeable results after only one application, meaning that your acne issues will soon be a thing of the past.
Kiehl's Oil Eliminator Deep Cleansing Exfoliating Face Wash For Men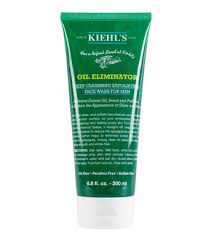 One of the big names in the beauty and skincare industry, Kiehl's has been in business since 1851. With over 150 years of experience, they provide products with quality that you can trust. Kiehl's Oil Eliminator Deep Cleansing Exfoliating Face Wash For Men provides you with an all-natural cleanser that'll get rid of any excess oil without leaving any muss or fuss for you to deal with.
Best for those with oily skin, this facial scrub is able to tame excess oils and other elements that commonly lead to acne. By neutralising pollutants and reducing pores, Kiehl's Oil Eliminator Deep Cleansing Exfoliating Face Wash for Men leaves skin feeling smooth and shine-free.
Formulated with Crushed Apricot Seeds, it sloughs off dead skin cells without leaving skin feeling overly dry and removes excess oil, sweat and pollution to reduce the appearance of shine and pores. It minimizes pores without completely stripping the skin of its natural oils and also has a clean, fresh scent that'll make you feel a little fancier then before.
Grace & Stella Co. Acne Treatment Facial Sheet Masks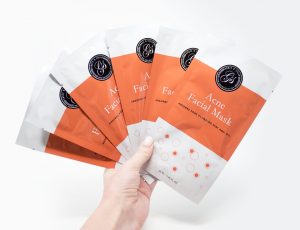 One of the best acne treatment products you can find, the Grace & Stella Co. Acne Treatment Facial Sheet Masks use salicylic acid to effectively fight all types of acne. It also contains natural ingredients like aloe vera, jojoba oil and honeysuckle which work to brilliantly soothe, nourish and rejuvenate the skin.
Aside from that, the non-comedogenic castor oil reduces acne inflammation while jojoba oil moisturizes the skin to ensure that it doesn't dry out. Aloe vera helps to soothe the skin while acne fighting ingredients such as salicylic acid work to clear out acne blemishes. Finally, Honeysuckle extracts are used to soothe common skin ailments that include pimples, rashes, skin allergies and eczema. Wildly popular and critically acclaimed, the the Grace & Stella Co. Acne Treatment Facial Sheet Masks gives you more bang for your buck compared to other facial mask products on the market.
NARUKO Tea Tree Blemish Clear Lotion Precious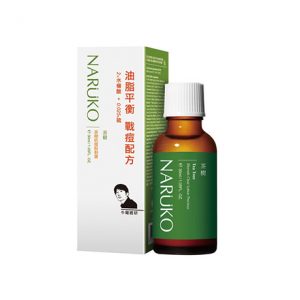 NARUKO Tea Tree Blemish Clear Lotion Precious contains 2% salicylic acid and sulphur to control oil and fight acne. The targeted treatment is also formulated with Snow Fungus Extract, Calamine Extract, and the exclusively patented Phytoferulin Complex to restore the skin's moisture level, to refine pores, and to protect the skin from harmful environmental elements. The presence of Allantoin, Vitamin B5, and Witch Hazel repair and relieve the skin of discomfort.
This gentle, eco-friendly product is made without parabens, preservatives, artificial ingredients or colouring. The product is cruelty-free and is not tested on animals. Use a small amount of the treatment to help you clear away blemishes without the need to popping pimples anymore. Best for normal and oily skin types especially skin with blackheads, whiteheads and pimples.
Need More?
You can find these and many other products here in 100comments.com.