Deliciously Healthy Home Confinement Meal Delivery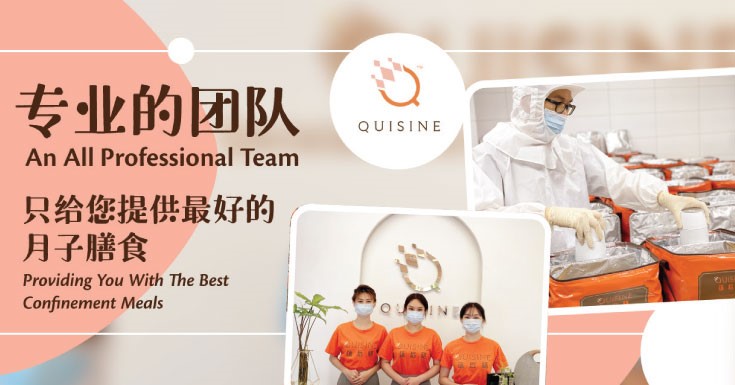 In the first few weeks after childbirth, new moms are restricted to staying at home as part of their confinement period. This is to ensure that they rest and recuperate after going through a physically and mentally intense birthing experience.
A balanced postpartum diet during confinement should include healthy ingredients in the right combination. Quisine's New Mom Pregnancy and Nursing Postpartum Meal Series is designed to meet the individual nutritional needs of women undergoing confinement.
Giving a New Mom the Best Nutrition She Needs
Here at Quisine, they are dedicated to ensuring that new moms are getting the best possible nutrition during their postpartum period. Their team of professionals are here to provide you with all the information and support you need regarding nutrition and food conditioning details as well as physical and mental wellbeing. They work with experienced nutritionists to tailor meal plans that fit your dietary preferences, so you can focus on taking care of yourself and your baby.
Quisine prides themselves on using only the freshest ingredients available. That is why they recommend that you make advanced meal bookings so that they can source the ingredients you need and ensure that your meal is as fresh as possible.
Quisine stands out from its competitors as it not only employs nutritionists and diet consultants but also has a team of experienced chefs who manage their "independent central kitchen." This kitchen allows them to create healthy and delicious meals for their clients as if they were residing in a professional confinement centre. They also cater to vegetarian confinement meal options as well as any food allergies you may have.
Food Delivery Three Times a Day
Quisine's professional food delivery staff ensures efficient and courteous door-to-door food delivery service three times a day, including weekends and public holidays, for the convenience of new mothers in Klang Valley.  This means that you get to enjoy the meals that are freshly prepared without needing to refrigerate and reheat them later. Quisine also guarantees a strict service for preparing meals with the highest health and safety standards in mind, so you can enjoy your meals without any worries.
Quisine was recently awarded the BabyTalk MamaPapa Awards 2022 in the Premium Confinement Food Delivery (KL/Selangor) category.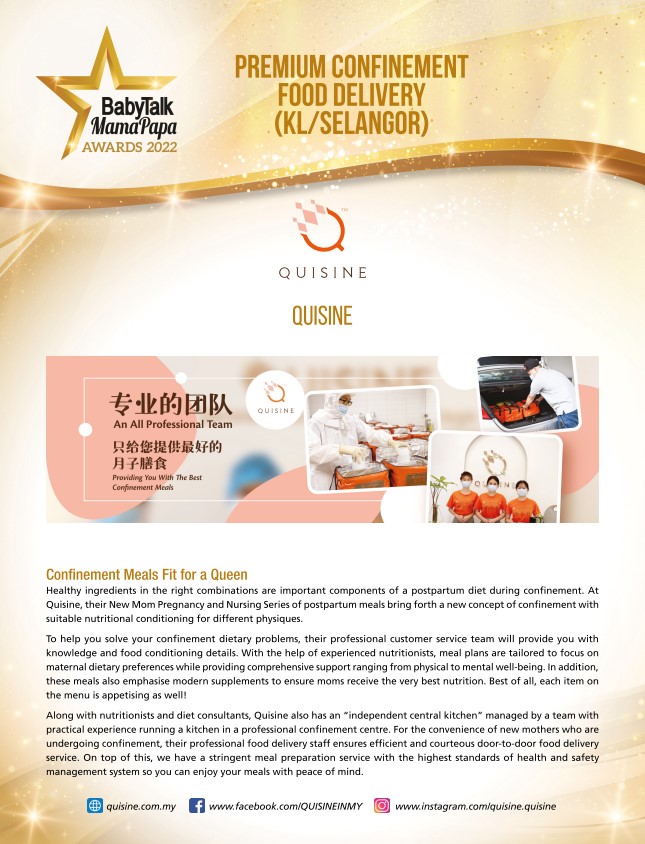 Every new mom will have different nutritional needs at the various stages of her confinement period. As an experienced confinement meal service provider, Quisine offers  a vast variety of options that provide vital nutrients at different stages of the recovery process. This way, you can always get what your body needs to feel its best.
For more information, visit their website, Facebook and Instagram pages.