CryoCord – Leading Medicine's New Frontier with CordMSCs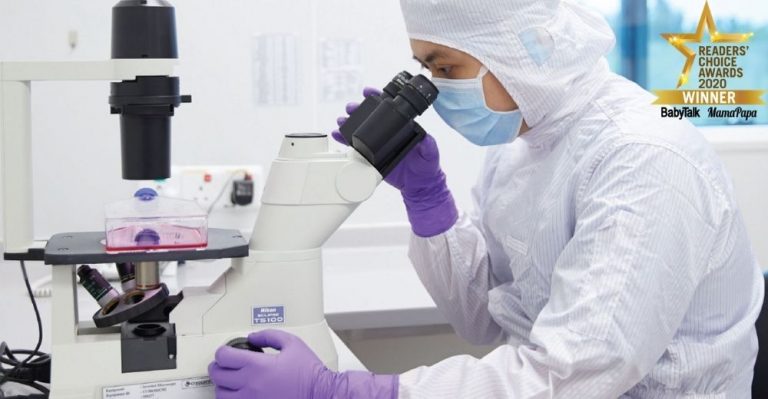 When it comes to cord blood banking, most parents would naturally gravitate towards storing their baby's umbilical cord blood, also known as Hematopoetic Stem Cells (HSCs), for safekeeping until such a time in future if and when it is needed. But did you know that it is equally important to store umbilical cord-derived mesenchymal stem cells (MSCs), too?
MSCs are derived from the Wharton's Jelly, which is the soft connective tissue found in the umbilical cord that protects the blood vessels within the cord from compressing, thus reducing the stress on the baby. It is the youngest and most primitive form of MSCs that can be sourced from a human body. Other sources of MSCs include the bone marrow, adipose tissue (body fat), molar (teeth) or amniotic fluid that surrounds a foetus.
It is ideal to store both as HSCs and MSCs are equally beneficial but they play different roles. HSCs from cord blood can only differentiate into blood cells such as red blood cells, white blood cells and platelets whereas MSCs from Wharton's Jelly can differentiate into other types of cells within the body including bone, cartilage, muscle, neural, skin and corneal, and has been used to repair these organs.
For instance, MSCs may not be able to treat blood cancer patients while HSCs are able to do it. On the other hand, MSCs can improve the engraftment of HSCs transplantation as MSCs are a catalyst to the necessary environment conducive for HSCs functions.
The discovery of MSCs, especially those sourced from Wharton's Jelly (cord tissue), is revolutionary as the potential for them to transform into whatever cell type the body needs will help the body heal faster.
The best thing is, there is no expiry date to properly stored stem cells. The New York State Health Department guidelines for stem cell banking states that HSCs and MSCs can be stored indefinitely in liquid nitrogen. Real life data supports that fact, indicating that stem cells stored for 15 years can still be successfully used for transplantation.
To date, more and more countries including India, Australia, EU, Japan, Korea and Canada have approved MSCs-based therapies to treat various diseases.
Best Stem Cell Bank
So rather than let the precious umbilical cord tissue go to waste, why not store them in a reputable stem cell bank to ensure a smooth future for your child?
More and more Malaysian parents are choosing CryoCord to store their baby's cord tissue via their CordMSCs service. After all, it is the country's premier stem cell bank, and boasts of the largest private facility of its kind in Southeast Asia. It consists of ten Grade B (ISO Class5) clean rooms, with an advanced laboratory certified to cGMP by the National Pharmaceutical Regulating Agency (NPRA), a division of the Ministry of Health, Malaysia in accordance to PIC/S standards. The SOP at CryoCord assures parents of the highest quality service to ensure that their baby's cord blood and tissue will be kept safe and usable for possible future needs.
CryoCord has been accredited by the American Association of Blood Banks (AABB), the global leader in standards development and implementation of quality systems in the field of science and the practice of transfusion medicine and related biological therapies. This is a testament that CryoCord's level of technical and administrative performance meets the stringent international standards set by AABB.
CryoCord has recently won the BabyTalk Readers' Choice Awards as the Best Stem Cell Bank.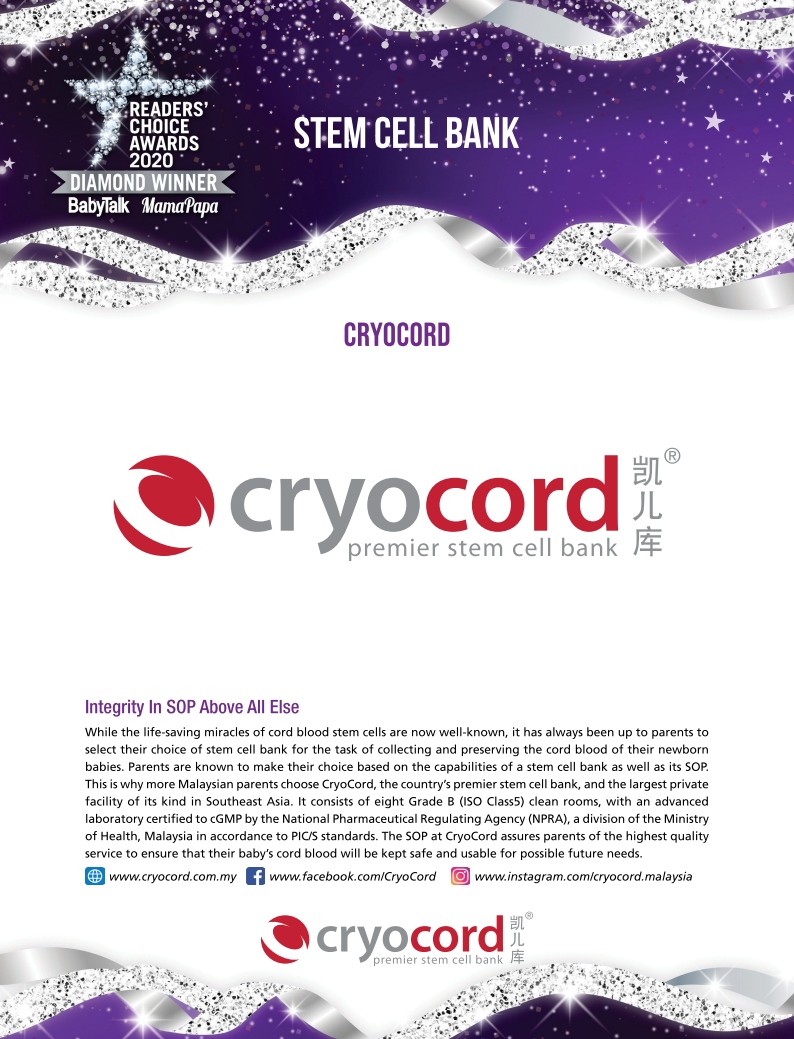 For more information, visit their website at www.cryocord.com.my, www.facebook.com/CryoCord (Facebook) or www.instagram.com/cryocord.malaysia (Instagram).