Cracking The Cube Has Never Been More Fun!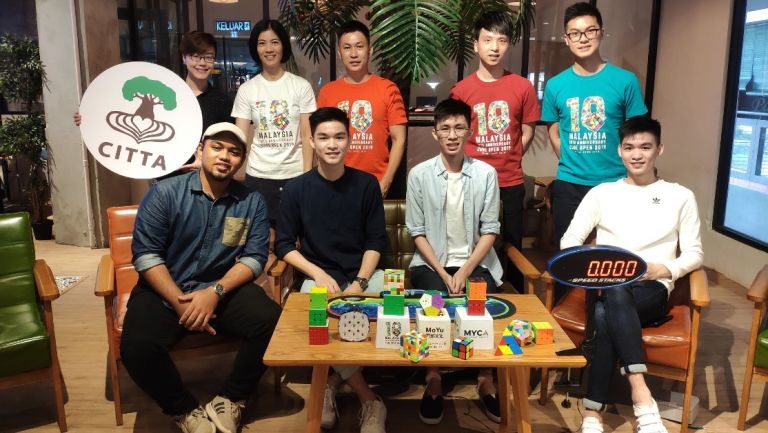 Ten years ago when the first World Cube Association (WCA)-sanctioned competition was held in Malaysia, only a smattering few knew what speedcubing was all about. Now in its decennial year, the Malaysia 10th Anniversary Cube Open 2019, which will happen on 15 and 16 June at CITTA Mall, will witness over 300 local and international speedcubers competing to solve the Rubik's cube in the fastest time possible.
This competition is set to attract more world-class players from China, Singapore, Thailand, Australia and New Zealand. This includes Feliks Zemdegs from Australia who holds more than 100 World Records, one of it was achieved in Malaysia in 2017. Malaysia is currently ranked 14th in the world stage out of 140 countries and 4th in Asia. More than 10 Malaysian players are ranked in the top 50 in various events.
Among them is Muhammad Hariz Azizan, 23, a Double National Records holder in the Malaysia Book of Records for being the fastest 3×3 Rubik's Cube individual and team member of fastest 3×3, 4×4 and 5×5 Cube Relay. His official average is 7.91 seconds and 6.55 seconds single.
Three of Malaysia's top players are three siblings whose father is one of the organisers Siew Hann Wen, 45. Siew together with his wife Tiffany Soh, 45 and their three sons are active participants in various categories of the competitions. The family started cubing in 2009 and quickly developed a passion for this hobby so much so that they spend a lot of time bonding together while practising for these competitions. The eldest son Eason, 20 focuses on blindfolded events and he is ranked the 3rd fastest 4×4 blindfold-solver in Malaysia. Siew's second son Manfred, 19 is the highest world ranking Malaysian in most events, while his twin brother, Darren is ranked World 15th and Asia 3rd in Megaminx with his fastest average time of 40.29seconds and single time of 36.75seconds.
Siew extolled the many benefits of solving a Rubik's cube including improving one's reflexes and hand-eye coordination, increasing the ability to identify patterns and solve problems, breaking down complex tasks and helping to prevent bad habits. "It is a leisure activity which does not strain the eyes and trains players to see the bigger picture," said Siew.
Another organiser, Leow Yi Jun, 24 is the founder and president of Malaysia Cube Association (MYCA). Leow is also the only WCA delegate from Malaysia. He started cubing in 2009 when he was 14 and organised his first competition in 2015, the Malaysia Cube Open 2015, which was the biggest competition ever held in Malaysia. As a WCA Delegate, he is responsible to ensure that all WCA-sanctioned competitions are run according to the
mission, spirit and regulations of WCA. All results are recognised and recorded in this competition.
Organising this event together with Leow Yi Jun and Siew Hann Wen is Junwen Wang, 27. He was recently appointed as a WCA candidate delegate. He attended a number of world, continental and national championships and was involved in the WCA Asian Championship 2018 as an organiser when he was pursuing his studies in Taiwan.
Thus far, Malaysia has organised 41 competitions across 8 states. Leow hopes MYCA will be able to organise more competitions and expand to more states, like Sarawak, Kedah and Pahang.
Besides having their results recorded, winners of the competition are awarded medals and certificates. Registration is now open to all regardless of age and nationality. Interested participants may register here.
Those who are interested but do not wish to participate are welcome to come, watch and learn about this intriguing sports. They can also sharpen their skills at various events which include solving a cube with one hand or blindfolded, solving clock-shaped puzzles and more.
"CITTA Mall is constantly exploring opportunities that allow shoppers and its communities to experience unique events and to promote healthy activities," said Allison Chan, Assistant Manager Advertising and Promotions CITTA Mall.