Contest Reviewers Announcement (10 – 16 May)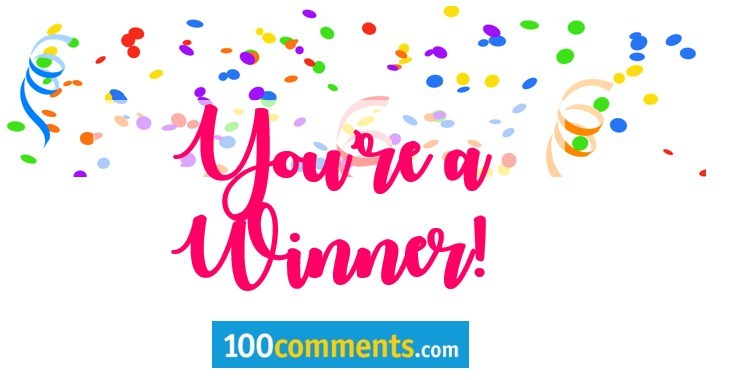 Congratulations to all the reviewers for Abbott CG210 Hair & Scalp Essence (Men  & Women), Nutriva Oliferin, Mini Pod: Mitten & Bootee Set, Oliferin Joint Flex and Mini Pod Romper! Kindly email contest@100comments.com your details as mentioned below to receive further instructions and delivery of your product:
FB Name
Full Name
IC Number
Mailing Address
Mobile Number
Email Address
***IMPORTANT***
As this is a "product for review" giveaway, you are required to write a review (minimum 30 words in any language) with a photo of the actual product on the following links within 2 weeks of receiving the product. Those who did not submit their reviews will not stand a chance to win future contests here.

Abbott CG210 Hair & Scalp Essence (Women) 
Review Link: https://100comments.com/abbott-cg210-hair-scalp-essence-women/
1. Celine Fung
2. Lui Chai Hoong
3. BabyQue Xailyn
4. May Mei
5. Aiza Man
6. Penny Ngu
7. Nur Afiqah Mohd Ariffin
8. Norizan Mat Junoh
9. Ain Nasuha
10. Shafyqah Azahar
11. Rebecca Yukiko
Abbott CG210 Hair & Scalp Essence (Men)
Review Link: https://100comments.com/abbott-cg210-hair-scalp-essence-men/
1. Chang Nyuk Mui
2. Mohamad Riduan Che Halim
3. Ajak Treasure
4. Aiman Hakimi
5. Shahril Ahmad
6. Haizan Raz
Nutriva Oliferin worth RM200 (expiry July 2017) 
Review Link: https://100comments.com/nutriva-oliferin/
1. Akid Zulfaqar
2. LeeThing Fam
3. Mohamad Riduan Che Halim
4. Shafyqah Azahar
5. Nik Zulaikha Shah
6. Sandra Lee
7. Haizan Raz
8. Aiza Man
Mini Pod: Mitten & Bootee Set 
Review Link: https://100comments.com/mini-pod-mitten-bootee-set/
1. Mohamad Riduan Che Halim
2. May Mei
3. Norizan Mat Junoh
4. Ain Nasuha
5. Nur Afiqah Mohd Ariffin
Oliferin Joint Flex 
Review Link: https://100comments.com/oliferin-joint-flex-triva/
1. Ain Nasuha
2. Shafyqah Azahar
3. Mohamad Riduan Che Halim
4. Nur Afiqah Mohd Ariffin
5. Aiza Man
6. Aiman Hakimi
7. Norizan Mat Junoh
8. May Mei
9. Haizan Raz
10. BabyQue Xailyn
11. Sandra Lee

Mini Pod Romper 
Review Link: https://100comments.com/mini-pod-long-sleeve-romper/
1. Mohamad Riduan Che Halim
2. May Mei
3. Norizan Mat Junoh
4. Aiman Hakimi