Confinement Care with a Difference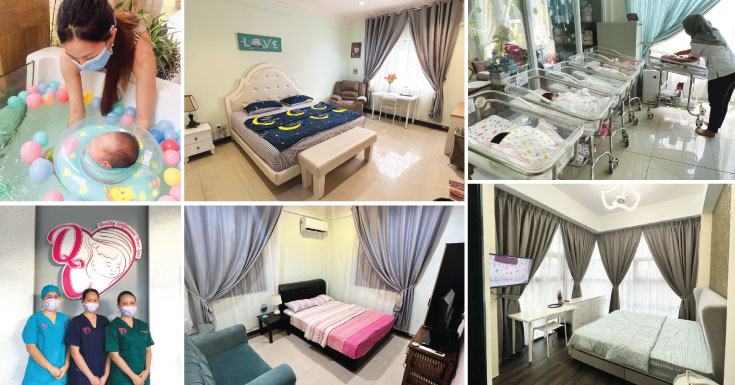 Confinement is a crucial period for new mothers, as it is a time when they need the utmost care and support to recover from childbirth and adapt to the demands of motherhood. Quality Confinement Home understands the importance of this period and aims to provide new mothers with the highest quality confinement care and support, ensuring their well-being and the health of their babies.
One of the key factors that sets Quality Confinement Home apart as the top provider of confinement care in Sabah is their emphasis on family bonding. The individual suites provided by the centre are ideal for new mothers to have their spouses (new fathers), present during the confinement period, fostering a sense of togetherness and support.
Combining the Best of Traditional and Modern Confinement Care Methods
The professional team at Quality Confinement Home consists of highly qualified and experienced staff who integrate the benefits of modern science with traditional Malay and Chinese confinement care methods. This unique approach ensures that new mothers receive the best care possible while also benefiting from the wisdom of traditional practices. The team addresses various postnatal issues faced by new mothers, including lactation and nursing issues, and provides safe and natural solutions. They also offer specially designed postnatal massages that help improve circulation, eliminate toxins, and aid in the recovery and toning of the body. These massages have additional benefits such as shrinking the uterus, breaking down fats, and flattening the abdomen, helping new mothers regain their pre-pregnancy body.
The meals served at the centre are carefully planned and prepared to ensure that new mothers receive all the essential nutrients they need to regain their strength and energy. The meals are also designed to support breastfeeding, making it easier for new mothers to nourish their babies. By providing well-balanced and nutrient-rich meals, Quality Confinement Home takes care of the dietary needs of new mothers and helps them focus on their recovery and the well-being of their babies.
Quality Confinement Home also offers 24-hour care and weekly paediatrician visits to ensure the health and well-being of the newborns. They go the extra mile by offering baby massages and baby swim sessions, which promote muscle development in newborns and provide them with the positive effects of gentle, loving touches on their skin. These activities not only contribute to the physical development of the babies but also enhance their emotional well-being.
To ensure the safety and security of both new mothers and their babies, Quality Confinement Home provides a guarded environment that is well-facilitated and equipped with CCTV surveillance. This adds an additional layer of assurance, allowing new mothers to have peace of mind during their confinement period.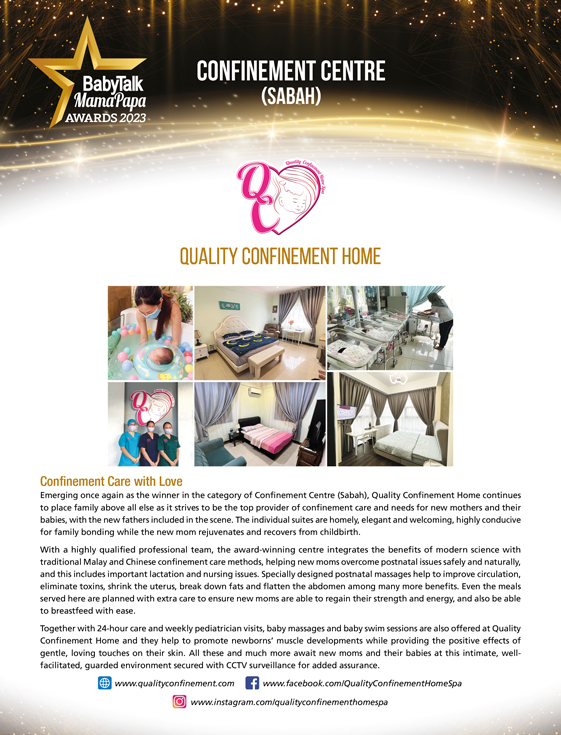 As the winner in the category of Confinement Centre (Sabah) in the BabyTalk MamaPapa Readers' Choice 2023 Awards, Quality Confinement Home ensures that new mothers have a supportive and rejuvenating confinement experience. By prioritising the health and happiness of new mothers and their babies, Quality Confinement Home truly epitomises confinement care with love.