Combat Imperfections & Wrinkles with FILORGA AGE-PURIFY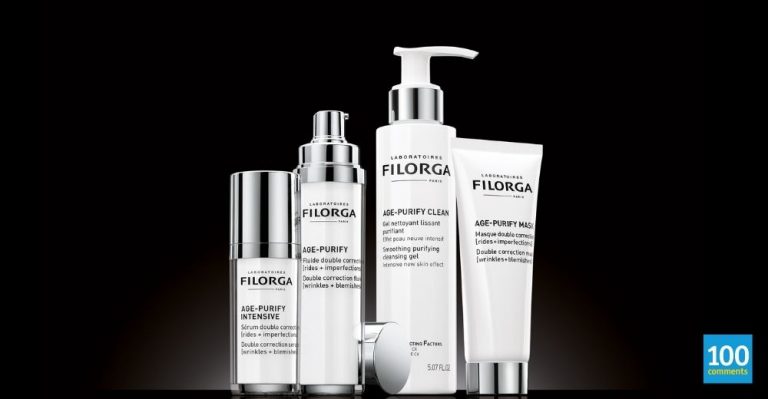 Developed in partnership with aesthetic doctors and dermatologists, French medi-cosmetique brand Laboratoires Filorga launches a premium collection of face and neck serums formulated to target the two most troubling signs of skin ageing – wrinkles and imperfections. Redefining high-quality skincare for the 21st century, this breakthrough collection provides consumers around the world with the exquisite care they need to achieve naturally beautiful results at any age.
With its patented Dual Correcting Factors, the FILORGA AGE-PURIFY range is a complete anti-ageing range with a unique double-correction programme. It contains an anti-wrinkle and firming complex, complemented by a specific range of active ingredients to combat the infamous duo: imperfections and wrinkles.
Produced in collaboration with aesthetic physicians and dermatologists, the Dual-correcting Factors combines two high-tech complexes, Hyaluro-youth CX and Dermo-rescue CX. This combination allows users to successfully address wrinkles and skin issues such as shine, pores, blackheads, spots, and redness.
Hyaluro-youth CX contains three of the most powerful anti-wrinkle active ingredients to plump, smooth, and firm the skin
from inside out with visible results in 7 days:
PLUMP: NCEF, a unique revitalising complex, together with encapsulated high molecular weight hyaluronic acid, helps to fill wrinkles and plump the skin from deep within.
SMOOTH: A tripeptide blocks the muscular contraction mechanism by acting on the acetylcholine receptor to relax muscles and smooth contraction wrinkles.
FIRM: Boosting collagen synthesis and fortifying the skin's support layers, a naturally-derived glycopeptide works in tandem for a deep-down and long-lasting firming effect.
Developed with dermatologists, DERMO-RESCUE CX combines the best dermatological ingredients to target all the parameters of imperfections – shine, pores, blackheads, spots, and redness – and radically improve the quality of skin that has imperfections in just 7 days:
REBALANCING: Purifying and deep-cleansing zinc provides a powerful sebum-regulating and anti-shine action
MICRO-PEELING: 5 'peel-like' acids – gluconolactone, glycolic acid, azelaic acid, mandelic acid, and citric acid – gently exfoliates the stratum corneum to eliminate dead cells and comedones and tighten pores.
SPOT-CONTROL: A purifying roucou seed extract acts on all the parameters involved in the appearance of imperfections and inhibits the virulence of acne flare-ups by reducing the activity of lipase, an enzyme responsible for breaking down the lipids of sebum into compounds that can cause inflammation and redness.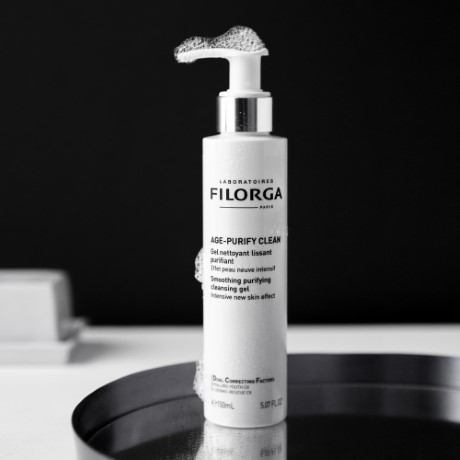 FILORGA AGE-PURIFY CLEAN (RM140, 150ml)
The FILORGA AGE-PURIFY CLEAN has a translucent green gel texture that transforms into a fine foam when massaged. It is formulated with a 3D matrix formed of three polysaccharides to effectively rid the skin of impurities and pollution particles, leaving the skin clean and incredibly soft after cleansing.
Use the FILORGA AGE-PURIFY CLEAN twice daily, morning and evening, for optimum results!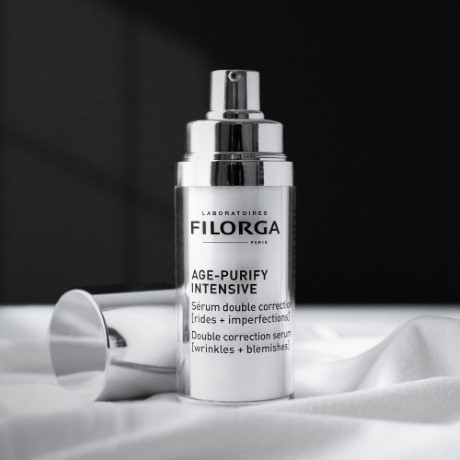 FILORGA AGE-PURIFY INTENSIVE (RM345, 30ml)
Ultra-light in texture, the FILORGA AGE-PURIFY INTENSIVE is a rebalancing and hydrating anti-ageing serum formulated with a botanical extract that stimulates the production of IGFB3, a protein that inhibits the hyperkeratinisation signal involved in skin imbalances, for long-term rebalancing action.
Non-comedogenic and immediately absorbed into the skin, the FILORGA AGE-PURIFY INTENSIVE can be applied daily to the skin after thorough cleansing with the FILORGA Age-Purify Clean.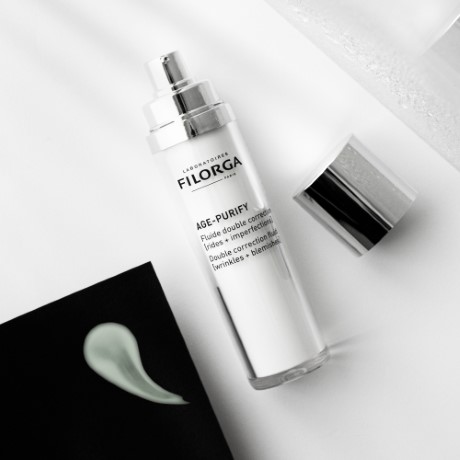 FILORGA AGE-PURIFY (RM345, 50ml)
An anti-ageing and anti-blemish fluid that acts as an anti-adhesion shield to protect the skin from daily pollutants, fine particles, and heavy metals known to cause imperfections, the FILORGA AGE-PURIFY fills wrinkles, purifies the skin, and visibly reduces imperfections, all while treating all signs of skin ageing.
The FILORGA AGE-PURIFY has a mattifying and hydrating texture and can be applied to the entire face alone or after the FILORGA AGE-PURIFY INTENSIVE SERUM.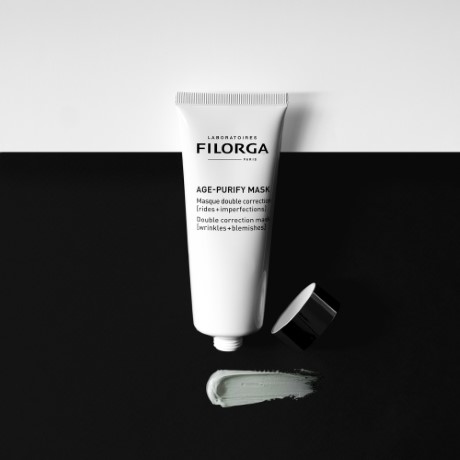 FILORGA AGE-PURIFY MASK (RM230, 75ml)
Formulated with non-drying white clay, the FILORGA FILORGA AGE-PURIFY MASK helps to regulate sebum production, refine the skin texture, and instantly and lastingly mattifies the skin in just 10 minutes! Specially designed for combination to oily skin, this one-of-a-kind resurfacing face mask contains a natural gum extract that inhibits 5α-reductase to reduce the size of pores.
Tip: Apply the ultra-rich moisturising clay-cream in a thick layer across the whole face (avoiding the eye contour area) twice a week, or just before important dates for a quick 10-minute fix!
The FILORGA AGE-PURIFY collection is ideal for people with imperfection-prone skin, as well as those with combination to oily skin.
Dermatologically tested and clinically proven, the AGE-PURIFY line gives visible results in just 7 days. If you love the FILORGA AGE-PURIFY range, leave your reviews at the links above.