Clear Congestion in Little Ones with STERIMAR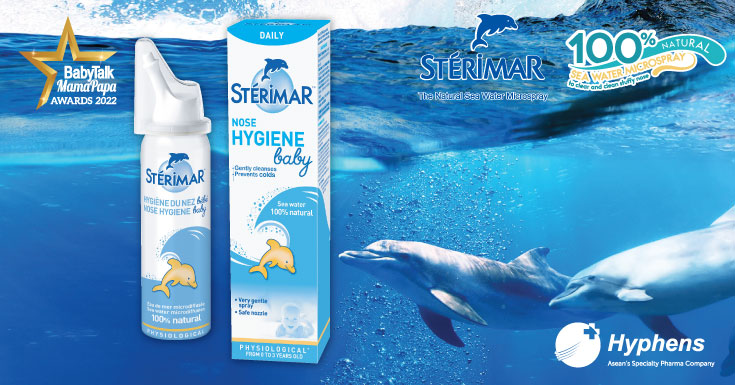 If your baby's nose is congested, they probably don't feel like playing and they might even have difficulty breathing and sleeping at night. This can be frustrating for everyone involved. You don't want to turn your precious little one into a sleep-deprived zombie. Neither would you want to go without any sleep yourself if you're forced to stay up rocking them until their stuffy nose clears up enough for them to breathe comfortably. Thankfully, Sterimar Nose Hygiene Baby is here to help make them feel comfortable.
Sterimar Nose Hygiene Baby is a nasal spray that has been specifically designed to provide gentle and effective care for your baby's nose. The spray helps to relieve excess mucus, stubborn nose and other nasal conditions, making it a great choice for parents who want to ensure their baby is comfortable and happy.
Stress-free Clearing of Stuffy Noses for Your Little One
Sterimar Nose Hygiene Baby is formulated with 100% natural French seawater, which contains trace elements and marine minerals that assist to clear excess mucus and ease nasal congestion, keeping your baby's nose healthy and lubricated while maintaining their natural nasal homeostasis. A specifically designed nozzle eliminates nasal irritation, and the light pressure and microfine spray is soothing on newborns. Sterimar Nose Hygiene Baby not only prevents flu and sinus blockages, but it also improves babies' breathing, allowing for better sleep and feeding.
The nasal spray is perfectly safe for babies because it includes no drugs, steroids, or preservatives. As such, it is suitable for daily use for babies aged 0 to 3 years, and can be used with other nose remedies. The product also has an anti-reflux valve for complete preservation, preventing contamination of its contents.
Using Sterimar Nose Hygiene Baby to relieve your baby's nasal congestion will not only help them breathe more easily but also get the rest they need to grow and thrive.
Sterimar Nose Hygiene Baby was awarded the BabyTalk MamaPapa Awards 2022 as the Best Nasal Spray for Baby.
So the next time your baby or toddler has a stuffy nose, and you want them to feel like their normal selves again as quickly as possible—reach out for Sterimar Nose Hygiene Baby. For more information, visit their Shopee, Facebook and Instagram pages.