CENDANA Brings Arts & Culture Closer Through "Seni Untuk Semua" On RTM And "Seni Untuk Semua Atas Talian" On The Web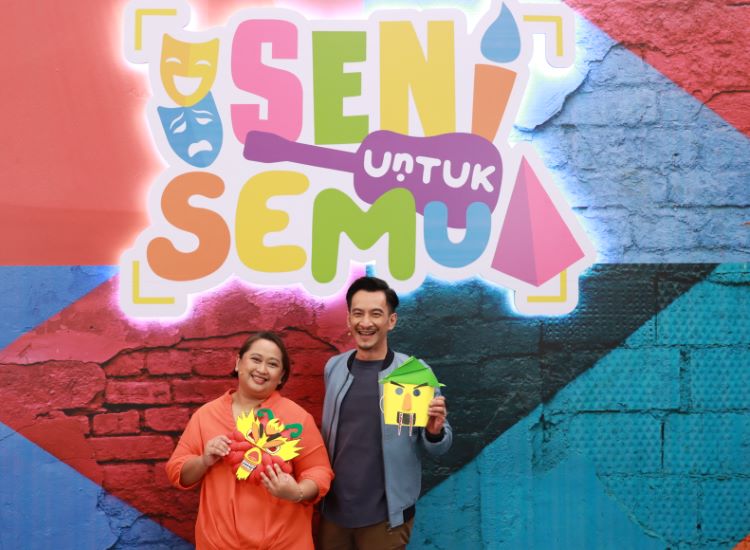 CENDANA, or the Cultural Economic Development Agency, under MyCreative Ventures Sdn. Bhd. has introduced an arts education TV show called Seni Untuk Semua, an initiative to bridge the gap between arts & culture and the community. This programme is an extension of Art In The City 2021, which featured a variety of interesting arts & culture events such as SENSORii, KLWKND and many more. Seni Untuk Semua, a collaborative effort with RTM, aims to have a further impact the community by fuelling an appreciation of arts & culture in Malaysia.
Seni Untuk Semua will be aired on RTM TV1 every Sunday at 9:30pm starting 10 April, 2022. There will also be another online show, Seni Untuk Semua Atas Talian, featured on www.baskl.com.my, CENDANA's consumer website, in May 2022.
Seni Untuk Semua is a 16-episode, 30-minute programme TV show is hosted by Nazrudin Habibur Rahman, better known as Abang Naz. In each episode, an artist will guide the audience with step-by-step instructions on how to create an artwork in a fun and interesting way. The programme, which will feature artists from different sectors, hopes to spark an interest and improve skills of art enthusiasts and newbies alike.
As for the online version Seni Untuk Semua Atas Talian, the show will feature 50 different art tutorials curated by 50 artists from across the country. Each 15-minute video tutorial features step-by-step instructions by an artist. These tutorials will cover various segments of art, including performing arts, visual arts, music and craft.
"Art is an activity that can be done together as a family. We hope that through this programme, parents will be able to engage in these activities with their children, which can indirectly help kids with their development as well as strengthen the bond between parent and child. The artists featured are very experienced," said En. Junady Nawawi, Group CEO of My Creative Ventures Sdn. Bhd.
"RTM always support programmes that provide benefits to the audience. It is aligned with our mission, which is to develop an informed society through TV, radio and digital media services through the production of quality, creative and innovative content. We are certain that this collaboration between CENDANA and RTM will be beneficial for audiences," said YBhg. Dato' Haji Che Roslan bin Che Daud, Director of Broadcasting, RTM.
Seni Untuk Semua is an extension of the Artist in School programme, a collaboration with the Ministry of Education, which was introduced in 2020, through which experienced artists were given the opportunity to teach art in schools in the Klang Valley. Due to the pandemic and to ensure the longevity of this programme, the Artist in School programme was pivoted and curated to be delivered via two formats as a television show and as online art tutorials.
Among the artists and art activities that will be featured on Seni Untuk Semua on TV1 is Fusion Wayang Kulit which will be conducted by Pak Dain and Tintoy Chuo. "We are very grateful to CENDANA and RTM for giving us the opportunity to highlight an artform that is very close to our hearts.
Our shadow puppetry workshop provided us an avenue to share the knowledge of this traditional craft with young people. This has been a humbling opportunity for us. May this art practice continue to live on through the audiences of the Seni Untuk Semua TV programme," said Pak Dain.
Sarina Aziz from Pertubuhan Seni Budaya Tepak Tellaz, who will be sharing the art of mask making, added: "As an artist who has been active in this field, I believe that through such programmes we can help educate people to develop many skills."
Helena Foo, from Siapa Theatre, said, "Puppet shows like Sesame Street and The Muppets were part of our lives when we were growing up. We wanted to bring the colours and the movements of the puppets to Seni Untuk Semua." In their episode, Helena and her co-facilitator Malin Muhamad Faisal will explore the art of puppeteering.
Apart from craft, performances and visual art, music will also be featured. Drummer/instructor Ahmad Haziq Ramli feels that learning music can be done anywhere these days. "Back then, we could only learn music at school or at music schools. We are now able to learn music anywhere, on our phones or through digital platforms. With such exposure, we hope the younger generation will be more inclined towards music."
Seni Untuk Semua is supported by the Malaysia Creative Industries Stimulus Package (PRISMA), a diverse initiative to revive the creative industry, including arts & culture, while Seni Untuk Semua di Atas Talian is supported by the National People's Well-Being and Economic Recovery Package (PEMULIH) under the Ministry of Communications and Multimedia, which is managed and administered by MyCretive Ventures and CENDANA.