Catering to the Unique Needs of Every New Mom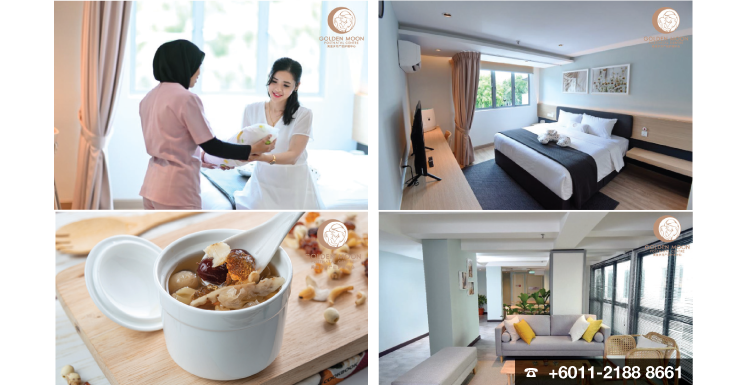 As far back as history can remind us, after birth care has always been an integral part of women's health, one which should never be neglected or taken lightly. It used to be that new moms depended heavily on the services of a confinement stay-in nanny after giving birth. This is not necessarily the most convenient arrangement, as it is entirely at the confinement nanny's discretion as to what she will and will not include in her services. Today, modern families prefer the comfort and convenience of checking in at a confinement centre and being cared for without the stress of wondering and worrying! Golden Moon Postnatal Centre is one such centre, and an award-winning one at that, offering quality confinement care at its strategic location in Pudu, Kuala Lumpur.
At Golden Moon Postnatal Centre, the deep-rooted belief is, every new mom should ideally feel cared for, supported, have easy access to postnatal treatments and be well-prepared for motherhood. Recognised as a haven for postpartum recovery, the acclaimed centre goes over and beyond to meet the physical, mental and emotional needs of new moms. And, this is in consideration that the women, who are uniquely different from one another, are probably undergoing their own health issues or challenges, hence they may have varying needs. Here, options are also made available, with the nice-to-haves separated from the need-to-haves. Add-on items are offered too, through different packages. A safe and comfortable stay, nutritious meals, rest and well-being are among the non-negotiables included in all Golden Moon Postnatal Centre's packages.
New moms' safety & security ensured
Golden Moon Postnatal Centre is DBKL-licensed and fully complies to our national fire department (BOMBA) requirements to ensure a safe and secure environment for new moms and their babies.
Merging of the wisdom of the ages with current information makes up the core principles of Golden Moon Postnatal Centre, allowing the confinement experts to formulate treatments and care that cater best to the unique needs of each mother and child. Respect for new moms is never taken for granted, whereby each of their query will be duly answered and nothing goes unexplained. All treatments and procedures are carried out with the full understanding of the new mom, and with her agreement.
The support offered to new moms extend way beyond their stay at Golden Moon Postnatal Centre, for every effort is made to ensure that they leave imparted with crucial knowledge which will allow them to enjoy a more gratifying and confident journey into the different stages of motherhood. The professional staff are known to hold nothing back in offering guidance and lessons that are deemed invaluable to new moms. At Golden Moon Postnatal Centre, it is assured that each client goes home equipped with knowledge on how to care for her baby with confidence and take better care of herself as a happy, healthy new mother!