BZU BZU: Your Baby Deserve The Best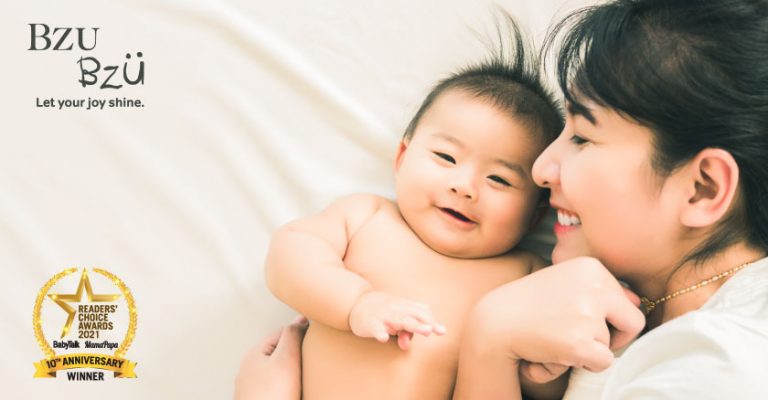 Maternal love – there is nothing quite like it. A mother's love for her child knows no boundaries, and it is reflected by the way she cares for her child from birth itself. BZU BZU, a family care brand famed for its quality as well as user appeal, highly advocates this special bond.  BZU BZU, which is an award-winning brand, offers gentle yet effective skincare that benefits even the most delicate skin of a new-born baby.
Baby skincare routine: Make it count
When you care for your baby, your whole heart and soul goes into it. That's called love, and it makes for special, bonding moments that no one can take away from you. As a mom, you probably know the feeling – that feeling of wanting your baby to know you love him. Also, the feeling of absolute concern, and not wanting anything to cause harm to your baby. It makes perfect sense, doesn't it, to ensure that you use only the best skincare products on your precious one's skin. Think pure. Think tenderness, Think cooling comfort. Can your current baby skincare products be likened to these qualities? If they don't, then it's time to switch to BZU BZU.
There are factors that should be taken into consideration when taking care of your baby's skin. One of them is that a baby who is feeling cool, dry, and comfortable is a happy, smiling baby! This is why the Cooling Baby Powder from BZU BZU is a must during the daytime.
BZU BZU Cooling Baby Powder: Naturally comforting throughout the day
Choosing a good baby powder for your baby may seem simple enough, but did you know that too many brands of baby powder still use talcum as its main ingredient? In case you didn't realise it, talcum powder not only causes all sorts of harm to your baby's skin, but worse still, it is a kind of carcinogen! We're pretty sure that's not what you want anywhere near your baby, let alone on his skin! BZU BZU Cooling Baby Powder on the other hand is made from pure Corn Starch, a loving and kind alternative to absorb wetness, keeping a baby's diaper area cool and dry. Other ingredients that BZU BZU omits but can still be found in some brands of baby powders are Fluorescence, Asbestos, Parabens or Formaldehyde.
Instead, BZU BZU Cooling Baby Powder contains the skin-caring goodness of ingredients such as Evening Primrose, Jiou (Rehmannia Root), and Peach Leaf Extract. These keep your baby's skin cool and feel fresh for a longer period of time. Let your baby be the testimony of this fact!
By means of a gentle applicator made of skin-friendly sponge and free from colorant and fluorescence, BZU BZU also incorporates an innovative application method for more satisfying usage of the content (the powder). BZU BZU Cooling Baby Powder will make a huge difference in your baby's daytime skin routine for the way it brings absolute comfort to your baby's skin. Use it after your baby's bath, during each nappy change, or any other time during the day to freshen up your little one.
Nighttime routine with This calming duo:
BZU BZU Head-to-Toe Baby Wash and BZU BZU Cooling Baby Lotion – Care that speaks for itself
There is something really special and soothing about nighttime routines for a baby. These routines signal to the little one that bedtime is approaching, and it helps them unwind and get ready to be put to bed. Incorporating skin care as part of your baby's nighttime routine will be greatly beneficial, especially if the right products are used. A warm, comforting bath can never go wrong for encouraging little ones to wind down and prepare for bed. BZU BZU Head-To-Toe Baby Wash is perfect for the job, with its patented Calming Scent that has been found to help enhance the quality of sleep in babies. It is made using anti-inflammatory and antibacterial Oubaku and hydrating, antioxidant-rich Peach Leaf to care for a baby's skin while cleansing. Best of all, the product is made completely free of paraben, alcohol, DEA, MEA, TEA, Formaldehyde as well as sulphate.
After your baby's warm, loving bath, we recommend the use of a good baby skin moisturiser to ensure that your baby's skin receives the best care and protection during the night.
Formulated using yuzu ceramides, BZU BZU Cooling Baby Lotion is exceptionally healing and moisturising, and it protects your baby's skin from dryness. This is important as most families today tend to sleep in air-conditioned rooms, whereby the air in the room can be very drying for a baby's delicate skin. Algae, another ingredient in the product, improves hydration in your baby's delicate skin, and keeps it soft, supple, and healthy. Another ingredient, Okura, protects your baby's skin from losing too much moisture during the night, which makes a big difference in the wellbeing of your baby's skin.
In conclusion, taking the time to implement beneficial, loving skincare routines into your baby's life brings joy and bliss to both baby and you, for these automatically include special bonding moments that baby and you will appreciate. BZU BZU baby skin care products complement these routines perfectly!
You can purchase these award-winning products from BZU BZU which are now available at selected stores; AEON, Lotus, Watsons, Big Pharmacy, Multicare Pharmacy, and their official online store at Shopee and Lazada.
BZU BZU has emerged as the winner in two categories in the recent BabyTalk Readers' Choice Awards 2021, namely Natural Baby Powder, and Natural Baby Wash (Sensitive Skin).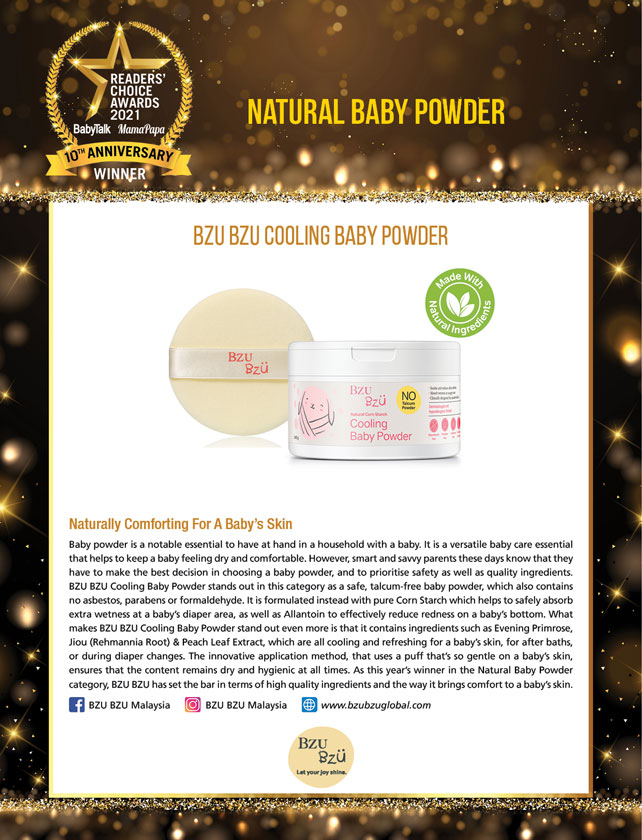 For more information, visit BZU BZU Malaysia Facebook and Instagram or website.