Buying the Best: Air Conditioner
In a country as hot as Malaysia, having an air con to cool down your homes and offices is something that a lot of people consider essential. But with so many different models out there, how will you know which air con is the best for you?
Step One: Calculate how much power you need
Measure out your room before choosing an air conditioner, then use a BTU calculator to figure out approximately how much power an air conditioner will need to keep it cool.
An air conditioner which is underpowered for a room will struggle to keep the temperature low, which causes excessive wear and may make the air uncomfortably dry. On the other hand, an air con which is too powerful is inefficient because it uses up more power and has inadequate dehumidification, which can cause the room to feel damp or clammy.
Step Two: Deciding what kind of air con you want
There are all kinds of air cons on the market. Let's go over the most common ones and explain what the terms mean:
Split System – This type of air conditioner consists of two parts – one part is attached inside your house to cool the air while the other part is attached outside to let out heat. They're usually used to cool one or more rooms or an open-plan area of up to 60 square metres.
Inverter System – With conventional air conditioners, the compressor is either on (working at 100% capacity) or off. Air conditioners with inverters are able to vary the temperature of the air they produce, rather than stopping and starting. They are often quieter, cheaper to run and achieve the desired room temperature more quickly – although they are usually more expensive.
Reverse Cycle – Used mainly in countries with cold winters, a reverse cycle air con can raise or lower a room's temperature. For obvious reasons, they're not very popular in Malaysia.
Multi System – Multi systems are multiple split type air cons which all connect to a single outdoor condenser. This lets you cool several rooms at once, but makes it impossible to vary the temperature of each room.
Step 3: Features and Functions
The more features you want, the more you'll need to pay. Here's a few of the common features to look out for:
Remote Control – Look for a remote with large, easy to read screens and a dock to store it in so that you don't lose it
Sleep/Night Mode – Makes the air con run more quietly by reducing compressor and fan speeds
Timer Options – Lets you set the machine to switch on and off by itself. It's especially useful if you have a set schedule – for example, if you know you're always home by 6pm, you can set the air con to turn on at 5.30pm so that by the time you get back the room is already cool
Fan speeds – The fan circulates cooled or heated air around the room. Look for a model that suits your needs. Fans with high speeds cools a room down faster, but fans with lower speeds tend to be quieter
Operating modes –
Auto

:Automatically chooses the mode required to keep the room at the chosen temperature.

Cool

:Pumps heat from the inside to the outside.

Heat

: Pumps heat from the outside to the inside.

Dry

: Dehumidifies the air, while cooling only slightly.

Fan only

: Blows air without heating, cooling or drying, which is useful when all you want is a cooling breeze.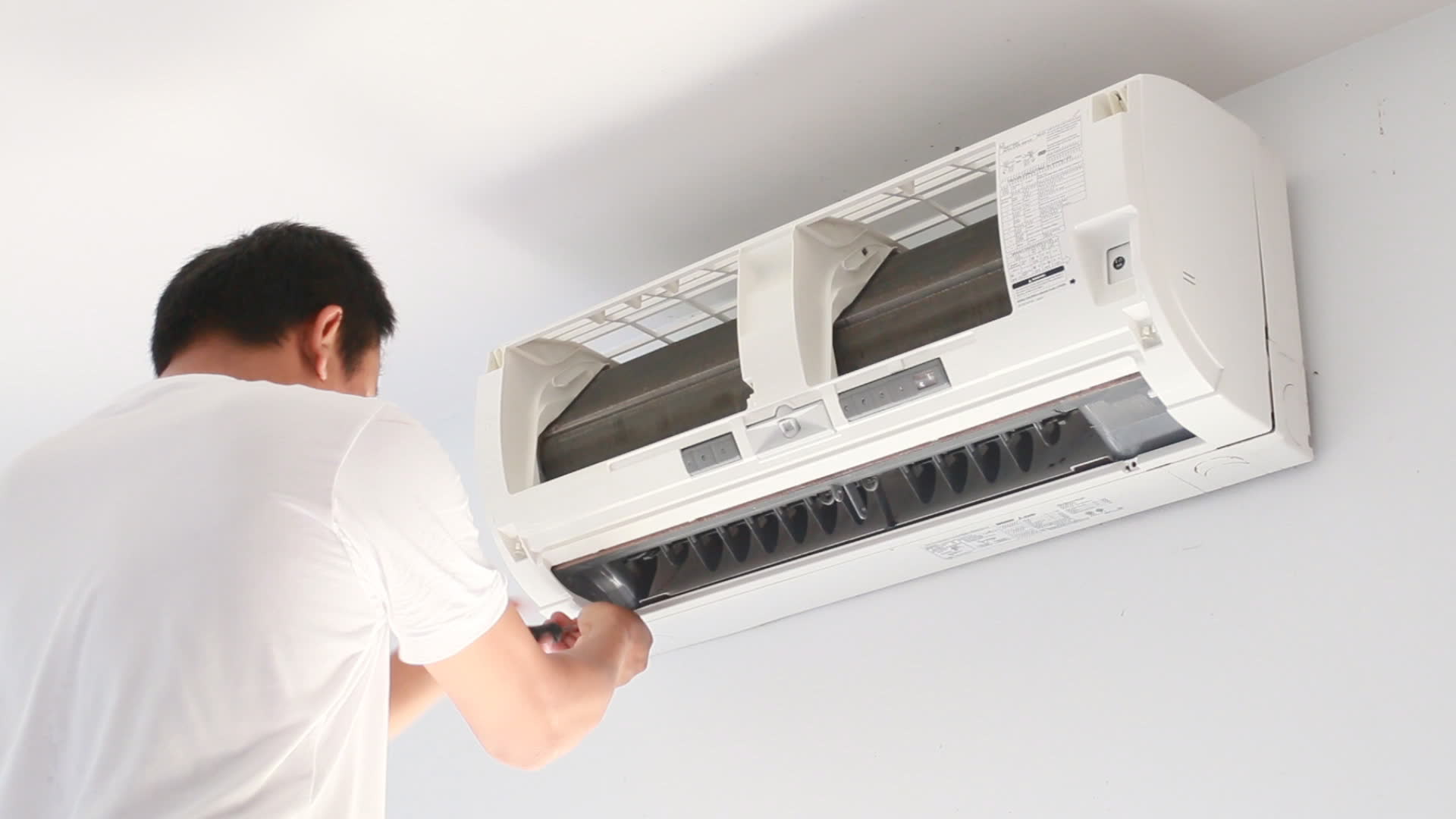 Step Four: Installation
Look for a licensed installer to install your new air con into your home. Good workmanship will save you a lot of time and trouble in the future as inexperienced or unprofessional contractors may cause water leakage, incorrect power connections and even gas leakage.
A good air con installer should be able to advise you on the best place to put your air con and help with servicing or maintenance needs.
Ready to buy?
Here are just a few air conditioners for you to examine. If none of the units below catch your fancy, check out our full list here at 100comments.com.

Acson A5WM10/A5LC10 1.0HP Air Conditioner (R410A)
Compact, modern look and in tune with nature. The R410A J Series is stylish on the outlook and eco-friendly at the heart. With high efficient and ozone friendly R410A refrigerant, it's the answer to the environment and a responsibility we would not take lightly.
Panasonic 1.0HP CS-S10SKH Premium Inverter Air Conditioner
The Panasonic Air Conditioner is a quantum leap in design and performance, creating a new standard for how all air conditioners will be made. Peerless design. Powerful cooling. Perfect comfort.
Fujiaire Portable Air-Conditioner 1.5hp With SuperIonizer
Taking its cue from nature, Fujiaire Portable Air-Conditioner 1.5hp With SuperIonizer naturally cleans your air by discharging negative ions. Negative ions – found in abundance near waterfalls, seaside, and forests – naturally eliminate airborne bacteria and viruses. The weather has been pretty unpredictable here and the air quality has dropped tremendously over the years. With this air conditioner, you do not only keep yourself cool and comfortable, you can also be assured that you are breathing in clean air.