Buka Puasa Delights At CITTA Mall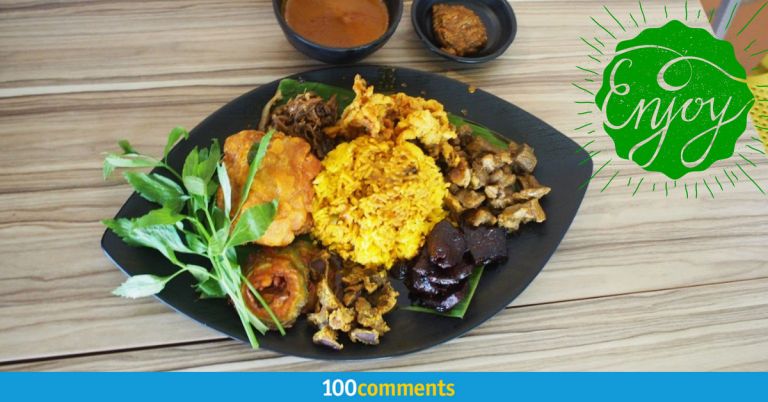 With the holy month of Ramadan just around the corner, it's good to have a list of dependable eateries where you can buka puasa with your family, friends and colleagues, and be assured of having a delicious meal. It's also good if those restaurants are located close to where you are so that you don't have to brave through the rush hour traffic. One such place is CITTA Mall, which has close to 40 restaurants for you to choose from. From authentic nasi lemak from Alor Setar or Penang Asam Laksa, you can truly indulge in your favourite local dishes conveniently during the fasting month. Presenting five of the many F&B at the friendly neighbourhood mall:
Let's Bernasi Kandar @ Nasi Lemak Ong
Those hankering for Alor Setar nasi lemak a.k.a. nasi kandar in Klang Valley terms, need not look further than Nasi Lemak Ong. Mr Ong, the original founder, opened a stall in Alor Setar 22 years ago after learning how to cook nasi kandar from an Indian-Muslim chef. Famed for its delicious coconut-milk-free curries and fragrant ginger-infused yellow rice, it wasn't long before Nasi Lemak Ong was recognised as the best nasi lemak in Alor Setar, a title which it holds to this present day. His sons Otis and Sylvan Ong brought the recipe down to Klang Valley and opened the second branch recently at CITTA Mall. The pork-free establishment uses ingredients that are Halal-certified.
There are a variety of curry flavours to suit each customer's palate including Curry Mutton, Curry Chicken, Curry Squid and Curry Potato. The Curry Mutton is a firm favourite as the meat is tender and with a mild level of spiciness. The Curry Squid is soft and easy to chew while the Fried Catfish is crispy on the outside yet tender on the inside. Rebung (bamboo) fans will delight in the Petai & Bamboo Shoot that perfectly melds both of these strong flavours together. No meal is complete without the crispy and crunchy Sweet & Spicy Anchovies, which comes highly recommended by its regular patrons, while the Curry Cuttlefish is for those who can take serious heat. Other not-to-be-missed dishes include Mee Goreng Mamak Ayam, Nasi Goreng Mutton, Nasi Goreng Telur Masin + Chicken Wing and Indomie Medan.
If you want something a tad different, Roti Canai Charcoal will stand out with its black charcoal colour and tastes just like Roti Canai. To wash down all that rich flavours and spiciness, choose from a selection of refreshing drinks such as the 'shaken-but-not-stirred' Iced Lemon Tea, Ice Blended Jagung (corn) and Ice Blended Calamansi.
Regardless of what you order, you won't be disappointed as the Nasi Lemak Ong team has stayed true to the family recipe to ensure that every dish is made to perfection.
Simply Delish Local Cuisine @ Onde Onde
For a fusion of Malaysian flavours under one roof, one can't go wrong with Onde Onde. The ABC Gula Melaka, a favourite thirst quencher in the hot weather, features the chewy "Attap Chee"(Nipa Palm Seed), crunchy peanuts, gula Melaka and Sarsi Sirap.
The Nyonya-style Seafood Curry Laksa is moderately spicy, not overly rich and goes well with the accompanying sambal while the Nasi Ayam Masak Merah Tomato Rice is mildly flavourful and goes well with the delicious Gado Gado side dish. The Fried Asam Laksa, one of Onde Onde's signature dish, is simply bursting with flavours and comes with fresh juicy prawns.
If you wish for something Western, you will enjoy the Grilled Chicken Butter Cream Pasta which is nicely creamy and comes with succulent pan-seared chicken. The pasta sauce is light as it's made from evaporated milk and unsalted butter.
The good news is, Executive Sous Chef Terece Choy revealed that a permanent BBQ stall will be set up in the near future to serve up dishes fresh from the grill. During Ramadan, you can look forward to curry dish sets meant for sharing.
With over 25 varieties of authentic kuih-muihs to select from as a teatime snack or dessert, sweet tooth diners will be spoilt for choice. We recommend popping its juicy namesake, Onde Onde, into your mouth before leaving the restaurant. The pleasurable sweet aftertaste will leave you clamouring for more.
Have A Slurp of Awesome Laksa @ Jom Laksa
Did you know that Penang's Asam Laksa was listed as the #7 World's Most Delicious Food by CNN? The good news is, Jom Laksa has just opened its doors at CITTA Mall, so diners can just hop over to the friendly neighbourhood mall to taste this uniquely spicy, sweet, sour, minty and slightly fishy noodle broth.
According to Jom Laksa Director Bryant Gian, the original recipe, which came from a small hawker stall in Penang 35 years ago, has been modified by blending all the separate ingredients i.e., Bunga kantan, daun kesum, gelanggal and boiling the concoction overnight, resulting in a rich and flavourful broth. The recipe has been tweaked so that it tastes a little less fishy and sour while adding a richer profile to the soup.
The Asam Laksa comes in three different varieties, namely, Original, Squid and Prawn. They taste best when accompanied by the irresistible Asam Fish Ball, Asam Cheese Seafood Tofu and Fruit Rojak (which diners can liberally drizzle with the "har gou", the prawn paste). With prices starting from RM7.50 for a glorious bowl of Asam Laksa Original and RM13.90 for personal combo sets, Jom Laksa is a deliciously affordable option to Buka Puasa.
Dig Into Crispy Ayam Penyet @ Waroeng Penyet
Since bursting into the Malaysian scene in 2007, Waroeng Penyet has garnered raving reviews for its flavourful and crispy Ayam Penyet (Flattened Fried Chicken). The CITTA Mall outlet was established five years ago and offers a similar menu to the enjoyment of the loyal and growing patronage.
Its Lele Penyet (flattened fried catfish) and Bakso Penyet (fried beef balls) are crowd favourites as well. Every Penyet dish comes with fried tofu and tempeh, the latter being a tasty staple in most Indonesian meals. Bored with rice? Fret not, for Waroeng Penyet gives you the option to savour your Ayam Penyet with the irresistible Indomie instead of rice. Grilled chicken lovers can also indulge in Ayam Bakar Dada and Paha (grilled chicken breast meat and thigh), which are well-marinated and juicy on the inside. There are four types of sauces that diners can add to spice up their meal further – the explosive Hot Sambal Sauce, the salsa like Mild Sambal Sauce, the spicy Soup Chili Sauce and the Sweet Mild Sauce.
According to the outlet owner Riduan Daim, the Ayam Penyet's distinctive flavour stems from its East Java roots. To maintain the authenticity of quality and taste, they import key items such as the belacan, ABC sauce and Teh Botol.
Apart from the savoury main dishes, the delightfully refreshing Teh Botol (Bottled Tea), Soda Gembira (Happy Soda) and Jus Alpukat (avocado juice laced with chocolate syrup) are also must-tries, making this a complete and highly satisfying Buka Puasa meal.
There's Always Room For Cake & Cookies @ A Slice Of Heaven
A Ramadan celebration is not complete without delectable desserts and A Slice of Heaven is all set to welcome the upcoming holy month with a special menu of three cakes, six adorable cupcakes and six cookie varieties. It will be hard to resist the decadent flavours combined with beautifully intricate designs that are made to impress guests.
Where Raya cakes are concerned, the founders Nigel Skelchy (Chief Inspiration Officer) and Alan Yap (Chief Imagination Officer) find that nostalgia works best. They love awakening everyone's fondest childhood memories while tantalising your taste buds.
The aptly named Songket Raya (9″ round, 11″ square), Balik Kampung (8″ round, 11″ square), Sambutan Aidilfitri (8″ round, 11″ square) cakes can be ordered in three different flavours, all of which have roots in the two co-founders' ancestry. The Moist Chocolate flavour is Chief Imagination Officer and co-founder Alan Yap's grandmother's recipe while the Sugee Fruit flavour originated from Skelchy's Sri Lankan great grandmother. The Spiced Marble flavour is Skelchy's mother's unique take on the Indonesian layer cake – instead of making separate layers, she just mixed the flavours together in a delicious concoction.
Bulk orders for the cakes will take one to two weeks to fulfil while orders for one to two cakes can be completed in a couple of days. The cakes are priced from RM238 to RM528 depending on their design and size. The Raya Novelty Cupcakes are priced at RM9 each and RM58 for a set of six in a decorative box with the following flavours: Cappuccino, Raspberry Chocolate, Raspberry Vanilla, Heavenly Chocolate, Chocolate Peanut Butter and Vanilla. The Raya Cookies include staple favourites such as Double Dutch, Cornflake Crunch and Cartwheels as well as Gluten-Free Pineapple Tarts, Gluten-Free Peanut Yummy Nutty (Eggless), Gluten-Free Ahh-monds (Eggless), with prices ranging from RM23 to RM28.
You can start ordering the new Ramadan cakes and cookies selection by early May, while the other dishes mentioned above are available now.
Selamat berbuka, guys!