Brush Your Teeth Effectively With These 10 Most Popular Toothbrushes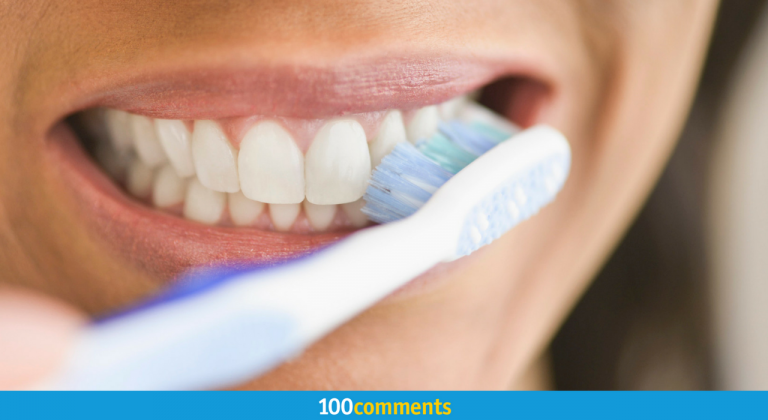 Do you know that brushing teeth with a regular toothbrush only reach 2/3 of the outer teeth? Hence, it is vital to select a good toothbrush to maximise the cleaning process. Brushing teeth is not only for a beautiful smile and fresher breath, it is critical for your overall health. Our mouth contains a lot of bacteria and germs that we need to remove completely. Brushing teeth can help to remove plaque-a thin film of bacteria that will create cavities, gum disease and resulting in tooth decay. So, brush your teeth effectively with these 10 most popular toothbrushes.
Darlie Charcoal Spiral Toothbrush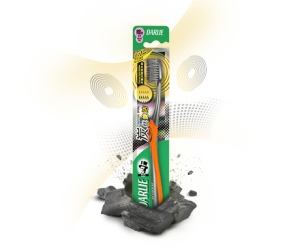 Darlie toothbrushes – charcoal series promises unprecedented cleanliness for your teeth. It seamlessly combined with natural ingredients and advanced technology; the cross-section of the charcoal spiral toothbrush that is hexagonal. Hexagonal cross-section is scientifically proven to have 4 times the cleansing power compared to other normal toothbrushes. It keeps fresh breath with the microtip 0.01mm that reach deeper between teeth. It also keeps toothbrush filaments dry and fresh all day long. Read reviews about Darlie Charcoal Spiral Toothbrush here.
Colgate 360 Toothbrush Gold Charcoal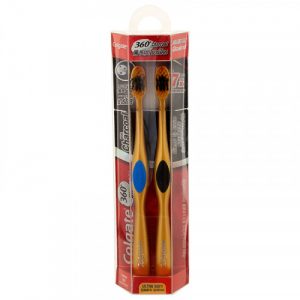 This toothbrush provides a clean and deeper cleansing process which is 6 times more effective than other toothbrushes. The interproximal access allows for 1.5 times deep clean. Infused with charcoal spiral bristles for a superior whole mouth clean. It inhibits bacteria growth on bristles. The brushes can reach deeper in between teeth and along the gum line. It removes surface stains effectively. Click to know more about Colgate 360 Toothbrush Gold Charcoal.
Sensodyne Toothbrush Precision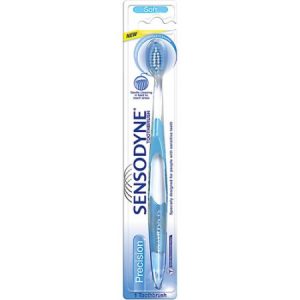 Sensodyne Precision Toothbrush has been specially designed with silky bristles that are gently clean the teeth. The small angled head is designed to provide effective cleaning in the entire mouth and even in hard to reach areas. It is recommended to use this toothbrush daily for an effective cleaning process together with fluoride toothpaste. With an easy-to-grip handle, it makes the brushing process convenient and easy. Read reviews about Sensodyne Toothbrush Precision here.
Oral B Complete Sensitive Care Soft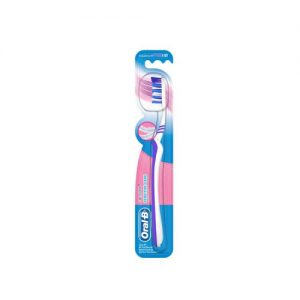 Our mouth contains germs and bacteria that lead to bad breath. Removes up to 90% of plaque in hard-to-reach places with this toothbrush. It helps improve gum health in four weeks time by effectively reducing gingivitis. Not just that, it also removes surface stains and polishes teeth. You can remove odour-causing bacteria from the tongue by gently brushing it. This toothbrush stimulates gums as well and works gently on enamel and gums. Click to know more about Oral B Complete Sensitive Care Soft.
DENTISTE Adult Toothbrush
The small and slim handle helps you to reach all areas of your mouth and intuitively apply less pressure. Toothbrush from DENTISTE is available with different brush types to match your need.  It is gentle on your teeth gum and also tongue but effectively remove plaque, germs and bacteria. Brush your teeth daily to keep healthy gum and teeth and also remove bad breath. Read reviews about DENTISTE Adult Toothbrush here.
Systema Toothbrush Sensitive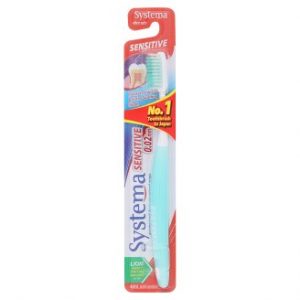 A superior and gentle brush tip specially designed for sensitive teeth and gum. It provides a gentle cleaning with elevated inner bristles and extra soft outer bristles that care for your teeth and gum. The 0.02mm bristle tip is 1/20 the size of ordinary bristles enabling it to penetrate deeper along gum lines and in between teeth. It is made from a non-animal origin and patented by Lion Japan technology. It penetrates deeper especially along gum lines in between teeth to remove more than 80% plaque. Click to know more about Systema Toothbrush Sensitive.
Jordan Target Sensitive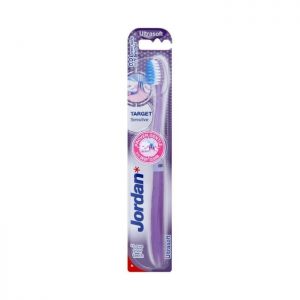 Jordan Target Sensitive has a streamlined head and double action bristles to clean the gum line and raised inner bristles and tip for good reaching and cleaning process. The slim handle helps you reach all areas in your mouth even at the hardest part of the mouth with less pressure that care your gum. You may choose different designs and either soft, medium or hard bristles that suit your teeth. It is dentist's favourite toothbrush with its instrument-like design with an extra small head and slim handle for precision brushing. Read reviews about Jordan Target Sensitive Toothbrush here.
Follow Me Toothbrush Active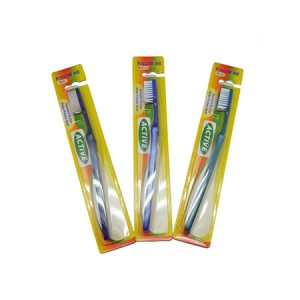 Follow Me Toothbrush Active is a comfortable non-slip rubber grip toothbrush that has a flex zone which is made gentle on gums and teeth. The rounded bristles help protect gums while removing plaque effectively. Follow Me toothbrush comes in two types of bristles -soft and medium to cater for different user preferences. It is easy to grip and use. Brush your teeth daily with this toothbrush for clean and healthy teeth. Click here to know more about Follow Me Toothbrush Active.
Aquafresh Toothbrush Clean & Flex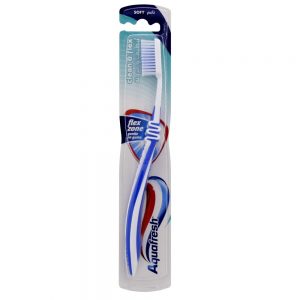 For thorough everyday teeth cleaning, use Aquafresh Toothbrush Clean & Flex! This toothbrush is patented with flex technology that is flexible to reach the hardest part. End-rounded bristles design help to protect teeth and gums effectively. The ergonomically handle allows you to effortlessly control it with comfort. The flexible neck bends to absorb excess pressure from brushing and thus helps protect gums. Read reviews about Aquafresh Toothbrush Clean & Flex.
ISDIN Bexident Medium Toothbrush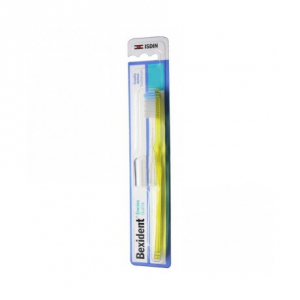 The comfortable non-slip rubber grip makes the brushing process convenient and effective. ISDIN Bexident Medium Toothbrush is a manual toothbrush that keeps your teeth clean and helps eliminate bacterial plaque for healthy teeth and gum. The micro bristles tip is inspired by dental floss for deeper reach and removes dirt and residue to prevent plaque build-up that leads to bad breath. It is available in hard, medium or soft bristles to cater your preference. Click to know more about ISDIN Bexident Medium Toothbrush.