Bringing the Professional Touch to Confinement Care for New Moms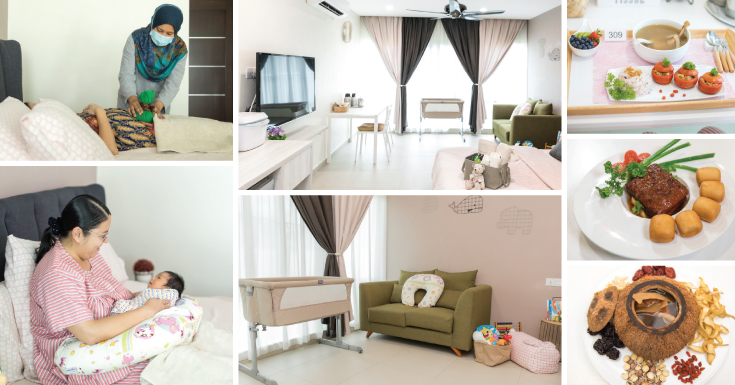 Nestled in a peaceful residential garden in Ipoh, Perak, BabyMom Confinement Home provides new mothers with the utmost care and tranquillity they need for themselves and their newborns. Founded by Mrs. Foo in 2008, a mother of three who has always had a passion for supporting new moms during their postpartum journey, BabyMom consists of three charming single-story bungalows located just minutes away from each other. Additionally, the convenience of having six major hospitals nearby ensures easy access to essential postnatal check-ups and medical support.
With over a decade of experience, BabyMom Confinement Home is proud to be the first and most established confinement centre in Ipoh City. What sets them apart is their commitment to providing exceptional care tailored specifically for mothers seeking a wholesome confinement experience. They are also proud to pioneer the concept of comprehensive single-room confinement, allowing new mothers to fully embrace breastfeeding while ensuring their privacy and comfort. Their mission is simple – they strive to offer unparalleled services that cater to every mother's unique needs during this important period of postpartum recovery.
Providing Exceptional Care and Comfort for Perak Moms
Mrs Foo is a highly experienced professional in the post-natal care and confinement field. She graduated from the prestigious Zhongzhou University of Science and Technology in Taiwan, specialising in home confinement and postnatal care services. The dedicated founder of BabyMom Confinement Home goes above and beyond to ensure that her staff adheres to the highest standards in all their duties. Alongside providing exceptional care for new moms and their babies, Mrs Foo personally designs and customises meals for each postnatal mommy, taking into account their specific dietary needs and preferences. Furthermore, new moms receive individual breastfeeding tutorials and guidance to help them successfully nurse their precious newborns.
At BabyMom Confinement Home, the main goal is to ensure that every mom leaves feeling confident and prepared for their journey into motherhood. By providing attentive care, personalised meal plans, and expert guidance on breastfeeding techniques, Mrs Foo and her capable team ensures that each mom receives the support they need during this transformative period in their lives.
Mothers and babies can be assured with their comfort and safety as the confinement centre boasts of 24 well-appointed rooms to accommodate different needs, with four types of confinement packages available. To ensure round-the-clock care for infants, their baby room is equipped with surveillance cameras.
In addition to its comprehensive facility, BabyMom Confinement Home also offers additional services to support new mothers during their confinement period. This includes the confinement nanny who provides personalised care to both mother and child. It also offers convenient confinement food delivery services so that mothers can enjoy nutritious meals at home without needing to worry about cooking or grocery shopping during this crucial time.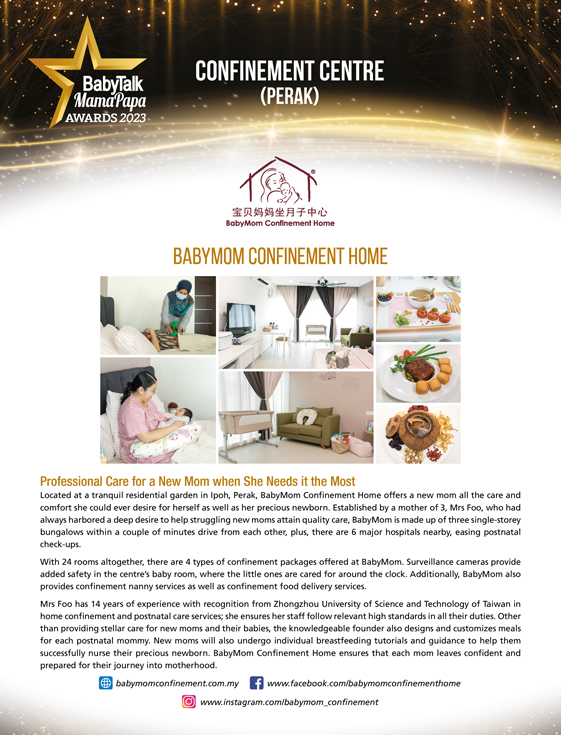 Thanks to Mrs Foo's expertise combined with the extensive range of services offered at BabyMom Confinement Home, it has won the BabyTalk MamaPapa Award 2023 as the Best Confinement Centre (Perak).
For more information, visit their website, Facebook, and Instagram pages.