Bring your family to visit Atria Shopping Gallery this weekend and enjoy their Top 5 Best Family Friendly Attractions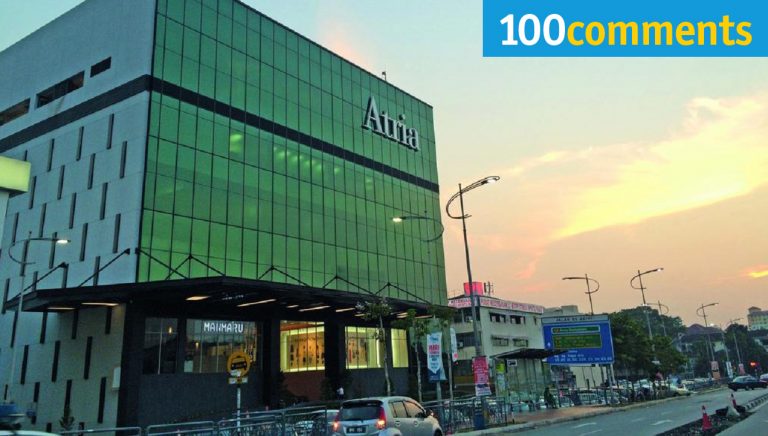 In 1982, the foundation stone of what has come to be known as Atria was laid right in the heart of Damansara Jaya. Everyone was mindful of its potential, but no one expected the phenomenon it became.
One of Klang Valley's most iconic malls, Atria Shopping Gallery is a place where fond memories, stories and bonds are made. During the 80s, Atria was the most happening place in the area. The Piccadilly discotheque was a magnet for teenagers and youths – and for the police, who led several raids on the outlet. Local residents would also have fond memories of Parkson Grand, Parkson Supermarket, Esquire Kitchen, and many other glamorous outlets.
Though the original building was demolished in October 2011, today the shopping mall is bigger and better then ever before. In May 2015, the Atria Shopping Gallery was reopened, designed as a more modern and ritzy shopping destination. Today, its glass clad exterior is an iconic landmark in the Damansara Jaya area.
Every week, Atria Shopping Gallery draws in thousands of locals looking for good food and better shopping. Those of you who are bringing your kids along may be pleased to know that there are plenty of attractions around to keep them occupied. Below are just a few examples.
Jungle Gym @ Atria Shopping Gallery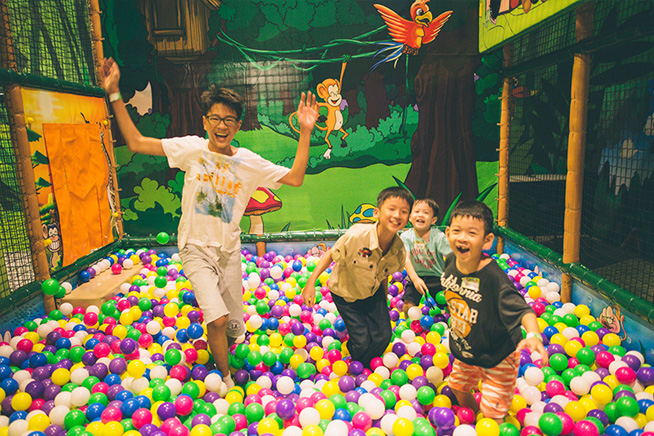 Modelled after natural jungle beauty, this indoor amusement play land for kids brings the vibe of nature with wonderful games. Jungle Gym Atria is a fun-filled concept aimed at ensuring kids have a great time, while sneaking in some elements of learning and mental stimulation.
The play land is suitable for children aged from a few months old to mid-teens. There is a BABYLAND, a safe playground and crawling area for babies under 2 years old. For the older kids, they can play at the FUN LAND whereby there are fun slides, crawling tunnels, climbing structures, air guns, a mini basketball court, trampoline, ball pit and many more. There is a OHANA MOVIE ROOM for screening kids' favourite movies and a LITTLE EXPLORER area for arts and crafts activities.
Jungle Gym Atria also comes with all sorts of exciting features that your kids are sure to love including ball pits, slides, crawling tunnels, mini basketball field, trampolines, water beds, air guns, activity boards, and many, many more.
Parents can also rest assured that their children's safety is the Jungle Gym's highest priority. The friendly staff are always on hand to keep an eye on your kids, and the Jungle Gym even has an attached washroom so that the kids won't have to leave the premises to use the toilet. For an exciting, fun filled experience that your kids are sure to remember, drop by Jungle Gym Atria today!
Opening Hours: Monday to Friday 10.30am – 9.30pm, Saturday to Sunday 10.30am – 10.30pm
Website: http://www.junglegym.my/
Contact Number: +603-7731 7193
Molly Fantasy / Aeon Fantasy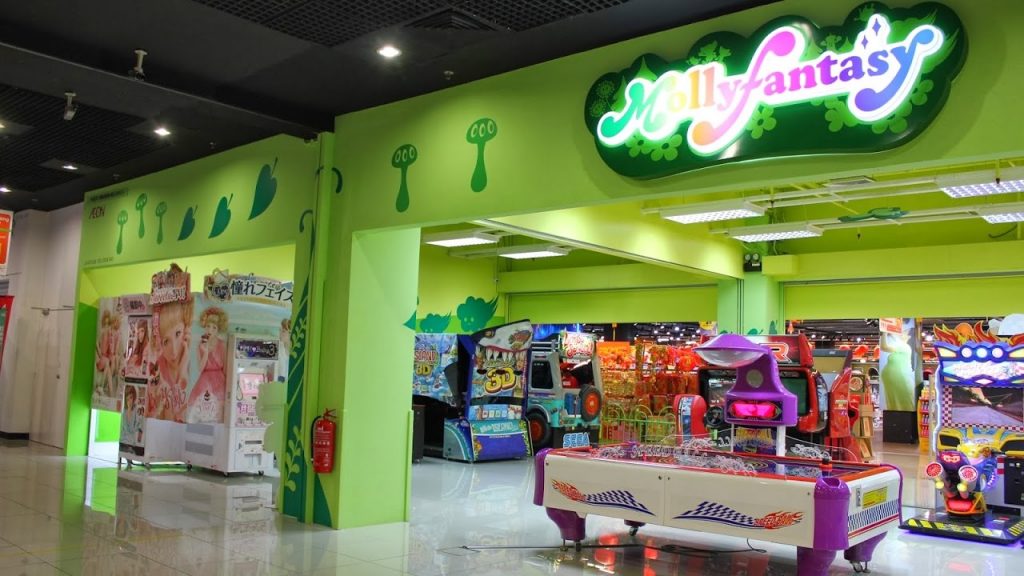 Run by AEON Fantasy, Molly Fantasy is a place where you can hear laughter and experience the excitement from the whole family.
This indoor park provides a variety of games and activities including carnival machines like basketball and air hockey, simulation games, shooting games, car racing games and many more. These enjoyable activities are sure to stimulate your child's brains while getting them to break sweat and become more active.
The game machines are compatible for players of all ages, meaning that not just children but parents and even grandparents can join in the fun and grow closer by spending time with each other.
At the kids-only zone, Wai Wai Park, children are invited to play ball-pool which they can jump and swim around in the bubbly ball pool and cyberwheel for them to roll and see the difference of our world looks like. Besides, parents can organize a birthday party for their children there. Mollyfantasy is an ideal play center where everyone can relive childhood adventures and play in a safe, comfortable, and exciting environment.
Opening Hours: 10.30am-10.30pm
Website: http://www.aeonfantasy.com.my/
Contact Number: 03-9224 6171
Pony Ventures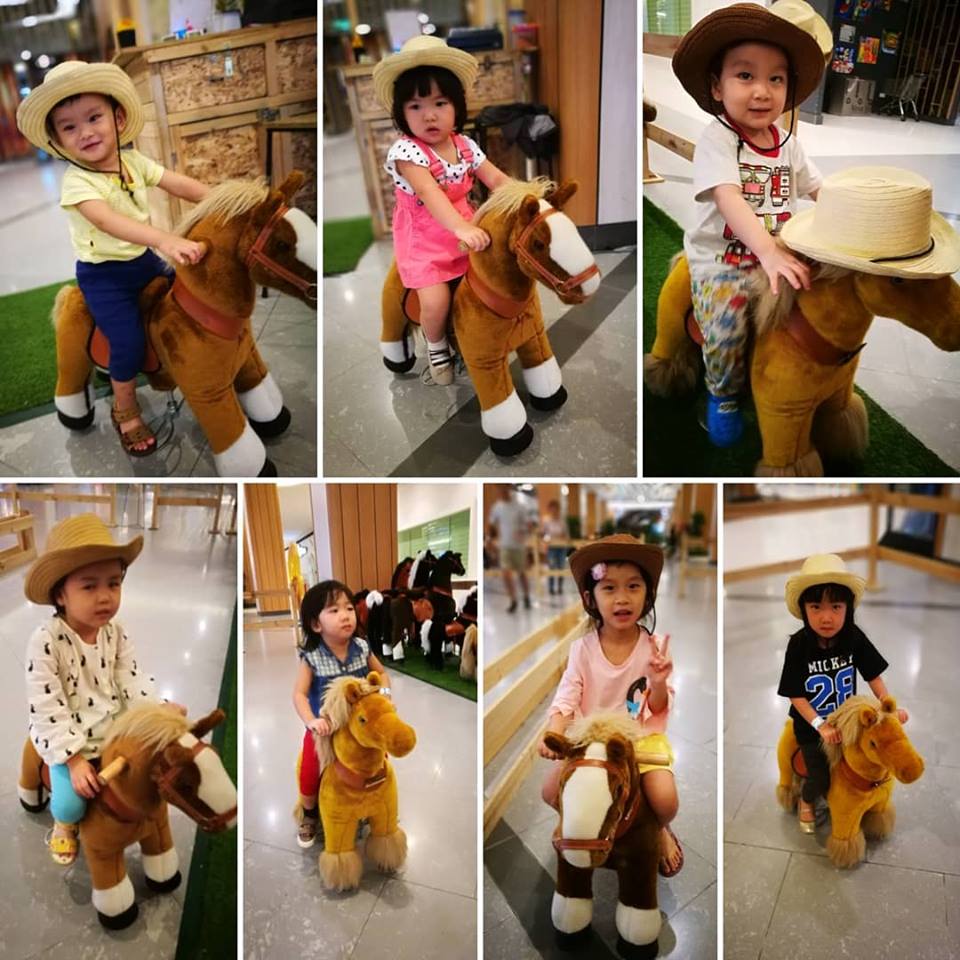 Do your kids like the idea of riding ponies? If the answer is yes, they're sure to love Pony Ventures!
Pony Ventures is a company that rents out PonyCycles – an adorable ride-on toy which relies on your own power to move. It almost feels as if you were riding a real pony!
PonyCycles are available in 3 sizes and are suitable for all ages from 3 years old to 93 years old (up to 120kg), meaning that even mummy and daddy can join in the fun! If you're interested in enjoying a lively activity suitable for the whole family, drop by Pony Ventures today and give their rides a try!
Opening hours: 10.30am – 10.30pm
Website: https://www.facebook.com/ThePonyVentures/
Contact number: 016-733 0007
Play!room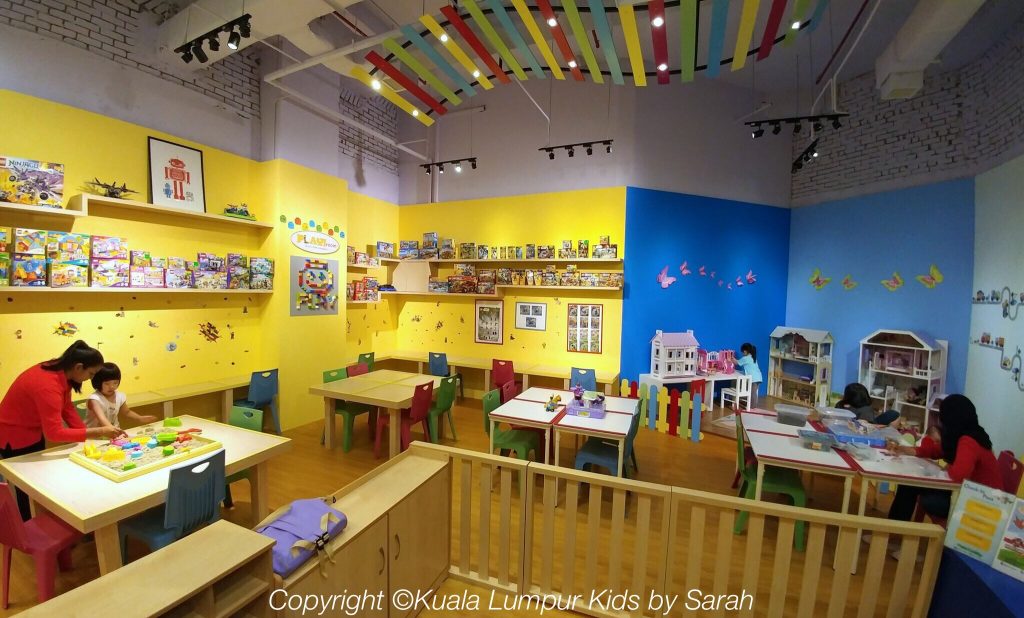 Located on the second level of Atria Shopping Gallery, Play!room is a Shop 'n' Drop Playroom perfect for kids aged 4 to 14 years old. They also offer Weekday Toddler & Guardian Pass and Party packages.
Parents can drop their little ones here for a short while to do their shopping or enjoy some bonding time by playing together with their toddlers. Play!room is a bright and colorful place filled with friendly and experienced staff who will supervise your kids while they explore and enjoy all sorts of toys such as Lego sets, Kinetic Sand boxes, dollhouses, arts and craft, and many more.
Play!room is a safe and secure environment where cleanliness is considered a high priority. At the end of the day, the toys are cleaned with a special sanitizer made from baking soda and apple cider vinegar to keep everything clean and bacteria free. Security is also taken seriously – the staff issues a check in receipt with the parent and child's name and contact number on it and will not allow someone to take any of the children out without the matching receipt.
If you're interested in hosting a party, Play!room can provide your kids with a comfortable private space and a Party Coordinator to help host the event. While they don't cook any food themselves, Play!room enjoys special catering rates from F&B outlets in Atria, so be sure to ask if you're interested.
Opening Hours: 10.30am – 10.30pm
Website: https://www.facebook.com/playroommalaysia/
Contact Number: 03-7733 0555
Little Botz Academy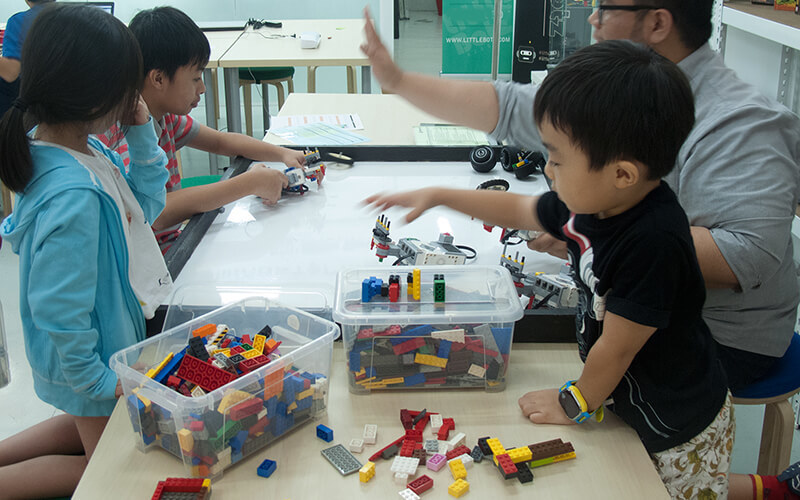 Come and experience the world of technology and robot automation.
Little Botz Academy is a technology hub that provides a fun and interactive platform for the community to express their creativity and innovation while learning. They aim to develop their students by providing them with the necessary tools and space to satisfy their curious minds. By instilling awareness about robotics and technology while teaching children about basic skills and tools, Little Botz Academy cultivates creativity and encourages their studens to be the best that they can be.
Their experienced team works together with the University of Malaya (UM) Research Center to ensure that they're providing a cutting edge learning experience focused on instilling Higher Order Thinking Skills (Analyze, Evaluate, Create, etc.) into their student's learning environment. If you're interested in bringing out your child's inner genius, pay Little Botz Academy a visit today!
Opening Hours: 10.30am-10.30pm
Website: http://www.littlebotz.com/v3/
Contact Number: 03 – 77322373
Need More?
The attractions above are but a sample of the many family friendly activities available to you at Atria Shopping Gallery. For more information on these and other similar attractions, check out Atria Shopping Gallery's official website at http://www.atria.com.my/.