Brighter Skin with UVeCARE 3-in-1 Brightening Up Sunscreen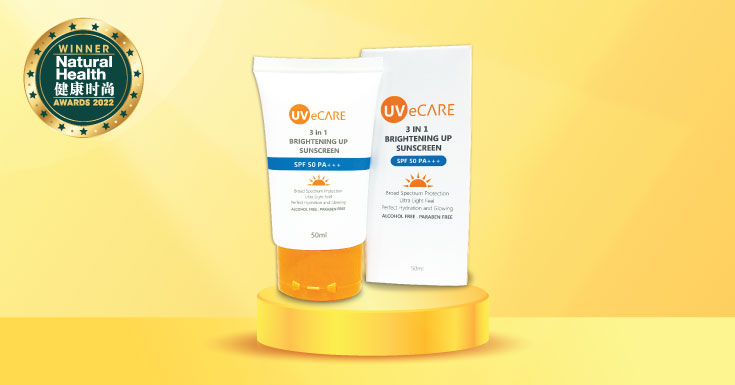 You love spending time outdoors, but you have to be diligent about using sunscreen to protect your skin and prevent damage. We know sunscreen can be a pain to use – it's greasy, it can smell bad, it's often sticky, and it can be difficult to apply.
Wouldn't it be great if there was a way to have the protection of sunscreen without any of the downsides?
UVeCARE 3-in-1 Brightening Up Sunscreen combines the sun protection of sunscreen with the brightening and moisturising properties of products you already use.
1. Protects Against Harmful UV Rays
UVeCARE 3-in-1 Brightening Up Sunscreen offers complete protection by preventing the skin from being damaged by UVA, which is associated with skin ageing, and UVB, which is associated with skin burning. These rays penetrate the skin's surface and destroy collagen and elastin beneath the skin's surface, resulting in wrinkles, sagging, and ageing.
2. Contains Brightening and Anti-ageing Elements
Arbutin, an ingredient found in UVeCARE 3-in-1 Brightening Up Sunscreen, is a natural skin lightening agent that helps to reduce the appearance of dark spots, acne scars, and uneven skin tone. It works by inhibiting the production of melanin, the pigment that gives colour to the skin, by blocking the enzymes that stimulate its production. This also helps to prevent further pigmentation problems caused by UV exposure.
3. Won't Clog Pores
When a sunscreen feels sticky or greasy on the skin, it can be uncomfortable and may even lead to clogged pores and breakouts. This can be particularly problematic for those with oily or acne-prone skin.
UVeCARE 3-in-1 Brightening Up Sunscreen's lotion texture makes it easily absorbed by the skin without leaving a sticky, greasy feeling, making it a comfortable and easy-to-use option for daily sun protection. In addition to being suitable for use on the face and neck, this sunscreen is also safe and comfortable to use on the whole body. You can use it to protect your skin from head to toe, which is particularly important when spending extended periods of time outside. This makes it perfect for skin health because it is recommended to reapply sunscreen every 3 hours.
4. Hydrates the Skin
Peony root extract is a powerful skincare ingredient that can provide intense hydration and help to keep the skin looking clear and matte. Products containing peony extract, such as UVeCARE 3-in-1 Brightening Up Sunscreen, can help to protect the skin from the sun's harsh rays while keeping it soft and moisturised, making them an excellent choice for those who want to maintain healthy, youthful-looking skin.
Brighten Your Day, Every Day!
According to skin experts, spending time in the sun without sunscreen can cause premature ageing and skin cancer. So, it is important when looking for sunscreen products to choose those that provide protection against UVA and UVB rays while also providing a host of skin-friendly benefits.
Do your skin a favour and protect it with UVeCARE 3-in-1 Brightening Up Sunscreen, the winner of the Natural Health Readers' Choice Awards for Face Brightening Sunscreen, to enjoy supple, bright, and healthy skin whenever you are out and about.