Breakthrough Into Better Health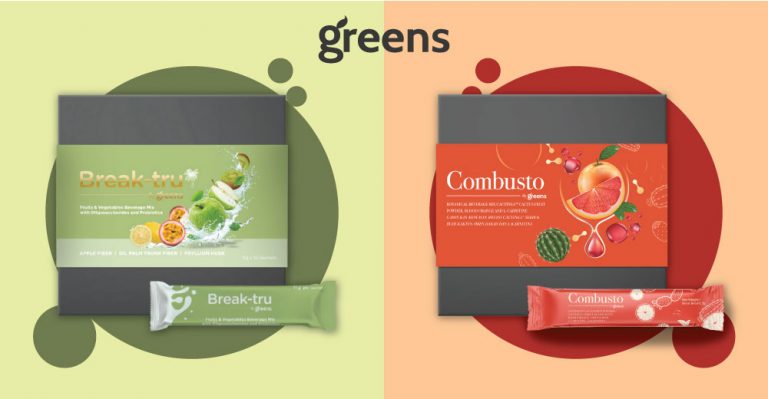 Eat for the body you want, not for the body you have! Still worrying on the extra pound on your balance? Try the latest health concoction of weight management drink with Break-Tru and Combusto from GREENS! Start your worry-free weight loss journey with the wonderful natural ingredients of CactiNea™ (Cactus Fruit Powder), Blood Orange and L- Carnitine from Combusto, and eliminate the toxic accumulated in your gastrointestinal tract with a nutritious and delicious blend of fruit and vegetable beverage mix with probiotics – Break-Tru by GREENS
According to a study, 95% of Malaysian adults cannot achieve the recommended daily portion of fruits and vegetables. You can easily achieve the variety of fruits and vegetables including oil palm trunk fibre, psyllium husk, wheatgrass, passion fruit, apple, pear, kiwi, cucumber, celery, spinach, cabbage, pineapple and lemon in just 1 sachet of Break-Tru! This combination will detox your body from the inside out and leaves you with plenty of good bacteria Lactobacillus Acidophilus to balance out the flora in your gut.
The balance of soluble and insoluble fibre in Break-Tru is effective in normalising stool. A glass of Break-Tru containing 10 types of 100% natural fruits and vegetables powder with no preservatives and no added sugar coupled with superfood wheatgrass. It is the only drink you needed for your daily detox routine.
For Combusto the famous Blood Orange from Sicily, is a clinically proven ingredient in a randomized clinical trial that is able to reduce the body weight, BMI and even waist and hip circumference in just as short as 12 weeks period. This powerful fruit is cultivated in a volcanic area with the extreme change of temperature daily. This extreme weather results in the intense violet-red colour flesh rich in anthocyanins, aka the most powerful antioxidants. Phytocomplex in Blood Orange able to increase fat break down and reduce fatty acid synthesis. In short, it helps to boost the body metabolism and burn calories.
CactiNea™ is a patented ingredient in Combusto which is known for its name of organic prickly pear that proven to reduce the sensation of heavy legs and swollen feet by eliminating the excessive body fluids and yet preserve minerals and blood pressure. Well, number speaks louder than words, 4 out of 5 participants in the clinical trial are amazed with its effectiveness while 67% experienced reduction in heavy legs.
Combusto also catalysed by L-Carnitine which acts as a transporter of long-chain fatty acids into cells' mitochondrion to burn into energy. Without the help of this fat transporter, the fatty acids stay in our blood as free form and accumulate to become fats.
Tick off the weight management plan now and speed up your progress by having 1 sachet of Combusto after meal and 1 sachet of Break-Tru before going to bed on top of your diet and exercise plan. Say goodbye to Elephant Leg and Pear Shape Body with 100% Natural, Non-GMO, Gluten-Free, Lactose-Free, Vegetarian friendly and Laxative-Free Combusto and Break-Tru.