Brainbow Kids – Unlock Your Child's Emotional Potential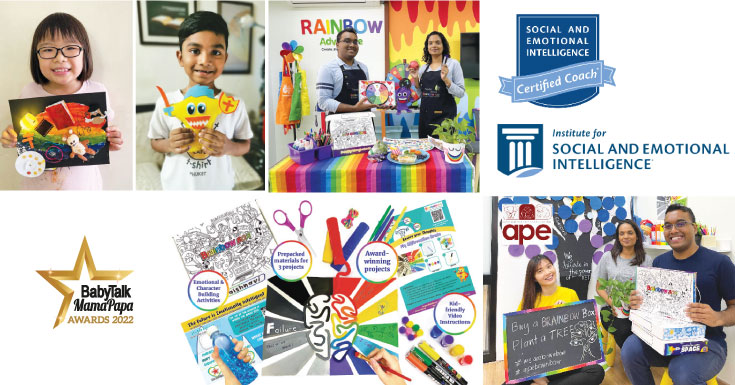 Emotions are a common and vital characteristic of human existence. But seldom do we know to regulate and utilise it. But we cannot let our children go through the same. This is the sole purpose Brainbow Kids has strived to maintain over the years of its operation. Set up by Nandhini Sivanna, a renowned certified Emotional Intelligence Coach and a Neuro-Linguistics Programming Kids Practitioner, Brainbow Kidz aims to specifically help GenZ channel their emotions in the right direction and in a fruitful way.
Brainbow Kids is one of the leading chains of preparatory schools in Malaysia. Highly praised by guardians and students alike, Brainbow Kids has adopted a unique way of imparting academic, social, and emotional education to its tiny tots, as the teaching method primarily focuses on Social Emotional Learning or SEL.
SEL actively instructs children to meaningfully anchor their emotions and utilize them for their own and other people's benefit. Emotional attributes often overpower the rational thinking skill of a person. Hence, this new method of learning would be especially useful for children in establishing positive relations in life, and handling challenging situations constructively.
Why should you choose Brainbow Kids?
 Brainbow Kids works tirelessly to bring the best possible guide to frame a pathway for the kids. This is why the school offers two programmes for the interest of the children – Rainbow Adventure (age 3-7) and SuperPower Me (age 7 and above). These exercises are designed around various elements like EQ games, Story Telling, and Regulation Activities.
Brainbow Kids also makes a special reservation to unleash the creative side in its students. This preparatory school frequently hosts art and craft activities under the able guidance of its outstanding educators. The little Picassos are provided with a craft box every month to explore their imaginative world and create the same on the pages. These boxes comprise three art projects, modelling clay name boards, DIY board games, sensory jars, and terrarium sand art with video and written instructions. These activities are fun and engaging for the children, and are also great companions to their cognitive and motor skills.
The school also provides the potential scholars with uniquely themed Brainbow Boxes which comprise activities to develop their skills in different areas and contributes to the overall development of the kids.
 Brainbow Kids is an organisation that continues to work for the betterment of the little ones with an unmatchable passion and committment. The school's motto is to spread happiness through colours to the children in the world. So, if you are looking for a preparatory school for your child's all-around development, why not contact Brainbow Kids today?