Blissfully & Authentically Organic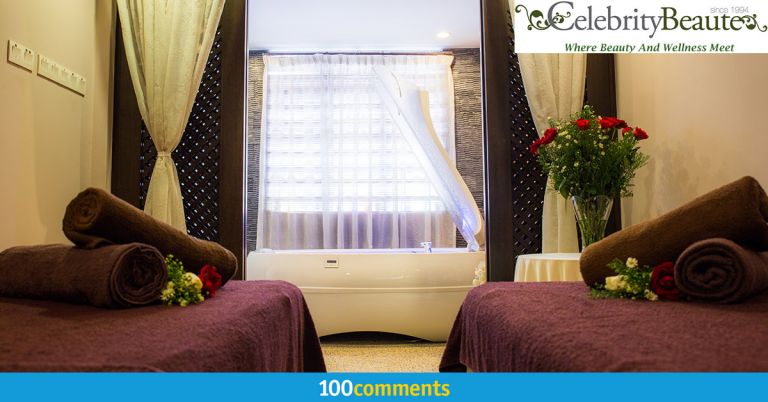 Finding a beauty salon that utilises quality imported organic products coupled with an amazing service is not an easy task. To my pleasant surprise, I found one located in Shah Alam called Celebrity Beaute, just 30 minutes from home.
Designed to reflect the simplicity and elegance of a French spa, Organique Essentielle exudes a relaxing vibe as I walked into its welcoming reception area.
A friendly therapist greeted me warmly led me to the treatment room which contained a small built-in wardrobe and adjoining bathroom. I was really looking forward to the full body scrub and 90-minute massage using their signature organic range.
Gentle, Moisturising Scrub
The session began with a soothing body scrub using a specially formulated bamboo husk scrub and jojoba oil. The scrub was very fine and under the skillful hands of my masseur, it polished my skin gently. After 30 very relaxing minutes, I took a shower and noticed that my skin felt smooth and moisturised. Very unlike the usual types of body scrubs that made my skin feel tight and dry.
Stephanie Yong, the vibrant spa owner, later explained that the bamboo husk and jojoba oil scrub have effective scrubbing and moisturising properties.
Blissful, Therapeutic Massage
The masseur then proceeded to deliver a truly amazing massage. Her fingers were gentle yet strong – penetrating through layers of flesh, fat and muscle to ease the tension of my whole body. Every stroke was precise and unhurried. No knot escaped her notice. She expertly coaxed the tensed muscles and knots until my body became a pliable cocoon of bliss.
It was a unique combination of a deep tissue, lymphatic and Balinese massage designed to both treat and pamper the body. In short, it was brilliantly executed and I was truly refreshed and rejuvenated.
An Organic & Ethical Salon
Stephanie, who has a background as a trainer in the beauty industry before opening her own salon more than 20 years ago, is deeply committed in bringing only the best for her customers.
"To me, the best means giving quality, organic products and impeccable, consistent customer service. This is how I remained in the business for so long when a lot of other salons have come and gone," she explained. Some of her loyal customers are even up to 3 generations long and her business has grown organically through the power of word of mouth.
In 2011, upon realizing the dangers of using synthetic chemical-based skincare products, Stephanie decided to completely switch to using only organic products in her salon. She took it upon herself to visit the farm and manufacturing site of the organic Swiss brand she brought in, Arise.
"The ingredients that go into the products are handpicked and no chemical fertilizers were used on the farms where they are grown," she explained.
She admitted that it took a while for her customers to get used to the change in products. "About half of the customers left because they were not used to the new scent and the lack of foam in the organic cleansers," she recalled. "But then new customers started coming in, including cancer survivors who were advised by doctors not to use non-organic products." It was a sign that she had found her true calling.
Today, Celebrity Beaute has added two more quality organic French brands under its wing, namely, Abellie and Nohem, and their customer base is steadily growing.
Parents' Day Promotion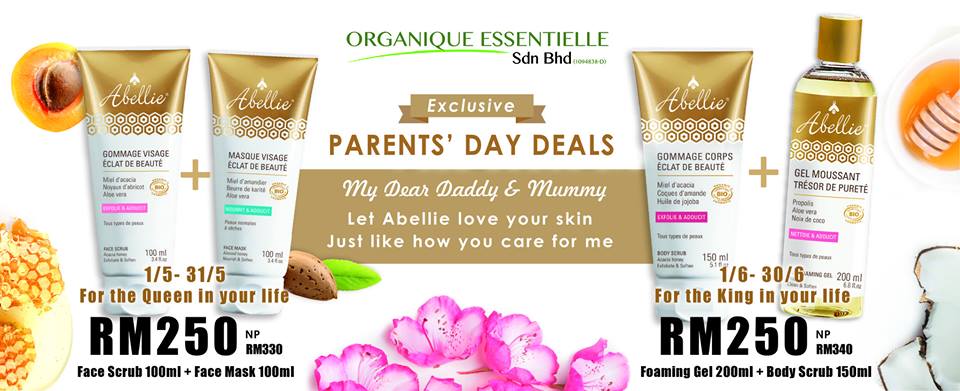 Treat your parents to Celebrity Beaute special Parents' Day Deals from now to 30 June 2018.
Lovingly made with the goodness of Nature such as honey, royal jelly and bee pollen, Abellie is a certified-organic brand, all the way from France! Take care of your complexion with this nourishing duo, perfect for all skin types.
MOTHER'S DAY PROMO (1 – 31 May)
Abellie Face Scrub + Face Mask
RM250 ONLY (NP: RM330)
FATHER'S DAY PROMO (1 – 30 June)
Abellie Foaming Gel + Body Scrub
RM250 only (NP: RM340)
Shop online here: https://goo.gl/x2U28D
Location of Salon:
Celebrity Beaute,
81, Jalan Snuker 13/28,
Tadisma Business Park,
40100 Shah Alam, Selangor
Opening hours:
Mon – Fri: 9.30am to 7pm
Sat: 9.30am to 6pm
Sun: Closed
Tel: 03-5518 9388