BiO-LiFE MaxX Fish Oil – Made from High Strength Quality Fish Oil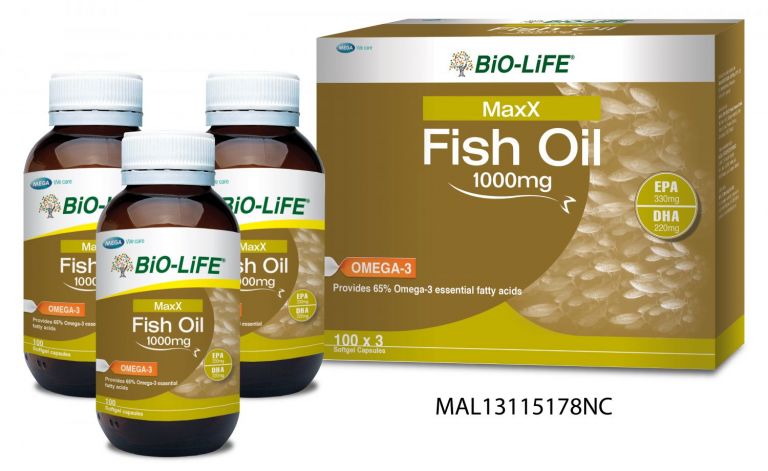 Petaling Jaya, 31 October 2018 – How often do you eat fish? In the case of most Malaysians, the answer may be, "Not often enough". Fish consumption, along with physical activities, are crucial to reduce the risk of cardiovascular diseases, which has been identified as the leading cause of death in Malaysia by the World Health Organisation. The American Heart Association even recommends that we eat fish rich in Omega-3 fatty acids at least twice a week – a frequency that many of us may find hard to meet.
Omega-3 fatty acids are healthy fats which contains eicosapentaenoic acid (EPA) and docosahexaenoic acid (DHA). Consuming enough Omega-3 fatty acids from our diets is important because our bodies are unable to produce it.1 Omega-3 fatty acids play an important role in supporting normal functions of a healthy body.
Living a healthy lifestyle is one of the fundamental components to maintain our general health well-being. Though many factors contribute to your overall health, balanced diet and regular physical activities are the leading determinants of your level of general health.
 "BiO-LiFE is a nutritional supplement brand in Malaysia with 28 years of experiences in the healthcare industry. We at BiO-LiFE is excited to introduce MaxX Fish Oil to help Malaysians take care of their health with ease, so that they can focus on making the best of their careers and quality time with loved ones! As we all know, physical exercises and adequate consumption of fish rich in Omega-3 fatty acids are our best defense. However, we understand that urbanites typically lead hectic lifestyles that leave little room for routine exercises. On top of that, not all Malaysians consume enough fish every week, especially since fatty fish can be very pricey in Malaysia," says Carolyn Kong, Head of Marketing for BiO-LiFE Marketing Sdn Bhd.
Hence, she explains, BiO-LiFE has formulated a viable alternative – packing the goodness of high strength fish oil in convenient capsules. The healthcare company believes that prevention is the best medicine – a principle that drives its able team of nutritionists, biochemists, food technologists and microbiologists to continuously develop nutritional supplements and herbal remedies for Malaysians throughout its 28 years in the country.
Now, you can keep your health with BiO-LiFE MaxX Fish Oil 1000mg, which is made from high quality marine fish oil by Epax, a trusted global brand of high quality Omega-3 nutraceutical ingredients from Norway. Using only clean, sustainable and traceable raw materials, Epax delivers safe and pure condition-specific Omega-3 formulas that pass the high industry standards.
The BiO-LiFE MaxX Fish Oil provides 330mg EPA, 220mg DHA and 100mg free fatty acid in each capsule. These are extracted from deep sea small fish, which have lower concentration of contaminants due to its lower position in the food chain. Not only that, impurities have been further removed with the process of molecular distillation, which results in pure fish oil with less odour and rancidity.
Just eating one capsule of the BiO-LiFE MaxX Fish Oil 1000mg daily is enough to meet the recommended dosage of Omega-3 fatty acids intake for general health maintenance.
"You can easily eat a capsule of MaxX Fish Oil 1000mg anywhere, anytime. Not only that, it is value for money as it provides the maximum benefits of Omega-3 fatty acids in an optimum combination of cost and quality," Kong points out.
Take care of your health with regular exercise, coupled with the goodness of pure and safe fish oil. Purchase the BiO-LiFE MaxX Fish Oil 1000mg now at leading pharmacies nationwide now! BiO-LiFE MaxX Fish Oil 1000mg VALUE PACK retails at RM159, comes with three bottles of 100 capsules each. For more information, visit their website at http://Biolife.2.vu/Maxx.