Best Nursing Homes in KL & PJ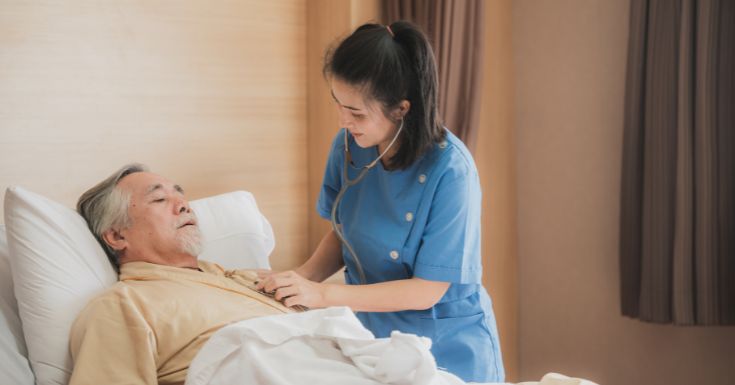 Are you looking for a nursing home for your parents? Or are you looking for a nursing home for yourself and your spouse? Then, you don't need to search any further.
It can be a daunting task to find the right home for the elderly. Especially if you need to find a place for someone that needs medical care or that is still really fit and healthy. We are assisting you in finding the best nursing homes in KL and PJ, and the surrounding areas. These are nursing homes that you can look at without any problems.
Econ health care nursing home has more than 33 years of experience. These nursing homes can be found in different towns and cities like Kuala Lumpur, KL, Petaling Jaya PJ, and Selangor. The Econ health care home offers a wide range of senior-centric services like medical support, diet and nutrition assistance, rehabilitation and social activities to all elderly living at the nursing home.
Their social activities are based on each person's interests, hobbies and cognitive abilities. All meals are prepared personally by their in-house chef, and the meals are served in the community dining room. The food is prepared fresh every day. This is a great nursing home for seniors with medical needs or that is still fit and healthy.
My aged care nursing home is more than just another nursing home. This is a home that specializes in elderly care specialists with rehab facilities for the elderly. This is a licensed home that has more than 60 years of combined experience with the medical staff. The nursing home is striving to provide a home away from home where they will feel safe and welcome.
Some services that they provide at home include post-stroke and operation recovery, medical nursing for cancer and dementia, and doctor consultations at no additional costs. All staff is trained, and the nursing home provides full care for those with medical needs or those that just need a retirement home. For the healthy elderly, they are offering some enriching activities to keep them occupied during the day.
Another full-service nursing home is the Mintygreen wellness residence. They have different branches in Kuala Lumpur, Petaling Jaya and other cities in the area. The nursing home provides care like day or overnight care, hospice care, palliative care, bedsore prevention and management, NG tube feeding, changing, and stoma care. You can call them or WhatsApp them for more information.
It is important to know that they are offering short-term or long-term stays. They will receive four meals daily for the long-term residents, vital sign checking every day, and some relaxing activities and group exercises. Here the patients or residents will also be assisted with daily living like feeding, companionship, personal grooming, bathing and medicine dispensary.
St. Mary's nursing home is one of the oldest nursing homes in the area. They were established in 1985 and had branches in Kuala Lumpur and Petaling Jaya. They are providing full elderly care that will include medical care and social development. At the nursing home, they offer a 24-hour call system, and all residents have access to a medical doctor.
The staff is highly trained, especially the dementia staff. There are other services and facilities available that every resident at the St. Mary's nursing home is offering. You can take your parents to the nursing home for full-time residency, or you can consider the adult day care. Adult daycare is where you can take your parents when they are staying with you and need supervision when you are going to work. They offer private nursing and long-and -short-term care.
Lotus care premium assisted living is situated in Petaling Jaya and is one of the best nursing homes in the area. All the staff knows the importance of aging with dignity. They are offering services like weekly doctor's visits and 24-hour supervision. They are also offering services like daily vital monitoring, medical management, and basic wound care. Even the healthy residents will be monitored on a daily basis with vital checks. This is a nursing home perfect for healthy or for sick elderly people.
The nursing home strives to meet all the resident's individual needs by offering a large variety of lifestyle options, services and some great recreational activities. One of their great services is that they provide palliative care. They offer a holistic approach with physical and mental support to the residents and their families.
Another great and recommended nursing home in Petaling Jaya is the pearl care nursing home. This is known that this is the perfect home away from home. Some of the services that they are offering include doctor on call, 24-hour nursing care, offering home-cooked meals, which include breakfast, lunch, dinner and two tea times that are prepared in-house.
They are offering long-term residential care, which includes fully furnished rooms in a safe and friendly environment. Housekeeping, transportation and Wi-Fi services are also available. There are also a variety of board games and physical activities available for everyone to enjoy. With their medical service, nursing procedures like feeding tubes, oxygen therapy and tracheostomy care is available. This is a great nursing home for healthy and sick residents. All the personnel is experienced and qualified to handle any medical and personal emergency.
If you are living in the Petaling Jaya or the Kuala Lumpur area and need a nursing home, then you need to continue reading. We are giving you the best nursing homes in the KL and PJ area for healthy elderly but also for sick elderly that need full-time care. If you are looking for a nursing home for your parents, you can consider choosing anyone of these mentioned homes. These are long-term and short-term homes for everyone that has retired. The more you know about the different nursing homes, the easier it will be to select the right nursing home for your parents or even for yourself.