Berry Delicious!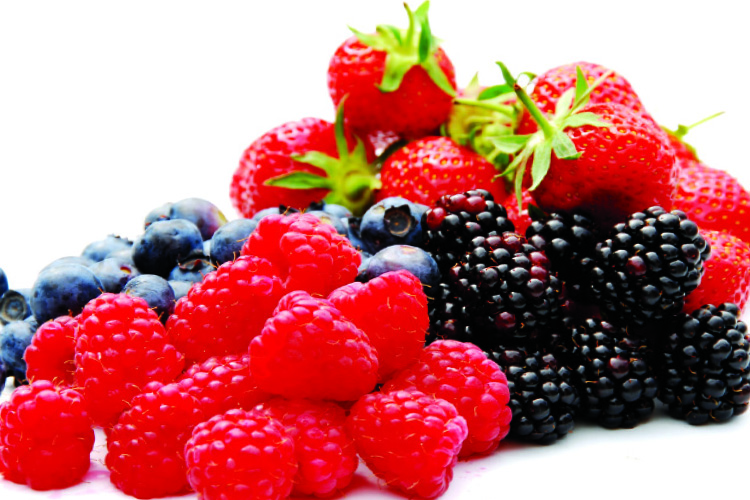 High in nutrients and low in calories, berries are more than just pretty colours. From strawberries, blueberries and raspberries to blackberries, boysenberries and gooseberries, they are packed with carbohydrates, vitamin C, potassium, folate, fiber and fluid. The phytonutrients in berries are naturally-occurring, beneficial plant compounds that protect cells. In fact, you may be surprised to learn that a serving of strawberries has even more vitamin C than an orange!
---
Grilled Chicken & Polenta with Nectarine-Blackberry Salsa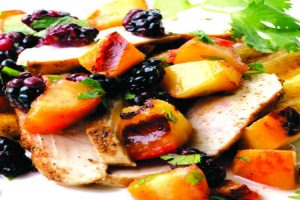 PREPARATION TIME 10 minutes
COOKING TIME 30 minutes
MAKES 4 servings
Ingredients
1 tablespoon plus 1 teaspoon canola oil, divided
1 tablespoon ground cumin
1 teaspoon salt, divided
¾ teaspoon freshly ground pepper
1 450gm tube prepared plain polenta
450gm boneless & skinless chicken breast, trimmed
2 nectarines, halved and pitted
2 cups blackberries, coarsely chopped
2 tablespoons chopped fresh cilantro
1 tablespoon lime juice chilli sauce, to taste
Instructions
Pre-heat grill to medium-high.
Combine 1 tablespoon oil, cumin, ¾ teaspoon salt and pepper in a small bowl. Rub 1 teaspoon of the mixture all over polenta. Rub the rest into both sides of chicken.
Cut the polenta crosswise into 8 slices. Rub the cut sides of nectarine halves with the remaining 1 teaspoon oil.
Oil the grill rack by rubbing a folded paper towel – slightly dipped in oil – all over the rack with tongs. Place the chicken, polenta slices and nectarines on the grill.
Grill the polenta until hot and slightly charred, 3 to 4 minutes per side. Transfer to a clean plate; tent with foil to keep warm.
Grill the nectarines, turning occasionally, until tender, 6 to 8 minutes total. Grill the chicken, until cooked through and no longer pink in the middle, 6 to 8 minutes per side. Transfer the chicken and nectarines to a cutting board. Coarsely chop the nectarines. Let the chicken rest for 5 minutes, then slice thinly.
While the chicken rests, combine the chopped nectarines, blackberries, cilantro, lime juice, chilli sauce and the remaining ¼ teaspoon salt in a medium bowl. Layer the polenta, chicken and fruit salsa on plates and serve.
Triple Berry Crisp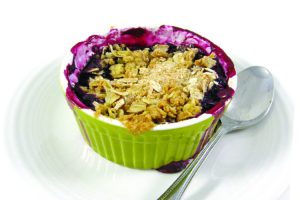 PREPARATION TIME 20 minutes
COOKING TIME 40 minutes
MAKES 6 servings
Ingredients
1½ cups blackberries
1½ cups raspberries
1½ cups blueberries
¼ cup white sugar
¾ cup all-purpose flour
¾ cup rolled oats
½ cup golden brown sugar, packed
½ teaspoon cinnamon
½ cup reduced-fat butter, cold
Fat-free frozen vanilla yogurt, optional
Light whipped cream, optional
Instructions
Preheat oven to 175˚C.
In a medium bowl, gently toss the blackberries, raspberries, blueberries and white sugar with a spatula. Set aside.
In a separate medium bowl, combine flour, oats, brown sugar and cinnamon. Add in butter bit by bit until crumbly.
Coat a 9-inch Pyrex dish or baking pan with cooking spray and press half of the crumbly mixture in it.
Cover the crumbly layer with berries. Sprinkle remaining crumble mixture over the berries.
Bake in the preheated oven for 30 to 40 minutes, or until fruit is bubbly and topping is golden brown. Top with a little whipped cream or frozen yogurt, if desired.
Frozen Berry Yogurt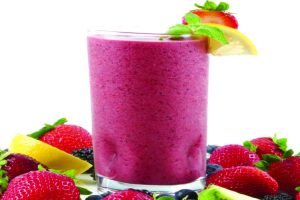 PREPARATION TIME 20 minutes
MAKES 1 serving
Ingredients
A handful of fresh/frozen and thawed berries, (raspberries, blackberries and/or blueberries)
1 banana
1 tablespoon organic oats
1 tablespoon organic milled flaxseed
200ml fresh orange juice
½ cup crushed ice
125gm cup low-fat plain yogurt
1 teaspoon honey
Instructions
Purée berries in a food processor or blender until smooth. Pass through a sieve to remove seeds.
Combine all other ingredients and blend until smooth.