Baby Cloud Mattress: The Gift of Restful Sleep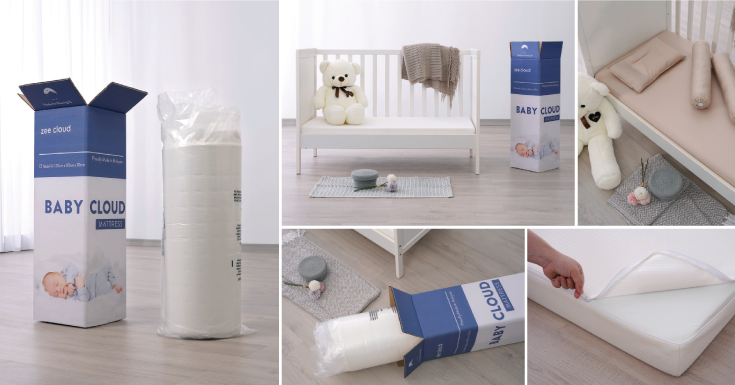 Parents are always quick to recognise the signs of inadequate sleep in their babies – they will be restless, cranky, and unwilling to participate or cooperate in activities they would normally enjoy. Quality sleep in babies, however, isn't only confined to the little ones' sleep schedules or the amount of sleep they get. While these are important points, another particularly crucial factor is the mattress a baby sleeps in. Parents who know of this will surely strive to pay due attention to the bedding products they choose for their little ones in order for them to enjoy the most restful slumber.
As a high quality product made from CertiPUR-US® Advanced Air Flow Technology Foam, the award-winning Baby Cloud Mattress from Zee Cloud allows babies to experience the most comfortable and restful sleep. The mattress features a unique, breathable, detachable and washable cover which is waterproof, which in itself eases parents' tasks of dealing with common accidents and issues such as leakages and spillage on the baby's bed. All a parent needs to do is to unzip the cover, remove it, and wash it using warm water! The cover is also anti-dust, adding to its many appealing points.
To top it off, the award-winning Baby Cloud Mattress also features a Hygiene Protective Barrier between the high quality foam and its cover, which helps to maintain the fresh, new feel of the product for longer.
The fact that Baby Cloud Mattress is breathable is already a huge testimony of the quality sleep it offers for a sleeping baby, for it is able to keep the little one cool and comfortable the whole time. And as it is made without the use of dangerous hazardous materials, parents too can rest assured it is the best choice for their precious baby's sleep time!
Being CertiPUR-US® Certified, Baby Cloud Mattress does away with TCEP ("Tris"), TDCPP, or PBDEs in its making, and also other nasty stuff such as lead, mercury, or other heavy metals as well as Formaldehyde, and also flame retardants. It is worth taking note that this also helps to reduce the level of hazardous emissions which one might find present in modern homes. As the producer of top quality mattresses, Zee Cloud is committed to provide a safe and healthy sleeping environment for every family member, including babies. Created using non-toxic, hypoallergenic materials, and being easy to clean and maintain, it is no wonder why the Baby Cloud Mattress has bagged the award for the Baby Mattress category in the BabyTalk & MamaPapa Readers' Choice Awards 2023. The mattress is designed to fit any standard full-size crib or toddler bed, making it the most ideal choice, besides being an award-winning one!