Avisena Fertility: Where Hope Blossoms and Dreams Come True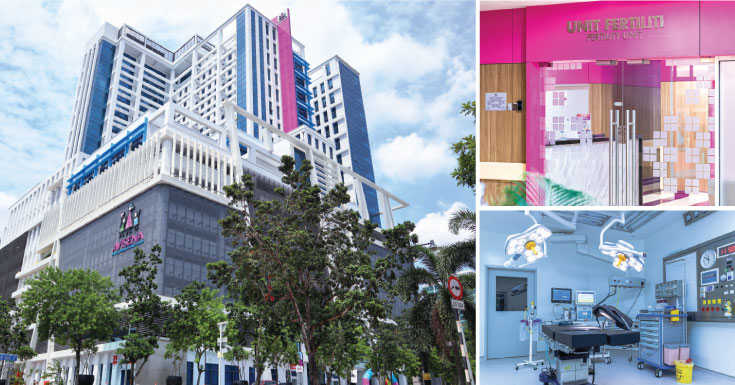 The Avisena Women's & Children's Specialist Hospital is a place of hope and support for couples facing fertility challenges on their journey to parenthood. The hospital's fertility unit is well-equipped with advanced technologies and a dedicated team of professionals to provide comprehensive care and assistance to couples in need.
Avisena Women's & Children's Specialist Hospital offers advanced services which include:
Comprehensive Fertility Care: Avisena Fertility offers a comprehensive approach to the diagnosis and treatment of fertility-related disorders. This involves a range of services to address different aspects of fertility issues.
Advanced IVF Laboratory: The hospital's fertility unit boasts a state-of-the-art IVF laboratory. The technology offers valuable insights into embryo growth, potentially improving IVF success rates.
Embryo Freezing for Cancer Patients: Avisena Fertility also offers the service of embryo freezing for patients diagnosed with cancer. This service can be crucial for individuals undergoing cancer treatment who wish to preserve their fertility options for the future.
Time-Lapse Imaging of Embryo Development: The hospital is one of the few clinics in Malaysia to offer time-lapse imaging of embryo development. This innovative technology can provide fertility specialists with a better understanding of embryo growth patterns, aiding in the selection of the most viable embryos for transfer.
Collaboration with TAFF: Avisena Fertility has been chosen to collaborate with the Tunku Azizah Fertility Foundation (TAFF) for IVF/ICSI procedures. This partnership indicates the hospital's recognition and expertise in the field of fertility treatment.
Experienced Team: The hospital boasts a team of fertility specialists, embryologists, and clinical nurses who work collaboratively to provide high-quality medical care. Their expertise ensures that patients receive personalised attention and support throughout their fertility journey.
Stress-Free Environment: The hospital prioritises creating a calming and stress-free environment for couples seeking fertility care. This approach can be beneficial, as stress and anxiety can often accompany the challenges of fertility treatment.
In summary, Avisena Women's & Children's Specialist Hospital's fertility unit is dedicated to providing advanced and comprehensive fertility care to couples facing difficulties in starting a family. Their utilisation of cutting-edge technologies, collaboration with relevant foundations, and focus on patient comfort and support make it a promising destination for those seeking assistance with fertility issues.