AVEO VISION MAKE YOUR EYES SMILE WITH AVEO CONTACT LENSES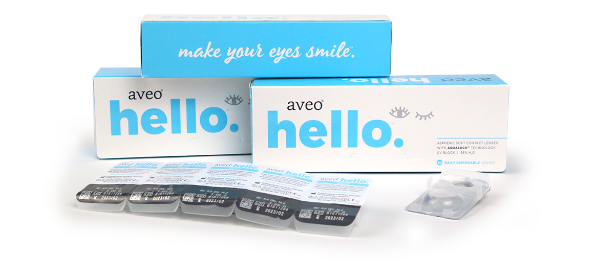 The connection between you and your contact lenses is like any other relationship — it has to be healthy. When contact lenses are not well taken care of, there is a higher risk of eye infection, which can lead to lasting damage to your eyes. Your contact lens choice and care habits are essential to maintaining healthy and happy eyes. For our eyes to remain healthy, adequate oxygen flow and proper hygiene are important. The most common complaints from contact lens wearers include eye fatigue, irritated eyes, dry eyes, and blurred vision. With proper care and the right contact lens, you can alleviate these issues while maintaining good eye health. Speaking at today's launch of Aveo Vision in Malaysia, Prof. Dr. Haliza from the Department of Healthcare Sciences, University Kebangsaan Malaysia (UKM) stated that "daily disposable lenses are the most hygienic and convenient modality of contact lenses." Prof. Dr. Haliza also stated that "based on a clinical trial conducted at UKM, Aveo Hello lenses are suitable for
individuals with dry eye syndrome." Aveo Vision launched its flagship product, the Aveo Hello daily disposable contact lenses, in the United States of America in April 2018. Led by entrepreneur and CEO, Cecile Thai, the San
Francisco-based company is on a mission to change the way we wear contacts. Through Aveo's e-commerce website, consumers can access superior quality contact lenses at an incredible value. With today's announcement, the wait is over for contact lens wearers in Malaysia. Aveo Vision is the first company to launch a direct-to-consumer contact lens brand in Malaysia. Consumers will be able to purchase the daily disposable contact lenses on-the-go, or at the comfort of their own home, through Aveo's online store at aveovision.my. Aveo Hello lenses feature exclusive AquaLock technology and BlissEdge design for all-day comfort. Consumers will be able to choose from 3 affordable plans: 1-month supply, 6-month supply, or 12-month supply.
Dato Seri Stanley Thai, the Founder and President of Supervision Optimax Sdn Bhd, stated that he was inspired to invest in the most advanced contact lens technology from the United Kingdom when he learned about eye health problems among youths who were misusing contact lenses. This led to the start of the first Malaysian-owned state-of-the-art manufacturing facility producing high-quality contact lenses that are also affordable. Aveo Hello daily disposable contact lenses are made with premium omafilcon A with 58% water content. With AquaLock technology, Aveo Hello lenses lock in hydration and naturally resist buildup for more hygienic contact lenses that promote healthier eyes.
The lenses also incorporate a unique BlissEdge design that enhances comfort by not only minimizing friction with the eyelids but also promoting tear exchange and allowing more oxygen to reach the cornea. Aveo Hello contact lenses are perfect for active lifestyles. Its aspheric optics design provides outstanding high-definition vision, and its built-in Class II UV Blocker prevents on average 97% of UVB and 87% of UVA radiation. Aveo Vision's in-house R&D team of scientists understand the importance of oxygen for maintaining healthy eyes. With that in mind, Aveo Hello lenses offer oxygen transmissible levels that are the best in its class. The lenses are packed in a gentle, non-irritating pH 7.4 saline solution similar to natural tears, with no added artificial wetting agents.
At today's launch of Aveo Hello contact lenses, guests and the media alike were able to get their eyes checked for free! They were also able to get fitted on the spot with Aveo Hello daily disposable contact lenses free of charge.
Aveo Hello contact lenses are affordably priced, with purchase plans starting at RM60 for 30 pairs of daily disposable lenses.
For more information about Aveo Vision or to purchase Aveo
Hello contacts, visit aveovision.my. Connect with Aveo Vision on Facebook and Instagram:
@aveovisionmy.