Autism Behavioral Centre (ABC): Leading the Way in Autism Therapy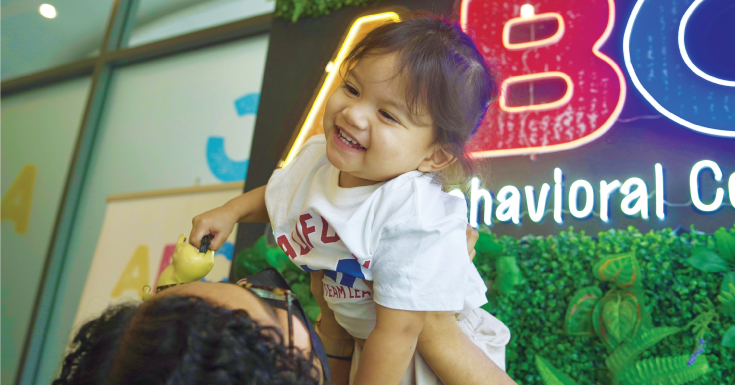 In a world where inclusivity is championed, Autism Behavioral Centre (ABC) stands as a beacon of hope for children with autism and speech delays and their families.
Early intervention programmes for children with autism spectrum disorder (ASD) and speech delays play a crucial role in providing the necessary support for their development. Autism Behavioral Centre (ABC) stands out as a leading provider of autism therapy, offering individualised 1:1 intervention tailored to each child's levels and needs. With a mission to promote inclusivity and enhance the lives of people with autism, ABC has established itself as a pioneer in the field of autism therapy.
Understanding the Challenges of Children with Autism 
Children with ASD often face challenges when it comes to communication and behaviours that can affect integration into schools and society. They may struggle with comprehending instructions, engaging in conversations, and grasping the subtleties of tone of voice. Facial expressions, voice tone, humour, and sarcasm can be particularly difficult for them to interpret or use. They may prefer consistency and routine, such as taking the same route to school every day or having the same food for breakfast.
Additionally, some children with autism may have limited speech abilities or lack verbal communication altogether. It is not uncommon to observe these children struggling to follow simple instructions.  Furthermore, they may also have difficulty understanding language and concepts in general. Differentiating between terms like "mommy and daddy" or "cold and hot" can pose a significant challenge for them.
Thus, it is essential to recognise that children with autism spectrum disorder require specialised support in developing effective communication skills that cater to their unique needs, with the goal of successful integration into the mainstream education system and society.
The Importance of Early Intervention for Children with Special Needs
Early intervention is crucial for children with special needs as it offers the best outcomes for their future development. By starting early and providing evidence-based interventions, parents can ensure that their children's needs are met effectively. This not only helps bridge the gap in their skills but also increases their chances of thriving both in mainstream schools and in society as independent individuals. The primary goal is to support these children so that they can assimilate successfully into society, achieving independence and success along the way.
Intervention aims to transform a child's diagnosis, reducing the severity of autism or even eliminating it altogether. Extensive research has shown that intervention yields higher success rates when certain conditions are met:
Early intervention: Introducing interventions before the age of 3 greatly improves outcomes for children with autism.
Intensive and evidence-based approach: Providing 30-42 hours per week of Applied Behaviour Analysis (ABA) therapy ensures effective results in helping individuals with autism reach their full potential.
Parental involvement: When parents actively participate in training and continue implementing strategies at home, the progress made through intervention is further enhanced.
By meeting these criteria, there is a greater chance of significant improvement for children diagnosed with autism spectrum disorder, making their journey towards development more positive and fulfilling.
Empowering Children with ABA Therapy
Established in 2016, ABC (Autism Behavioural Centre) stands as Malaysia's largest 1:1 intervention centre applying ABA (Applied Behaviour Analysis) principles, which is the 'gold standard' in autism treatment and intervention, supported by research and evidence. ABC is dedicated to delivering a distinguished level of care, offering meticulously crafted individualised curriculum and unwavering support to children, teenagers, and adults spanning various age groups who grapple with autism, learning difficulties, or are at risk of autism.
At the heart of ABC's approach is Applied Behaviour Analysis (ABA), a scientifically grounded system of autism treatment. ABA therapy is recognised as the most effective evidence-based treatment for autism. ABC provides ABA therapy with a team of trained therapists and behaviour analysts. This therapy focuses on modifying behaviour and teaching new skills using structured teaching methods, positive reinforcement, and data-driven techniques.
ABA therapy at ABC has shown remarkable results in improving communication, social skills, and independence in children with autism. By harnessing the principles of ABA, ABC endeavours to create a supportive environment where children can flourish, learn, and thrive, ultimately fostering a more inclusive and promising future for everyone under its care.
ABC offers intensive 1:1 therapy for up to 30 hours per week to prepare children for success and independence in school and in life. ABC also offers parent and preschool teacher training, shadow aide or peer learning assistant support, as well as feeding intervention for picky eaters.
ABC adheres strictly to international intervention standards and is overseen by a Board-Certified Behaviour Analyst (BCBA), and the Board-Certified Assistant Behaviour Analysts (BCaBA). The centre offers both centre-based and home-based ABA intervention to children with speech delays, Autism, ADHD (Attention Deficit Hyperactivity Disorder), GDD (Global Development Delay), and other developmental delays.
ABC's stellar reputation for providing high-quality ABA therapy stems from its team of highly qualified and experienced practitioners.
The success of ABC's approach can be attributed to the implementation of PaTTAN (Pennsylvania Training and Technical Assistance Network) technology, developed by Dr Amiris Dipuglia and Mr Mike Miklos. Compared to traditional ABA teaching methods, PaTTAN yields exceptional results.
With over two decades of comprehensive research and studies backing its efficacy, ABA is undoubtedly the top choice for early intervention programmes.
Professional and Quality Therapy Ensured
ABC's team of experienced and qualified therapists receive intensive in-house training in PaTTAN technology and the application of ABA principles in therapy. Case supervisors will design a comprehensive intervention plan tailored to each individual's specific needs. This individualised approach allows for more accurate programming and helps develop targeted intervention strategies.
Family involvement and support are also integral to the therapeutic process at ABC. The centre actively engages families, recognising their crucial role in a child's development. ABC provides families with resources and guidance on implementing at-home strategies to reinforce therapy gains. By working together with families, ABC fosters a collaborative and supportive environment that enhances the child's overall well-being.
Conveniently located in Bangsar, Bandar Sunway, and Ampang, ABC is easily accessible for families in Malaysia. All facilities include private therapy rooms, with Bangsar being the largest with 40 private therapy rooms specifically designed for one-on-one sessions with children presenting with poor attention, poor compliance, and high frequency of behaviours. To date, ABC has served a diverse, international clientele. In fact, half of their clientele consists of expatriate families, and the other half consists of residents.
At the forefront of autism therapy, ABC is leading the way in providing specialised care and support to children with autism. With a comprehensive range of services, a dedicated team of professionals, and a personalised approach to therapy, ABC is making a significant impact on the autism community. Through their efforts, ABC is helping create a more inclusive and understanding world for children with autism, ensuring they have the support they need to thrive and reach their full potential.
For more information, visit their website at www.abcautism.com.my,  www.facebook.com/AutismBehavioralCenter (Facebook) and www.instagram.com/abc.malaysia (Instagram).
ABC has won the Diamond Award for the BabyTalk Readers' Choice Awards 2023 in the Best Special Needs Children's Learning Centre and Early Intervention Programme categories, demonstrating its exceptional service quality. It has also won the Gold Award in the ABA Therapy Centre category of the BabyTalk Readers' Choice Awards 2023.