Authority Institute's Maverick Foo made Vistage Malaysia's Speaker of the Year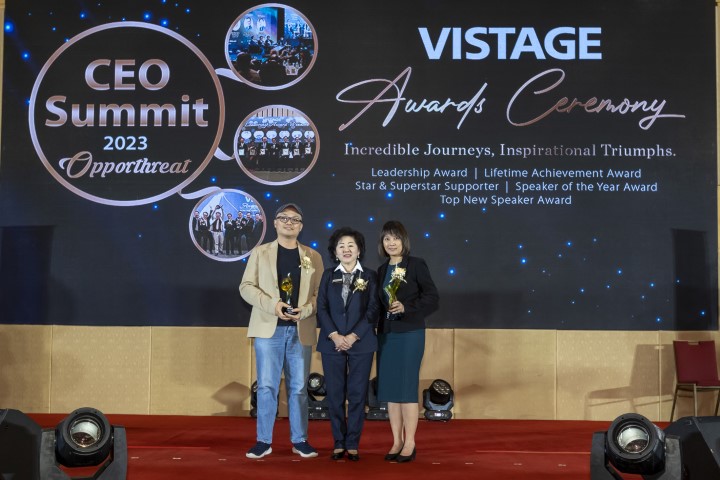 Marketing and business growth consultant eyes further growth with recent recognition.
Authority Institute's co-founder and Chief Marketing Strategist Maverick Foo was recently awarded Vistage Malaysia's Speaker of the Year 2022 —empowering him to join a pantheon of exceptional speakers to have made an impact to Malaysian businesses.
At the recent Vistage CEO Summit 2023 held at the One World Hotel in Petaling Jaya, Foo was recognised for being a thought leader, like past awardees, who shared vital insights about topics they have cultivated a passion for, and developed considerable expertise about.
"I am proud to have received this accolade on behalf of Authority Institute. It gives our institution a new boost and the confidence that we're on the right track," Foo said. He explained that his firm focuses on providing marketing and business growth consulting to small and medium enterprises (SME).
In his journey to this achievement, Foo worked on focusing to help Vistage Malaysia's members understand the significance of developing a comprehensive strategy to capture the attention and interest of target customers in their businesses.
"It's what we call a Customer Attraction Game Plan and this was the winning ticket to being awarded Speaker of the Year, alongside being judged on my performance, community involvement and lifetime achievements," he added.
Speakers of the Year awardees are invited to speak at Vistage meetings for at least two consecutive years and are scheduled a minimum of 30 presentations to Vintage groups. The audience rate speakers after each presentation. Typically, speakers must aim an average score of at least 8.5 out of 10 in content and delivery, to be considered for the title.
Foo presented at 37 sessions to a total of 32 groups and earned an average score of 8.8 for content and 8.9 for delivery. He was also subjected to vetting by a panel of Vistage staff members who judged his demonstration of Vistage's core values of trust, caring, challenge, and growth.
"Vistage Malaysia uses the Speaker of the Year Award to recognise individuals who bring significant value to our members. Awardees consistently deliver high-quality, relevant, actionable content, and they represent a model for all Vistage speakers," the organisation notes.
Authority Institute is the embodiment of consultants and trainers backed by a 40-year cumulative industry experience thus guaranteeing the best possible outcome and most relevant knowledge transfer to its clientele.
"Our uniqueness is emphasised by our capability to complement the training and consulting with signature solution frameworks and software tools. I can say, globally, that no other training and consulting company will deliver training that leaves practical frameworks that can be embedded into an organisation's business.
This is followed by post-training coaching programmes that provides practical means to apply all you've learned to your everyday business activities," he said, adding that Authority Institute's approach to strategic marketing is characterised by focusing on market orientation, customer needs, and value articulation.
This includes identifying new opportunities and ways to refine existing offerings; identifying ways to better serve customer while targeting new customer segments; assessing current market fundamentals, and identifying opportunities within and externally.
"We also look to identify competitive weaknesses to exploit and look to help you gain lasting competitive advantage in your market. Authority Institute also determines ways for businesses to improve operationally, and assess potential new opportunities to boost sales and profits.
"Authority Institute is always open to collaborate with firms and work towards achieving success across the board," Foo said.