Amway Launches XS Energy Drink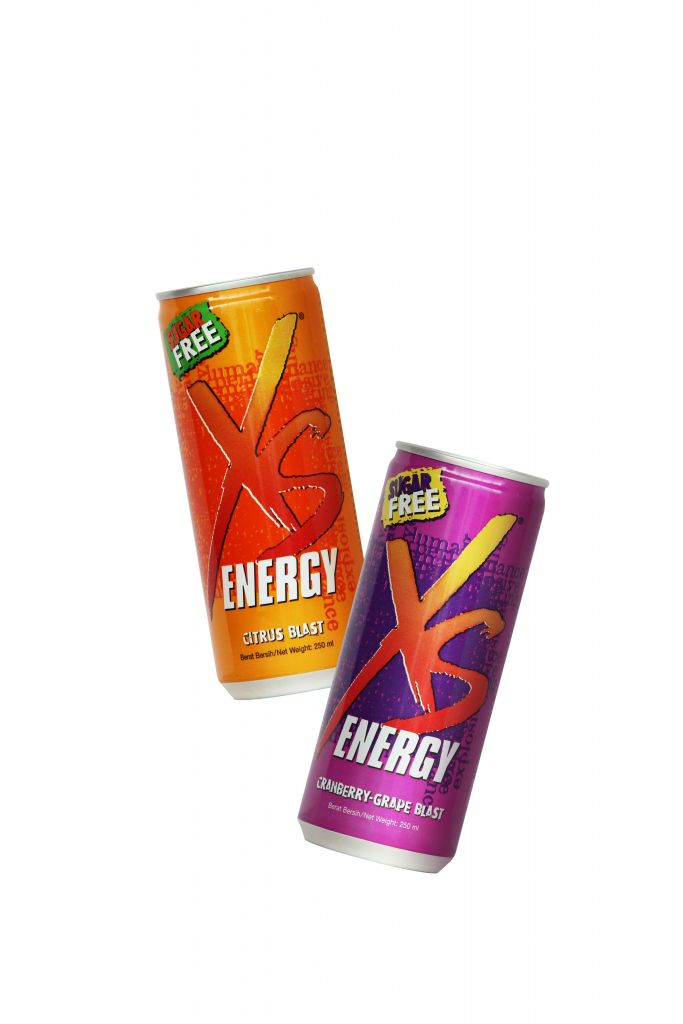 XS Energy Drink is sugar-free and comes in two flavours, Citrus Blast and Cranberry- Grape Blast
Kuala Lumpur, 2 October 2018 – Consumers with an active lifestyle can now fuel their day with XS Energy Drink, the first exclusively zero sugar energy drink brand from AMWAY. XS Energy Drinks are sugar-free and low-calories carbonated energy drink available in 250ml slim cans that comes in two flavours, Citrus Blast and Cranberry-Grape Blast.
XS Energy Drink Citrus Blast – Experience an energy surge that will last you all day long with a snappy splash of sensational citrus
XS Energy Drink Cranberry-Grape Blast – A blend of sweet grape with the zing of cranberry
"Our new XS Energy Drink is packed with a tasty explosion of flavours to give consumers a powerful punch of energy that keeps them going throughout their active and adventurous lifestyles. It meets the energy needs of those with adventurous spirit and active lifestyle who are continually seeking out new opportunities and better options," said Leong Kok Fong, Head of Marketing of AMWAY Malaysia.
The two flavours, Citrus Blast and Cranberry- Grape Blast are developed with a proprietary blend of premium ingredients that is infused with powerful B vitamins*.
"We are thrilled that the sales of our new XS Energy Drink has been outstanding following the successful launch this month. We aim to bring in new flavours that are currently available in other countries, which we believe will contribute to the overall growth in this new category for AMWAY," added Leong.
The XS Energy Drink is sold exclusively by AMWAY Business Owners (ABOs) and is available in 24-can packs throughout the nation for RM150. Find out more exciting updates about #XSperience from the official Instagram account @XS_MSB. For more information, please visit https://www.AMWAY.my/ or call AMWAY Malaysia at +603-7946-2800.
*B Vitamins
B vitamins help to support our body's internal energy production pathways.1,2 More specifically:
• Vitamin B2 – Vitamin B2 (riboflavin) is an essential component of the coenzymes FMN (riboflavin-5′-phosphate) and FAD (flavin adenine dinucleotide) which are used in metabolism to help your body turn the food you eat into energy. They are also important for cellular function, growth, and development.
• Vitamin B3 – Vitamin B3 (niacin) is part of coenzymes NAD (nicotinamide adenine dinucleotide) and NADP (nicotinamide adenine dinucleotide phosphate-oxidase) which are used in metabolism to help your body turn the food you eat into energy.
• Vitamin B5 – Vitamin B5 (pantothenic acid) is needed for the synthesis of coenzyme A (CoA) and acyl carrier protein, which are involved in carbohydrate, fat, and protein metabolism.
• Vitamin B6 – Vitamin B6 is needed for 100+ metabolic reactions in the body and is part of coenzymes PLP (pyridoxal 5′ phosphate) and PMP (pyridoxamine 5′ phosphate).
• Vitamin B12 – Vitamin B12 is a cofactor for two enzymes: methionine synthase and Lmethylmalonyl-CoA mutase. These enzymes catalyze many of the reactions that impact protein and fat metabolism as well as protein and DNA synthesis. An adequate supply of B12 is essential for normal blood formation and neurological function.
—————————
1 Institute of Medicine. Food and Nutrition Board. Dietary Reference Intakes: Thiamin, Riboflavin, Niacin, Vitamin B6, Folate, Vitamin B12, Pantothenic Acid, Biotin, and Choline. Washington, DC: National Academy Press, 1998.
2 World Health Organization – Vitamin and Mineral Requirements in Human Nutrition. Second Edition, 2004.
http://apps.who.int/iris/bitstream/10665/42716/1/9241546123.pdf?ua=1