AmLife Launches Ampower Platinum To Advocate Beauty & Health Through Quality Sleep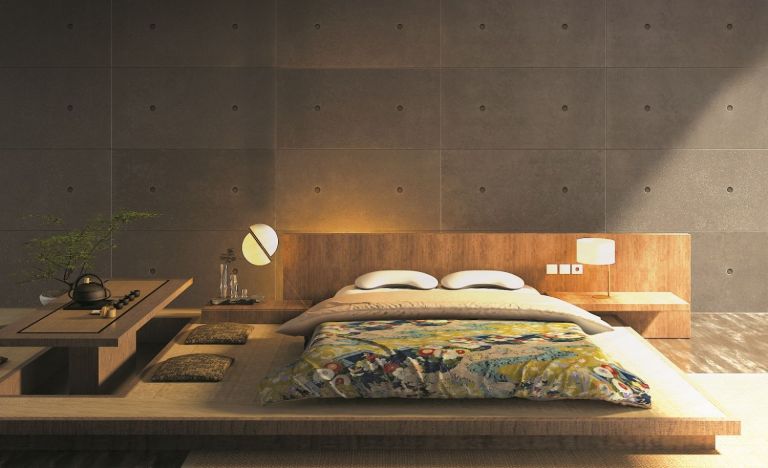 Petaling Jaya, January 2019 – Sleep expert AmLife International has added another feather to its cap with the launch of its latest product, a health and beauty revolutionary blanket called Ampower Platinum.
Since its inception 2014 , AmLife has been offering its medical mattress business to benefit health of many Malaysians. This year, AmLife has started to reposition itself as a total sleep heath expert.
Founder and President of AmLife, Mr. Lew Mun Yee explained that sleep is important and the company desires to provide health attributes from quality sleep. To reinforce its mission to be a total sleep health expert, AmLife has in the pipeline, to introduce a series of products that creates enriching health and life's values to customers through quality sleep.
To kick-start 2019, AmLife has launched the quality platinum blanket Ampower which helps customers derive a younger and healthier body from sleep using innovative beauty and healthcare technology. The idea is not only to promote a heathier body but also beautiful and healthy skin through quality sleep.
Ampower Platinum is the latest invention in the sleep health industry. Its unique platinum technology from Japan is the answer to the dream of many health advocators.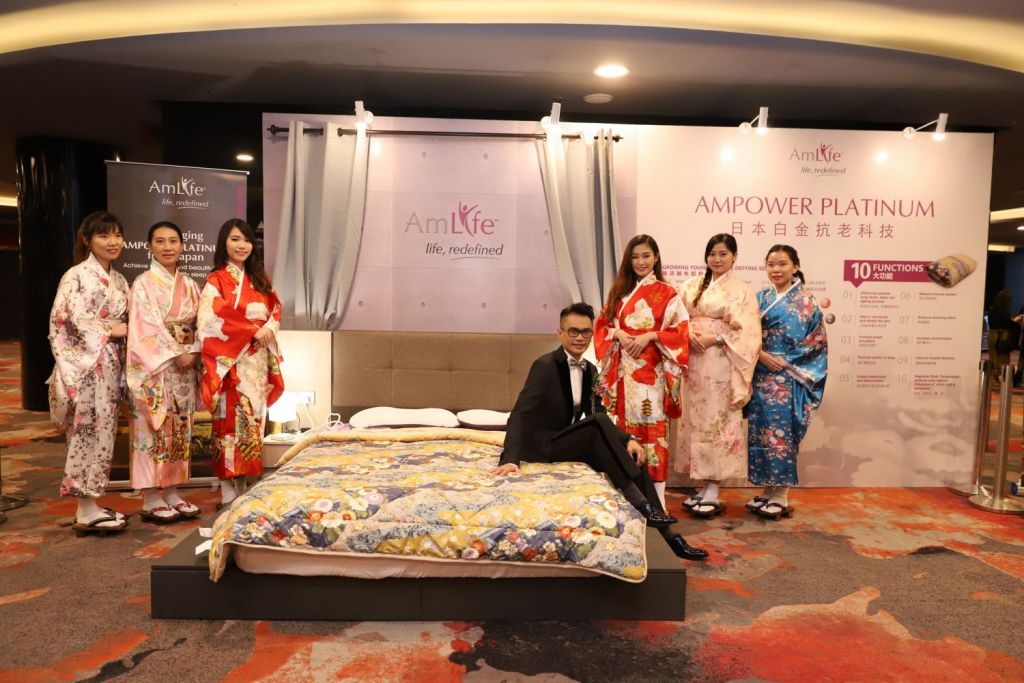 "As with our medical mattress which we worked closely with the Japanese technologist and manufacturer, we are also working with them on this anti-ageing technology from Japan which has over 28 years of history and widely recognised by the people in Japan," enthused Mr Lew.
The blanket requires no electricity nor operation steps. It produces fast results and it's safe to use with no side effects. It is suitable for the whole family to enjoy a good night's sleep with anti-ageing effects to wake up feeling rejuvenated and youthful again.
Made 100% made in Japan, the fabric is made of platinum fibre and superior cotton that is soft and silky smooth to the touch. Its superior breathability helps resist the room's cool temperature and dampness, promote metabolism and delay ageing.
One Trillion Vibrations Per Second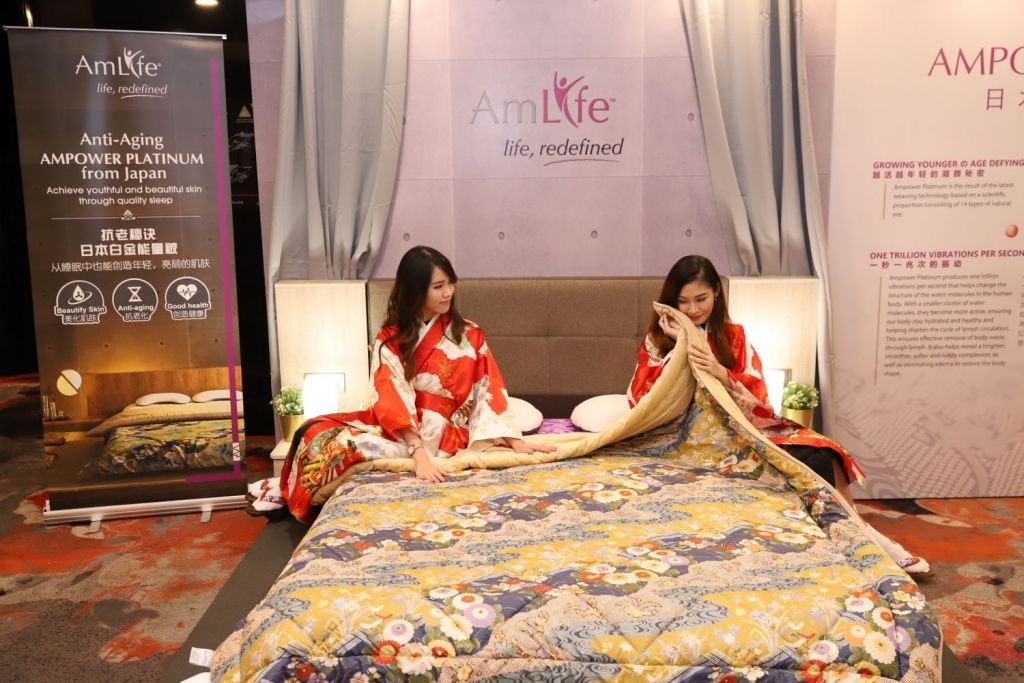 Ampower Platinum produces one trillion vibrations per second that helps change the structure of the water molecules in the human body. With a smaller cluster of water molecules, they become more active, ensuring our body stay hydrated and healthy.
This in turn helps promote the lymphatic circulation, accelerate toxin removal from the body, and strengthen the body defence against wind, cold and dampness. It also helps enhance the body immunity, thus revitalising the body and achieving a bright, ruddy complexion.
Ampower Platinum utilises the unique traditional floral print artwork from Japan, creating a delicate, elegant design for a soothing Japanese-influenced ambience. It is the result of the latest weaving technology based on a scientific proportion consisting of 14 types of natural ore. Unlike conventional spray coating technique-produced materials, Ampower Platinum is extremely durable and can withstand multiple washing or scrubbing.
10 Benefits of Ampower Platinum: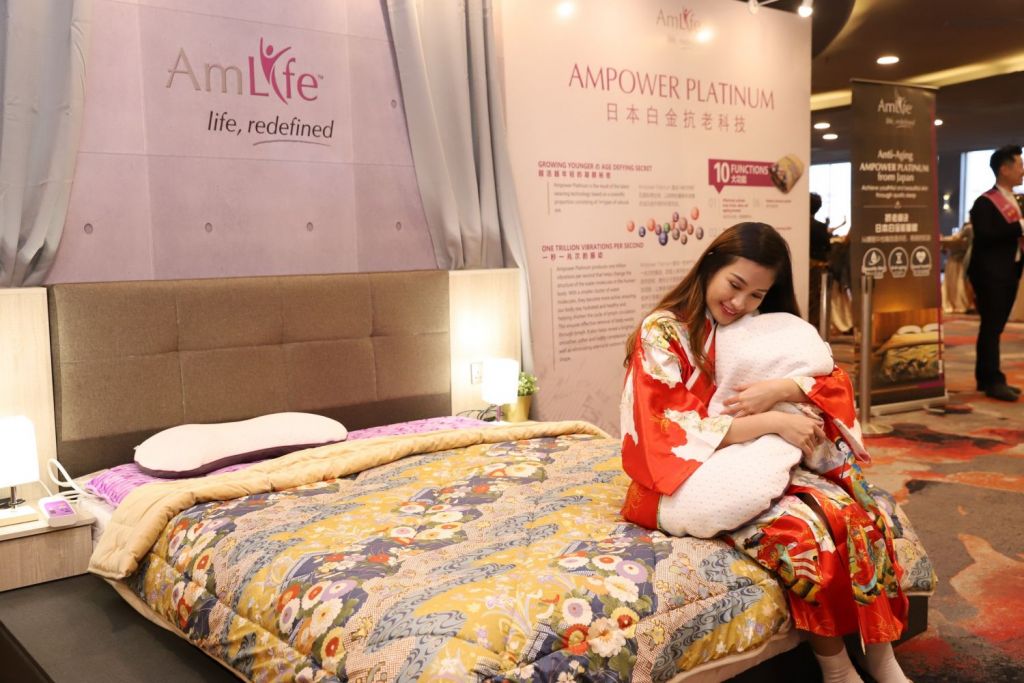 Effectively activates body fluids, delay cell aging process
Helps rejuvenate and refresh the skin
Promotes lymph circulation
Promotes quality of sleep
Initiates metabolism and detoxification
Restores immune system
Enhances slimming effect
Increases concentration
Improves muscle flexibility
Regulates Body Temperature – protects body against influences of "wind, cold & dampness"
For more information, please visit www.amlife.com.my